In need of a new washing machine? Then check out our Haier HWD120-B14979 Freestanding Washer Dryer review which could revolutionise how you wash (and dry) your laundry going forward.
Given the past, current and future Covid-19 situ, we (Real Homes and I) were incredibly fortunate to have the opportunity to put this machine – the first model in the UK – through its paces. And sure, we're just a two-person house but crumbs do my husband and I create a lot of laundry. It was a blessing in disguise being a washer dryer too because the weather was somewhat a mixed bag during the fortnight we had it in for testing, so it meant that we could wash AND dry our laundry. Phew!
Keep scrolling to hear how the washing machine fared in my household, but if you want to see more great options check out our best washing machine guide for even more washer dryers, at the best prices.
Haier HWD120-B14979 Freestanding Washer Dryer specifications
Capacity (washing / drying): 12kg / 8kg
No. programmes: 14
Energy efficiency: A
Display: LED touchscreen and dial
Noise level (washing / spinning / drying): 53dB / 72dB / 59dB
Spin speed: up to 1400rpm
Dimensions: H85 x W59.5 x D60cm
Available in 8kg, 10kg and 12kg capacities
Who will the Haier HWD120-B14979 Freestanding Washer Dryer suit?
This appliance is best suited for busy households who just want to stick a load of washing on, and forget about it on a daily basis. A washer dryer is also a fab choice if you just don't have the space for a washing machine AND tumble dryer – it's a two-in-one machine which, essentially, does your laundry for you.
How easy is the Haier HWD120-B14979 Freestanding Washer Dryer to use?
Like anything new, in particular anything marginally technical, it takes me a while to get used to it so it becomes second nature. And, let's face it, we need a washing machine to be easy to navigate and quick to respond. Before we get into the nitty gritty it's worth saying that it's advised by Haier to run programme "Cotton+90 degrees+600rpm" with no load and a small amount of detergent in the washing compartment or special machine cleaner, which will remove any chemical or plastic smells that are often found with new machines.
And just like that, after just a few washes and reading the easy-to-follow instructions, I could very easily hop around the programmes and select functions such as stain removal and / or delay start times with confidence. To do this I used a combination of turning the dial and pressing buttons which lit up on the LED touch screen found on the left hand-side of the control panel; the dial is used to select the programmes and the touch screen is used to adjust temperature, spin speed, stain removal and drying levels. As someone who does often have colder hands, however, the touch screen power button needed a few presses from me to switch on.
My husband had no problem with this, however, but what he did say (because his opinion matters here, too) is that you'll need to read the instructions BEFORE having a go at putting the washing on. He went to select a programme cold and found the interface confusing to start with, especially since the top panel of the machine is touch screen and the bottom part operated by the dial. This is something which could be a big change for some households, particularly the older generation, so it's worth having a think about whether or not you would feel comfortable using a touchscreen before investing.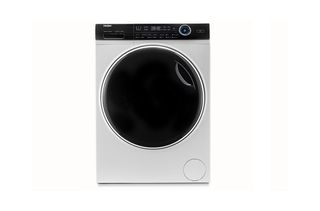 Haier HWD120-B14979 Freestanding Washer Dryer performance
This washer dryer is not smart per-se but, actually, I feel it is smart in its' own right because it doesn't make anything complicated whilst still addressing whatever life throws its way. One (of the many) things I was impressed with is the Auto Weight which means that washing time is automatically reduced in some programs – Cotton, Synthetics, Mix, Cotton 20ºC, Eco 40-60ºC – which reduces energy, water and washing time.
Further to this, there are 14 programmes to choose from which includes Cotton (the one I used the most), Synthetics, Duvet, Wool, Delicates, Wash & Dry and Express 15. There's also an Auto programme to make life a little easier and, I must say, it did a really good job. When I used this particular setting it was just a matter of powering up the machine, selecting Auto and pressing the 'play' button. This was for a wash and touch dry (suitable for wearing dry level) which ran for four hours 15 mins, which isn't too bad considering that you could wear the clothes straight out of the washing machine, if you wanted to.
On select programmes – Cotton, Synthetic and Mix – you have a Stain Removal function. This was brilliant, if the stain was new. For example, I purposely split some soy sauce, ketchup and red wine (don't worry, not too much) and let it soak in for a few hours to see what the results would be. You can see from the photograph that there is no evidence of any mishaps and it even did a pretty good job of removing the Biro ink, too. Yet, on some old muddy towels we use to dry our guinea pigs after a bath, the mud remained on the fabric.
Another function which I gave a whirl was i-Refresh. This is to further remove odour, dust, mites and moisture from small amounts of laundry (single items is recommended). I tested this on our king size mattress protector, which I had NOT washed, although it was only laundered a couple of weeks ago. In all honesty, there wasn't too much difference between the before and after of using this function but it did come out warm and felt a little softer.
Further washing programmes I used were Mix, Fast, Express 15, Synthetic and Wash + Dry which were all just as good as one another and gave some good versatility depending on what it was I needed washing. But, as a side note, the Wash+Dry programme (for example) is not clear how long it will run for, until it has been selected and the machine is running (for ref, it's 5.47 hours). The good news here is that you can interrupt / cancel wash programmes by pressing the Start/Pause. From here you can then turn off and turn back on the machine, and reselect a more suitable programme.
Now onto the drying of the laundry. Initially I was pretty concerned about our laundry using the dry setting because, as someone who does not own a tumble dryer, this is something which I hadn't tried out before. As I've mentioned earlier, the Cotton programme was one which I used the most and it's on this programme which I also enabled the drying function. There are three touch dry levels to choose from which, depending on which you choose from, means that your laundry can either be stored, worn or it's good for ironing. I used the 'stored' dry level on our cotton towels which took around four hours. Yep, it's a long time but it was a godsend when it was raining outside and it was sooo worth the wait because the towels came out of the machine warm, dry and super soft. But. It did have a slight stuffy smell / plastic smell after drying, which may or may not be because it is a new machine but it's something to be aware of. To rid of this slight odour I just shook the laundry to fold away which did the trick, so no biggy. I also noticed that there was some fluff stuck to the inside of the door after using the dryer but this was easily removed by wiping it with a wet cloth.
Anything else?
Essentially there are three settings of noise which I've taken into account with this appliance; washing, spinning and drying. The machine can be padded out with some noise reduction pads at the point of installation – more on this later – which will help to keep the noise levels down when in operation. But, although I didn't see any vibrations, I could certainly hear the machine from one end of the house to the other, especially when on Spin which the spec says is 72dB confirming that it is something which may not go unnoticed. Washing (53dB) and drying (59dB) was comparably quiet, however.
Whilst we're on the subject of noise – and because I'm being extra vigilant due to this review – you can hear the machine filling up with water, and setting the gears in motion as it begins its cycle. Not loud, just something I wanted to point out if you're after a super quiet machine; before AND during the cycles.
Also when you turn the machine on there is a light just inside on the rubber rim which comes on, too. This light stays lit for approx. 30 seconds into the cycle until it automatically switches off. I thought it would be good if this light could either be on all the time or when I wanted to take a peek at the washing (who doesn't like watching the washing go round?). I couldn't find anything in the instruction manual with a quick look BUT after turning the dial clockwise when the cycle was on, the light came back on. This was a huge success moment (you're welcome to this top tip!)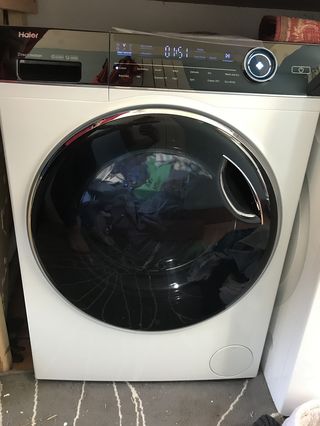 Haier HWD120-B14979 Freestanding Washer Dryer design
To follow suit with a lot of the other newer washing machine models, the Haier HWD120-B14979 is a front loading machine which can be accessed through a large door. You can see the washing through the door which is lit up with the internal light at the start of a wash, and when you choose to activate it again by the turning the dial.
To look at, the machine is deceptively large and the dials on the front is something which we're all used to seeing on this sort of appliance. As mentioned earlier, though, the LED panel – which takes some getting used to – lights up when the machine is on. The only time when you will not see the panel is when the machine is off. It will automatically go into stand-by if not activated within two minutes before starting a program or ending a programme.
The drum is a pillow drum design which not only looks very nice but the special pillow-shaped pads allow the laundry to gently slip gently over the surface as the drum spins to maintain the quality of clothing. This means that it is super gentle on your delicates, and could be why everything feels so lovely and soft after each wash.
Haier HWD120-B14979 Freestanding Washer Dryer installation
When the washer dryer was delivered to me it was also installed by a pair of engineers, who brought the machine into my home and connected it all up for me. Looking at the instructions – which looks easy enough to follow – you'll definitely need a couple of people to help prepare the space and unpackage the appliance. It's worth manoeuvring the appliance into, or close to, where you want it to reside, next to a cold water supply and electrical socket, whilst you unpackage it. It's at this point that you can also install noise reduction pads around the bottom of the machine which attach with some adhesive.
Cleaning and maintaining the Haier HWD120-B14979 Freestanding Washer Dryer
It may seem like an oddity but our washing machines need a wash, too. If you live in a hard water area then it is advisable to use water softener tablets, such as Calgon washing machine tablets, with each wash which will flush out the pipes and help to protect your machine from limescale damage.
When not in use, a damp cloth is all you need to remove any fluff left over from a dry and remove any build up of gunk in the rubber seal. Regular removable of any items trapped in the rubber seal is also a must. For a more thorough clean then the instruction manual has all this covered – it really is a very comprehensive instruction booklet.
Real Homes verdict
As this is a new washer dryer to the market there are no customer reviews to report on, but our verdict (in a nutshell) after using it ourselves is that the appliance performed well during testing and as expected.
It's a great option if you want to just put the washing on and forget about it because by the time you come to empty it, your laundry will be fresh and dry. More suitable for every day use, rather than specific laundry days, due to the fact that the cycles can run into a few hours if you opt for a wash AND dry. And, although the touch screen panel is a relatively new thing, compared to our older washing machines, it does take some getting used to so if you prefer just dials and more obvious buttons then it is worth having a good old think if you would be happy to rely on a touchscreen for hopping around the programme settings.
Overall it is a very good washer dryer for busy households who have limited space –inside the home and in the garden – who don't mind doing the laundry every other day, rather than on one set day in the week.
Verdict reached after a fortnight testing the washer dryer with a 12kg capacity. Also available as an 8kg or 10kg with selected retailers.
Looking for more laundry and utility advice?