Our Ezviz Battery Cam review is a must read if you're looking to build – or enhance – your home security system and are considering investing in this popular option.
Part of a growing sector of products designed to help you check on your house while away, the Ezviz security camera combines a range of different features that take it beyond the standard fare, however – and both build quality and usability are outstanding in its class.
Discover our full review, below. Then find more ways to protect your home.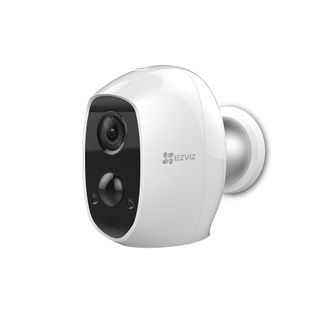 Installing the Ezviz Battery Cam
The wireless camera, roughly the size of a coffee mug, takes less than a few minutes to set up and connect. It's intuitive and the download of the app onto your phone is the most time-consuming element along with connecting it to the home's Wi-Fi network. A quick and easy registration is all it needs – and you're away.
How easy is the Ezviz Battery Cam to use?
The amazing ability to be able to keep a check on your home remotely via your phone perhaps isn't quite so unusual these days, but the Ezviz Battery certainly does this – and more – extremely well.
Is the Ezviz Battery Cam good value for money?
Compared with similar smart security cameras on the market, the Ezviz Battery Cam is pretty reasonably priced. Particularly when considering its impressive range of functions.
What else should you know about the Ezviz Battery Cam?
This is a small, wireless camera seriously rich in features. Some of our favourites include:
High definition image: You can view the footage in HD 1080p, which means more information and a better experience – ideal, of course, from a security perspective.
Two-way talk: Unlike most security cameras, the EZVIZ allows you to communicate directly with the house via the microphone on your phone. So you'll always have a presence in the house even when you're not there – even if it is largely used for telling the dog to get down off the sofa.
Can be used inside and out: While most cameras offer either an interior or exterior option, the weatherproof camera can be used around the home and garden – as long as it's within Wi-Fi range. This gives a lot of flexibility and will likely save money in the long run.
Battery operated: It runs off a rechargeable lithium battery, so again saves money compared to models running on AA batteries.
Is the Ezviz Battery Cam worth buying?
Backed by the leading security camera firm Hikvision, the Ezviz Battery Cam is a compelling option in the crowded wireless security camera field.
Versatile, feature-packed and very well built, it offers value for money and a long-term investment for anyone looking to up their home security without the need to start talking to electricians.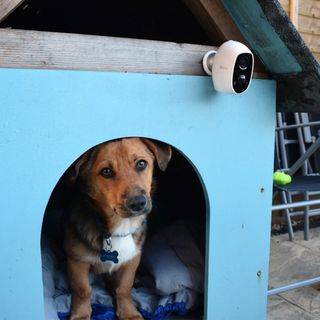 Looking for more smart security advice?