If you're searching for a portable BBQ that gets top marks in the looks department, then look no further than the BergHOFF tabletop BBQ. This compact buy is anything but boring, and it's perfect for grilling burgers on your patio, taking to the beach, or for bringing on a camping trip.
This handily portable BBQ offers plenty of space to cook for two to four people at any one time. It's fitting for your more basic BBQ needs, such as cooking burgers, small pieces of meat, and veggies. The lack of lid (for use in cooking) means you'll struggle to cook a joint on there but rest assured it's the perfect buy for small families, couples, and anyone who doesn't take their barbecuing too seriously. Those with a keen eye will also notice that it's super stylish, so it won't be an eyesore in your garden. Result!
I've been reviewing this BBQ over the last few weeks, cooking three times to test a range of foods. I've cooked everything from burgers to kebabs and chicken, and my verdict is that it's ideal for couples or smaller families. Whatever the size of your outdoor space, it's convenient since it doesn't take up any floor space, plus it's super easy to store. And there's no denying it doesn't look great. As well as the BergHOFF Leo, I've tested four other portable BBQs in order to compare features and looks, to come to a verdict.
Find more BBQ suggestions, including hybrid grills, gas grills, and charcoal options, in our best BBQs buying guide.
BergHOFF tabletop BBQ specifications: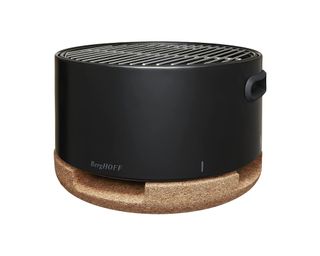 Fuel type: Charcoal
Dimensions: L35cm x W35cm x H22cm / W13.75" x D8.75"
Cooking area dimensions: D35cm
Weight: 5kg/11.02lbs
Colors available: Black, White
Included in the box: Grill Lifting Tool, Carry Strap
Unboxing the BergHOFF tabletop BBQ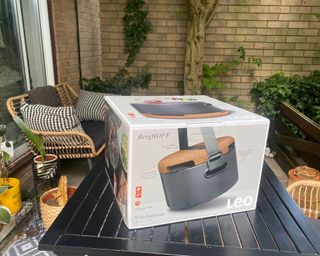 The BergHOFF Leo comes in a compact box, as you'd expect, and it requires minimal assembly. You need only put the parts inside the BBQ and you're good to go.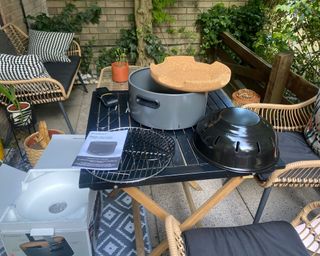 We immediately noticed this BBQ was surprisingly sturdy. It has handles for easy moving from destination A to B, and it comes with a stylish cork lid for placing underneath the BBQ, to protect your table. The only thing we couldn't get on with was the strap, which we never managed to actually use as it didn't hook on properly. This didn't bother us a huge amount as we always transported it using its handles anyway, but for anyone who is hoping to sling this BBQ over their shoulder, this is something to think about. It kind of makes the strap redundant.
What is the BergHOFF tabletop BBQ like to use?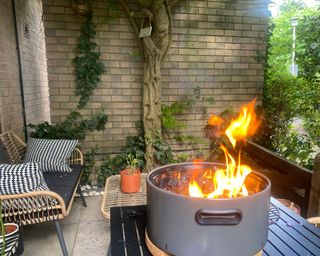 Easy. It's very similar to cooking on a disposable barbecue – but one you can clean and reuse of course. Oh, and it's 10 times more stylish. It offers plenty of space to cook four to six burgers at one time, depending on size. Just bear in mind, as mentioned above, that it doesn't come with a lid that can be used whilst cooking. This makes it difficult to melt cheese atop burgers, to cook joints of meat, and also to ensure even cooking. It also won't give your food that smokey flavor as there's no way of concealing the smoke whilst alight.
This BBQ makes an easy job of cooking smaller pieces of meat and veggies at home if you are looking for something to simply just do the job with no frills. And if you're looking for a BBQ to look nice on your patio, too. We used ours placed on our bistro set table, though you can use it on any non-flammable surface.
First things first, you'll want to take the cork lid off and place it underneath. Ensure that the vents are lined up with the dips in the cork lid to allow hot air to escape. Then, you can fill the fire basket with charcoal briquettes (we used a lighting bag one time). There's a max fill line, just above the vents, and you need to place your briquettes in a pyramid shape if you can. We made sure to grease our food before putting it on this grill, to avoid getting food stuck to the grates. Everything was ready in around 25–30 minutes all each time we cooked on this BBQ.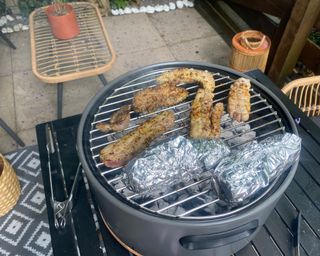 Cooking burgers, small cuts of meat, and veggies
We used this BBQ first of all to grill some pork belly bites. These were cooked in around 18–20 minutes. We needed to flip them frequently for even cooking because of the lack of lid.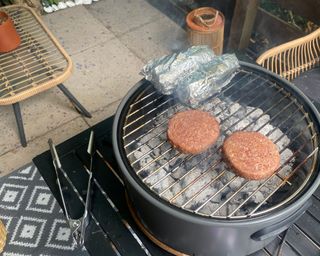 Then, it was onto the burgers. We cooked two beef burgers on this BBQ at the same time, however, you could definitely fit four to six on there. Burgers took around 15 minutes to cook, and they turned out very juicy. Though as you can see in the photo, the cheese wouldn't melt as well as it would if we had a lid to pop over the top for a few minutes.
The last time we used this BBQ before writing this review, we cooked two beef burgers on it again. This time we recorded a cooking time of just 10 minutes. We decided to leave the cheese off this time.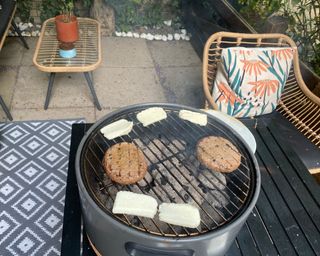 We also cooked lamb kebabs. These took around 12 minutes to cook on the BBQ, and we had to turn them frequently for even cooking on all sides. The kebabs came out lovely, with a crispy coating on them from the BBQ.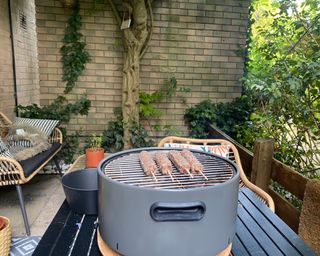 Another meat we cooked on this BBQ was seasoned chicken, for a caesar salad. These were chicken breasts and we allowed around 12–15 minutes for them to cook. The result was succulent, the skin was crispy and the flavor was great.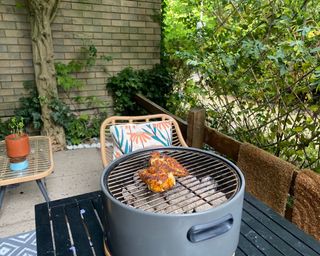 Because of the lack of lid we did find some things took a little longer on the BergHOFF BBQ. For example, we tried some jerk chicken thighs which took over 25 minutes and the got quite burnt in the process. Despite this, they tasted great, but you just need to be up for cooking anything on the bone a little lower and slower.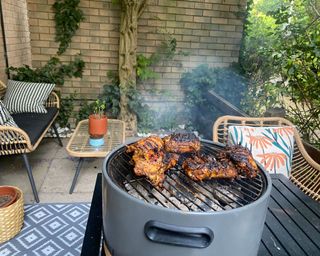 When it comes to veggies, we cooked corn and halloumi on the BergHOFF Leo. We wrapped the corn in foil. It takes longer and is harder to get the charcoal look as it doesn't have a lid, but nevertheless, it works.
As for the halloumi, it only needed five minutes before it was ready to enjoy. As you can see, we placed it around the edge to avoid burning.
Overall, this compact BBQ is great for cooking for small numbers. We cooked the burgers, pork and corn in one sitting. Then, the kebabs and chicken were cooked in two batches the second time we used it. The third use was for burgers and corn only.
It stayed alight for quite a while, without a lid to distinguish the flames. It gets super hot, so you won't want to pick it up or touch it until it's completely cold. We left ours outside all night to cool down. You can try and close the vents to help distinguish the flame and speed up this process, but be careful.
Cleaning the BergHOFF tabletop BBQ
Cleaning this small grill couldn't be easier. Wait until it's fully cool (you might have to leave it overnight) and dispose of the leftover charcoal and ash responsibly. Before doing this, you'll want to put the cork lid aside as well as the strap (if used) and put both grills into a sink of hot soapy water to soak. Then, just hold the bin by the handles and tip it into wherever you are disposing of the ash. This might be one of the easiest portable grills we've had to clean so far, as it's quite lightweight to tip upside down.
Then, take it over to your sink. You can clean the grills easily, the smaller one being a breeze to clean. The larger one will require a scrub. We used a scourer to remove residue. Then we wiped them both dry with some kitchen roll. When it comes to the fire basket, this can be removed and wiped down in your sink. It's quite difficult to get this out, you just need to tip it upside down and trust the process. It will fall out of the bowl eventually. Wipe this down and let it dry. The interior and exterior can be wiped with a damp cloth if needed.
The last time we used this grill before having to return it, we put its parts into our dishwasher to clean them, to check how they come out. To our surprise, they did come out clean. However, we'd suggest possibly scrubbing them before putting them in there for a deeper clean. We put both grates and the fire basket in there.
Storing and maintaining the BergHOFF tabletop BBQ
There's not much that you need to do to maintain this BBQ, other than to ensure you clean it after each use and dry it properly to avoid rusting. It's recommended that you store it in a dry place, and handily enough, it's compact enough to keep indoors, in a garage or even inside a kitchen cupboard.
We love this BBQ because it all sits together quite neatly. You can pop the strap inside, as well as the grid lifting tool. Then put the lid on and you're all set. Ours was kept on our kitchen shelf and looked rather lovely.
How does it rate online?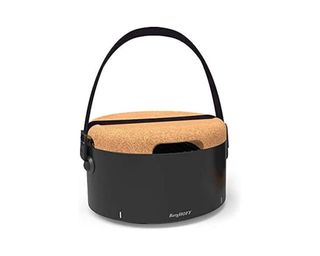 This easy-to-use BBQ rates highly online in both the US and the UK.
Over on Amazon, it has a 4.4-star rating out of five. Customers comment on how simple it is to both use and assemble. Reviewers also loved the look of the BBQ on their table.
Reviewers from Target give this grill a 4.4-star rating out of five, too. They love how aesthetically pleasing it is, plus they really rate it for how easy it is to use out of the house. Moreover, there are lots of comments on how simple it is to clean after cooking.
How does it compare to similar models and its predecessors?
This is the only portable BBQ on offer from BergHOFF, so there's nothing similar for us to compare this grill with from the same brand. However, we've also tested the Everdure Cube portable grill, a similar concept. Let's compare.
When it comes to size, the Everdure Cube has a square cooking area, and the BergHOFF cooking area is round. This makes it easier to indirectly cook on the Everdure Cube BBQ because you can move stuff away from the hot center more easily. You can fit more burgers on the Everdure Cube at one time. Let's talk weight: the BergHOFF is much lighter to carry than the Everdure Cube, just something to bear in mind. However, the Everdure Cube does have a secure lid that clips onto the rest of the BBQ, to avoid charcoal spillage, and the BergHOFF doesn't. The cork lid simply just sits on top.
When it comes to features, the Everdure Cube comes with a bamboo preparation tray that can be used as a chopping board, as well as a plastic food storage tray. The BergHOFF has a cork lid that doubles as a protective base for your BBQ, to keep your table safe. It also comes with a strap for carrying, though we haven't managed to use this strap as it doesn't seem that secure. Both BBQs are easy to light and similar in use.
When it comes to storing, both BBQs will need to be kept inside and away from the weather. The BergHOFF is easier to clean and lighter in weight. The Everdure Cube is more difficult to clean as its orange interior easily stains.
When it comes to looks, both BBQs are undeniably stylish. The Everdure Cube comes in Orange, Graphite, Stone, or Khaki. The BergHOFF comes in Black, Grey, or White.
Should you buy the BergHOFF tabletop BBQ?
If you live solo, in a couple or you're a small family then this grill is a top buy. It'll be able to do everything you need while taking up little space in your garden, yard or balcony. And minimal space in your garage or storage cupboard. It's also ideal if you often go on day trips, to the beach, or camping for the weekend, and you'd like your own cooking apparatus to take with you. It's more eco-friendly to use than a disposable BBQ and it looks nicer, too.
Those who often feed lots of people or who are searching for a permanent fixture for their outside space should avoid this BBQ. Otherwise, it ticks the majority of our boxes! Just bear in mind you might find it tricky to cook an entire joint on there without a lid.
About this review, and the reviewer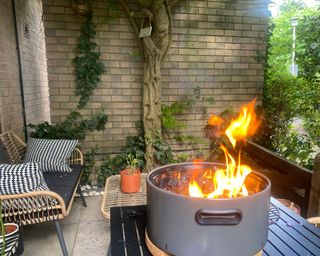 Annie Collyer is our Deputy Ecommerce Editor at Real Homes and has been reviewing products for us since 2018. From vacuum cleaners to BBQs and exercise bikes, Annie has hands-on experience with a range of must-have home buys.
Annie has been testing a load of portable BBQs for us, on her spacious South London terrace. She has tested four in total and is comparing them all in order to come to a verdict for our best portable BBQs guide.
Annie used this BBQ for over a month, cooking on it a total of three times. Annie is giving this BBQ back to BergHOFF once she's finished reviewing it, so won't be able to update this review when it comes to product longevity and use.
You can read more about our reviews and how we test at Real Homes.