Hot water dispensers can be incredibly useful for those with limited mobility or with young kids in the home. Instead of having to lift up a hefty kettle full of boiling hot water, dispensers allow you to press a button and pour a pre-set amount into your mug of tea or instant coffee. They also come with safety modes that will keep young fingers from accidentally pressing the wrong button. Even the best kettles can't offer that.
Can a hot water dispenser replace your kettle though? I put the Aqua Optima Aurora to the test for a few months to see if it's up there with the best hot water dispensers, and if it deserves a spot on your kitchen counters. The dispenser comes with an adjustable drip tray to prevent splashes, temperature selection from chilled through to near-boiling, and filters to keep your water so fresh you'll think it was bottled. Here's how it held up in testing.
Aqua Optima Aurora: specs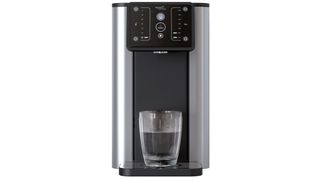 Water tank capacity: 3.8 litres unfiltered, 1.8 litres filtered
Dimensions: 40.4 x 22.1 x 33.6 cm
Power: 2100 watts
Weight: 5.14kg
Temperatures: Chilled to boiling
Volumes: 200-1000ml
Safety features: Child safety lock
Features: Optional water filter, adjustable drip tray, removable water tank
Setting up the Aqua Optima Aurora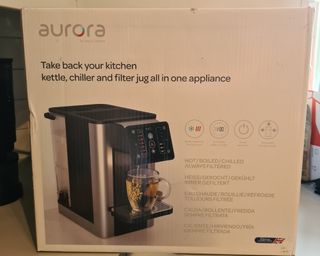 At 40cm high, 22cm wide and 33cm deep, the Aqua Optima Aurora hot water dispenser isn't the smallest one on the market. It's slimline though, and looked the part next to my coffee machine with its similarly black and silver design.
It does have a generous capacity though, which goes up to 3.8 litres in total. When you add in the water filter, which comes included but needs to be replaced monthly, which drops the capacity to 1.8 litres.
If you order the Aqua Optima Aurora, be sure to peel off the plastic cover on the control panel. Without removing this it will be tricky to control the machine, but it's surprisingly hard to spot that it's even there when you first set the machine up.
Plugging in the Aqua Optima Aurora is pretty much all you need to do to get set up. If you add the filter, you'll need to flush the system through a few times so the water the Aqua Optima Aurora passes is clean.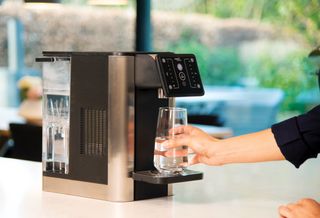 All along the sides of the black front panel there are grooves, into which you can hook your drip tray. Thankfully the Aqua Optima Aurora didn't drip when I tested it, but the tray provides a place to rest your mug as you make a cup of tea or cup of coffee.
You can move the tray up and down as you like, meaning there won't be any splashing as the Aurora dispenses hot water. While it can support a mug, you can't rest anything larger on the drip tray.
When filling up a teapot or pot of hot water for poaching eggs or cooking pasta, you'll need to hold it or stand away to avoid potential splashes.
Using the Aqua Optima Aurora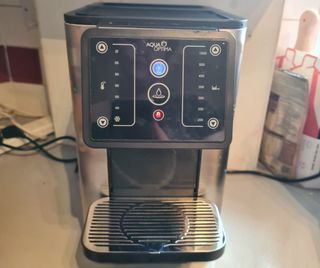 There are 7 buttons on the front of the Aqua Optima Aurora. They are touch controlled, and I feel that a pushable button may have been a little easier to use, but this does give the panel a sleek finish.
To start the Aqua Optima Aurora you first need to press and hold the red lock button. When the light is showing, the safety lock is in place. It's pretty annoying to have to hold it down for 5+ seconds to unlock it, but if you have kids in the house you'll appreciate how secure the Aurora is. As someone who doesn't require the safety features offered with this hot water dispenser, it would've been good to have the option of disabling the lock.
When your machine is unlocked, you then press the power button to fire up the Aqua Optima Aurora. Toggling the arrow buttons over the temperature and volume buttons will allow you to select any volume or temperature of water. For me, my most commonly used combo was 300ml of steaming hot water. When baking though it was useful to not have to heat and then measure specific volumes of water. This made my cooking a lot more specific.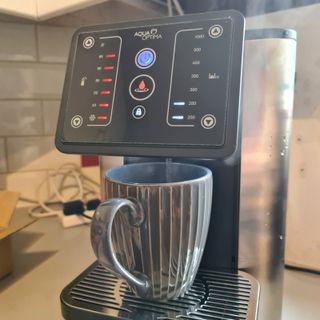 When your desired settings are in place, press the central button and your water will begin to dispense. There is little-to-no wait before this, even on the hottest setting.
I drink at least five cups of tea a day—often more—and this meant I had to refill my Aurora about once a day. Refilling is a bit of a hassle, but no more so than refilling one of the best coffee machines. The tank sits at the back of the machine, so I found it best to use a jug to reach around the back and top up instead of having to pull the Aurora away from the back of my counters.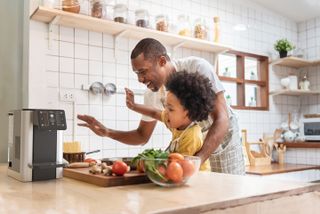 Something that annoyed me when testing the Aqua Optima Aurora was that the child lock is very quick to re-activate. Even when the machine was still switched on, while I was brewing my tea or putting the milk back in the fridge, it would switch onto lock mode and I'd have to unlock the machine to switch it off.
Evaluating: should you buy a hot water dispenser?
The Aqua Optima Aurora is a great example of a hot water dispenser. It's got a lot of safety modes, which make it well suited to the typically dispenser user. If you live with young kids or those who would struggle to use a kettle safely, it is a smart purchase.
However, as someone who cares a lot about their tea, I did struggle with the temperature settings. While it claims to go up to 100°C, I suspect that the Aurora struggles to quite get there. I say that because the tea I made with the dispenser reminded me of the tea you'll get on planes or from the office hot tap. It was just shy of boiling, which meant that my tea was never quite able to get that perfect brewing.
It would be hard to find someone who cares about their tea as much as me though; I buy a very specific tea brand and take it with me to the office because I'm so picky. If you're less of a tea snob, you may not notice the difference with the Aurora.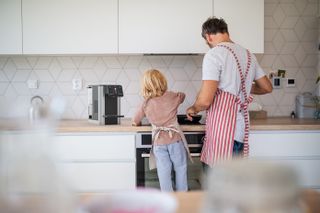 The Aqua Optima Aurora also dispenses chilled water very well. If you drink filtered water as a rule or you only like your water fridge-cold, but lack a fridge dispenser, look no further.
There is nothing stopping you from using the Aurora to cook, either. You can top up your bain marie or boil your spaghetti without having to wait for your water to heat up on the hob. Keep in mind though, this will require regularly refilling the Aqua Optima Aurora, and it will take longer to top up the pot than if you were using a tap because the trickle of water is pretty slow. If you want a solution to this, check out one of the best boiling water taps.
A major perk of using a hot water dispenser is the possible energy efficiency. Instead of boiling a kettle full of water you can only heat up the exact amount of water you need. Of course, you could always just fill up your kettle to the exact volume you need, but it would require a lot more refilling than the dispenser.
Should you buy the Aqua Optima Aurora?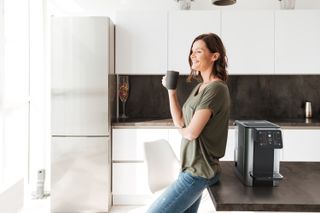 If you're considering investing in a hot water dispenser, the Aqua Optima Aurora is one of the safest options on the market. It's got simple controls and a wide range of temperatures and volumes, with a straightforward touchscreen panel.
The adjustable drip tray is also great for tea drinkers who don't want to risk splashes. At £199, it's not one of the cheaper dispensers on the market, but by offering hot and cold water with a removable filter for fresh drinks every day, it could be the perfect investment for your home or office.
About this review, and the reviewer
Millie Fender is an ecommerce editor at Real Homes, specialising in small appliances and all things cooking. She loves putting new products to the test, whether they're air fryers, blenders, or even pizza ovens, and her family and friends love eating the results.
Millie has a constant stream of new products waiting to be reviewed in her kitchen. It's a little snug, so if she thinks anything deserves to stay there, you know it's something special.