With kettles such a common feature in most kitchens, the phrase "if it ain't broke, don't fix it" might come to mind, but a home hot water dispenser can be a surprisingly useful addition to the kitchen worktop in more ways than one.
For some sufferers of chronic pain, or those with mobility issues, filling, carrying, lifting and pouring a kettle can prove difficult, an issue that hot water dispensers solve with their push-button controls and static vertical spouts.
If you need a large volume of boiled water at once, for example when filling a pan for dinner, you might be better off with a kettle, but the other big bonus to buying a hot water dispenser more than makes up for it, and that's the the speed at which you can have a perfectly boiled cup of water — in many cases, up to four times faster than a conventional kettle. And, as they only boil as much as they need at a time, they can prove much more energy efficient.
While you can get water dispensers with generous capacities which are ideal for big households, there are also more compact models that won't take up too much space on the counter.
1. Breville VKJ142 Hot Cup
Our all-round best buy
Specifications
Best for: Overall best value
Capacity: 1.5L
Reasons to buy
+Easy to fill, easy to clean+Looks simple and stylish
Reasons to avoid
-No variable temperature
This slender water dispenser looks neat on most modern worktops, with its gloss black finish and stainless steel trim, but its performance earns it a place as our best value buy. The Hot Cup is easy to fill, the extra-large window on the water reservoir making it easy to keep an eye on levels, and the smooth continuous flow minimises splashing and the risk of burns, while the drip tray catches any excess for less mess.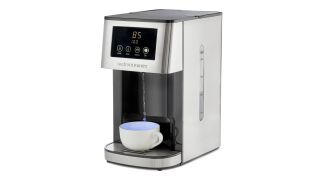 2. Andrew James Purify Dispenser
Choose exact amounts and temperatures with this full-featured dispenser
Specifications
Best for: Choice of settings
Capacity: 4L
Reasons to buy
+Set exact temperature+Choose cup size in millilitres
Reasons to avoid
-Can be noisy at lower temperatures
This water filtering dispenser is the best choice for tea lovers, with its variable temperature settings from 55 to 100 degrees making it easy to create the perfect cup of green tea without the bitterness that boiling brings, or a good old cup of builder's. You can also set the exact amount to be dispensed in millilitres, so it's ideal as a helping hand while cooking, too — overall, a sleek stainless steel dispenser that handles a range of tasks elegantly and precisely.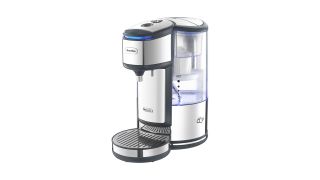 3. Breville VKJ367 Brita Filter
For a clean taste and a clear cup, look for a dispenser with built-in filter
Specifications
Best for: Hard water
Capacity: 1.8L
Reasons to buy
+Good for hard water areas+Nine cup settings
Reasons to avoid
-No option for non-boiling filtered water
If you live in a hard water area and are frequently put off by that tell-tale film on your cup of tea, this is the water dispenser for you. With its inbuilt Brita filter, it eliminates the need for a separate filter jug and kettle, saving expense and faff, and improving the taste of your brew. It lets you choose from nine different vessel sizes, or use the manual stop button if you prefer a more customised cup, but has no variable heat settings.
4. Morphy Richards 43922 Accents
A sleek and stylish antidote to corporate-looking dispensers
Specifications
Best for: Design
Capacity: 1.8L
Reasons to buy
+Looks sleek and stylish+Decent capacity
Reasons to avoid
-Water level isn't particularly easy to read
The Art Deco-esque curves, mirror-finish chrome and matte paintwork of this Morphy Richards hot water dispenser give it a really smart look that fits in with both modern and more traditional kitchen schemes. It makes up to eight cups without having to refill and the efficient element heats in under a minute, perfect if you have friends coming round for coffee. There's also a spillage-stopping manual stop button and removable drip tray to stop mess in its tracks and help keep your worktops spotless.
5. VonShef Instant Dispenser
A streamlined dispenser that won't take up too much room on the worktop
Specifications
Best for: Compact
Capacity: 2.5L
Reasons to buy
+Compact for small kitchens+Heats very quickly
Reasons to avoid
-No auto-off
This sleek little water dispenser looks neat in modern black and silver, and fits in anywhere thanks to its tiny footprint. It heats incredibly quickly, getting up to temperature in mere seconds, and holds a considerable 2.5L in its reservoir, although as it sometimes needs a short rest between cups, it can take a little while to make a large round. It's also worth noting that there are no cup size options, and the off switch is manual, although this does eliminate some of the guesswork for odd-sized cups.