In the market for the best hot water dispenser? With kettles such a common feature in most kitchens, the phrase 'if it ain't broke, don't fix it' might come to mind, but a home hot water dispenser can be a surprisingly useful addition to your kitchen counter in more ways than one.
Think: instant hot water for your tea, coffee, pot noodle or baby bottle.
For more kitchen appliance recommendations, head to our appliance hub page, or shop our pick of the best boiling water taps.
WHY BUY A HOT WATER DISPENSER?
For some sufferers of chronic pain, or those with mobility issues, filling, carrying, lifting and pouring a kettle can prove difficult, an issue that hot water dispensers solve with their push-button controls and static vertical spouts.
If you need a large volume of boiled water at once, for example when filling a pan for dinner, you might be better off with a kettle, but the other big bonus to buying a hot water dispenser more than makes up for it, and that's the the speed at which you can have a perfectly boiled cup of water – in many cases, up to four times faster than a conventional kettle. And, as they only boil as much as they need at a time, they can prove much more energy efficient.
The other option? A boiling water tap. These look sleeker, but cost much more.
WHAT IS THE BEST WATER DISPENSER?
We think the best hot water dispenser you can buy is the Breville VKJ142. It's affordable, easy to clean and stylish to name a few properties. See more details below.
HOW TO BUY THE BEST HOT WATER DISPENSER
Where to buy the best hot water dispenser
Best for
Whether you're after something that'll look stylish on your worktop, something that delivers fast results or one with a filter included because you've hard water, we've listed what each machine is best for.
Capacity
While you can get water dispensers with generous capacities which are ideal for big households, there are also more compact models that won't take up too much space on the counter. If you live in a couple or on your own, it's best to opt for a smaller machine.
THE BEST HOT WATER DISPENSERS
1. Breville VKJ142 Hot Cup
Best hot water dispenser you can buy: affordable, easy to clean and stylish; this is our best buy hot water dispenser
Specifications
Best for: Overall best
Capacity: 1.5ltr
Reasons to buy
+Easy to fill, easy to clean+Looks simple and stylish
Reasons to avoid
-No variable temperature
This slender water dispenser looks neat on most modern worktops, with its gloss black finish and stainless steel trim, but its performance earns it a place as our best value buy. The Hot Cup is easy to fill, the extra-large window on the water reservoir making it easy to keep an eye on levels, and the smooth continuous flow minimises splashing and the risk of burns, while the drip tray catches any excess for less mess.
Shop more Breville products at Amazon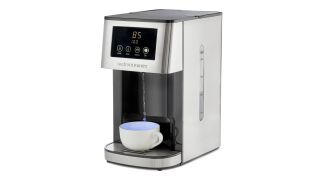 2. Andrew James Purify Dispenser
Best hot water dispenser for settings: choose exact amounts and temperatures with this full-featured dispenser
Specifications
Best for: Choice of settings
Capacity: 4ltrs
Reasons to buy
+Set exact temperature+Choose cup size in millilitres
Reasons to avoid
-Can be noisy at lower temperatures
This water filtering dispenser is the best choice for tea lovers, with its variable temperature settings from 55 to 100 degrees making it easy to create the perfect cup of green tea without the bitterness that boiling brings, or a good old cup of builder's. You can also set the exact amount to be dispensed in millilitres, so it's ideal as a helping hand while cooking, too — overall, a sleek stainless steel dispenser that handles a range of tasks elegantly and precisely.
Shop more Andrew James products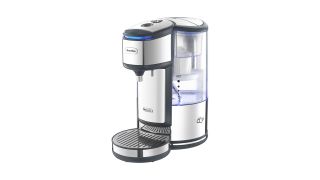 3. Breville VKJ367 Brita Filter
Best hot water dispenser if you have hard water: for a clean taste and a clear cup, look for a dispenser with built-in filter
Specifications
Best for: Hard water
Capacity: 1.8ltrs
Reasons to buy
+Good for hard water areas+Nine cup settings
Reasons to avoid
-No option for non-boiling filtered water
If you live in a hard water area and are frequently put off by that tell-tale film on your cup of tea, this is the water dispenser for you. With its in-built Brita filter, it eliminates the need for a separate filter jug and kettle, saving expense and faff, and improving the taste of your brew. It lets you choose from nine different vessel sizes, or use the manual stop button if you prefer a more customised cup, but has no variable heat settings.
Find more Breville products at John Lewis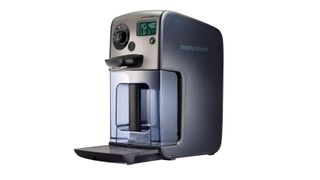 4. Morphy Richards Redefine Hot Water Dispenser
Best hot water dispenser for style: a sleek and stylish antidote to corporate-looking dispensers
Specifications
Best for: Style
Capacity: 3ltrs
Reasons to buy
+Stylish matte finish+Built-in Brita filter
Just like our previous pick, the Morphy Richards Redefine has an integrated Brita filter to keep your cuppa clear and tasting good, making it an ideal for buyers in hard water areas. It also has the added bonus of looking great on the worktop, with its nearly-matte finish and gently curved housing, but even if a stylish appliance is a must, its real value lies in its ability to make life easier. Users loved that you could choose for it to dispense a set amount, and disabled testers found it invaluable for its less strenuous operation.
Browse more Morphy Richards products at Amazon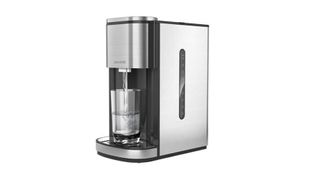 5. electriQ 4L Instant Hot Water Dispenser
Best hot water dispenser for fast-boiling: looking to boil a lot of water quickly? There's none better.
Specifications
Best for: Fast-boiling
Capacity: 4ltrs
Reasons to buy
+Boils in seconds+Large capacity
This sleek water dispenser heats incredibly quickly, getting up to temperature in mere seconds, and holds a considerable four litres in its reservoir, meaning that large French presses and hot water bottles can be filled at a moment's notice. Of course, the flip side of this is that it does take up quite a bit of room on the counter, but if you've got the space, reviewers said they wouldn't be without it, citing the easily manageable flow speed and great tasting tea as just some of the reasons why.
Shop more Appliances Direct hot water dispensers
More beverage must-haves: