We've said it before and we will say it again, if you have got books you have got decoration. Yep, all those dusty classics you have been hoarding (or more likely all those Sophie Kinsellas and Jodi Picoults, not judging) can bring colour and texture and interest to a room if displayed in the right way.
So what is the 'right' way to display a book? In a bookshelf wall, obviously! Forget wallpaper and gallery walls, this the only way we are doing a feature wall from now on. Keep scrolling to find out some easy ways you can create a bookshelf wall yourself and for loads more DIY projects and tips head over to our hub page...
1. Build a bookshelf wall around a doorway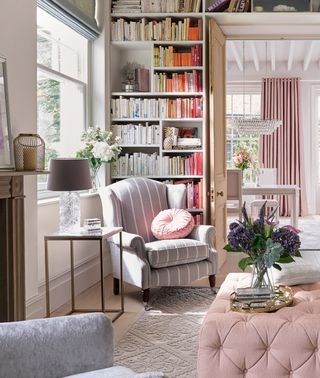 Seeee, look at all the lovely colours that this bookshelf brings to this room and this is a look you can quite easily recreate yourself. We think the easiest way to get a similar finish is to build the shape around your door using floating shelves. Plan out how many shelves you want to go up each side of your doorway and measure the length above the door too so you can install a shelf there too to complete the built-in look.
The Ikea Lack shelves come is loads of sizes so you will more than likely find lengths that will find your space. They are really affordable too!
2. Or turn a bookshelf wall into a door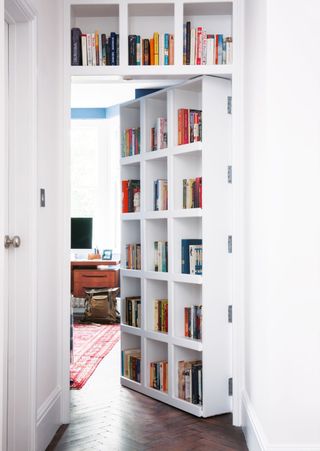 How cute is this idea?! Surely it's everyone's dream to have a bookshelf wall that leads into a hidden room? This might be a bit beyond the average DIYer's abilities so you could get a carpenter in to create this look but if your door swings inwards like this one you could cheat the look with wall mounted storage cubes – just make sure your door and hinges are strong enough to hold them.
3. Go floor to ceiling with your bookshelf wall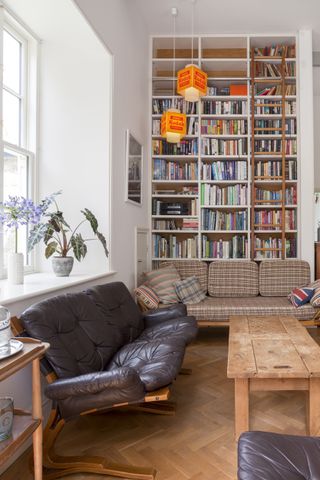 The easiest way to create this built-in bookshelf wall look is to combine a number of bookshelves to fill your space – we would go with the trusty Ikea Billy bookshelves because there are so many size options and you can move the shelves around too. Just make sure you always secure the bookshelves to your wall.
4. Create a floating bookshelf wall
For a more streamlined subtle bookshelf wall, create rows with almost invisible floating shelves. These are from Tee-Books and come in all shapes and sizes so you can create a really bespoke look – they have loads of bookshelf wall inspiration over on their Instagram so check out those ideas too!
5. Use Ikea shelves to create a bookshelf wall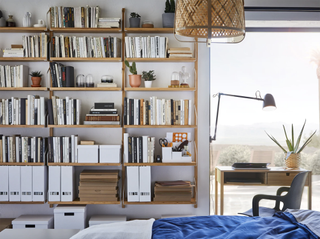 Get down to Ikea this weekend and recreate this look simply by wall-mounting the every popular Svalnas shelving system. You can buy them in pre-made combinations and mix and match to create your own look. We reckon you could have yourself a very cool looking bookshelf wall in just an afternoon.
Read more: