Celebrating Burns Night at home this year? Whether you're going full out with nips and tatties or you're just going to have a singalong to Auld Lang Syne and eat some shortbread, here's how to make this celebration feel just the same, all while staying at home. We're talking more than just whisky and haggis!
Burns Night falls on the 25th January in 2021, and we're here to help you buy a few things in time for this celebration. Whether that's a bottle of whisky to add to your collection, a shiny new decanter, a tartan blanket to curl up on the sofa with, or, a dedicated haggis plate for serving the family.
Keep scrolling for eight top Burns Night must-haves to enjoy 2021's celebration, however different it may be to previous years. And, there are a few top buys for whisky lovers in there, too.
See our best bar carts guide for inspiration on where to store your whisky (and more!).
1. A whisky tasting set so you can try before you buy
Spend this Burns Night trying out some new whisky with help from this tasting kit from Drinks By The Dram. Included comes 12 wax-sealed bottles, each with enough for a serving so you can test the waters before investing in a full-size bottle. If you are celebrating as a household, these make lovely table favours – pop one at each place setting on the table. Then they can have a look at what it is and pour for themselves.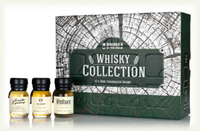 12 Dram Whisky Collection From Drinks By The Dram | £45 at Master of Malt
Included comes 12 30ml servings of some of the top whiskys out there. From Loch Lomond 12 year old to a 21-year-old Perspective Series and even an Uncle Nearest 1856 Premium whisky. All inside a cardboard box with doors to open each one.
2. A whisky decanter for displaying your favourite drink
Every whisky lover needs a decanter to store their favourite drink in style. And, a good decanter will keep your whisky looking the part in your kitchen (or on your drinks trolley) and tasting fresh. It also makes a great present for whisky lovers.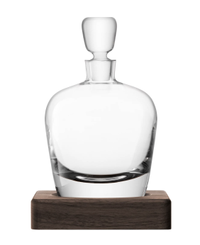 LSA Whisky Arran Decanter | £110 £88.15 (save £21.86) at Amazon
This one litre whisky decanter comes with a stylish walnut base, and it has tapering walls. It's hand wash only, and it's on sale!
3. Why not light a whisky scented candle while you dine?
An easy way to make your home smell like a Burns Night celebration is in full swing, buy this whisky and water scented candle for the centre of your dinner table and strike a match.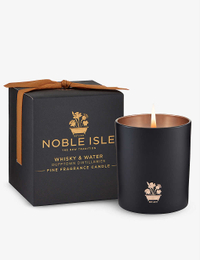 Noble Isle Whisky & Water scented candle | £40 at Selfridges
With a burn time of up to 45 hours, this lovely candle smells and looks the part. With top notes of rose, heart notes of jasmine and orange blossom and base notes of tonka bean and amber.

4. Wrap up while cooking your Haggis with this whisky-themed apron
Because you don't want to ruin your clothes while cooking your Haggis, neeps and tatties, buy yourself an apron for the occasion. This one from Not on the High Street reads 'A dram before the storm'.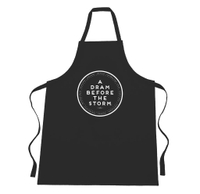 Eat Haggis 'A Dram Before The Storm' Apron | £17.95 at Not on the High Street
A great gift to a friend, family member or yourself, this novelty apron comes in your choice of black or white, and it reads the names of the five regions where whisky is made, as well as the various types that are produced in Scotland.
5. Invest in a bar cart to wheel your whisky around your home
Need somewhere to store your whisky collection proudly? When your kitchen worktop will no longer suffice (and it's taking up half of your cooking space), you know you need a bar cart. Great for storing your favourite bottles, glasses and cocktail-making utensils, and they're usually on wheels for easy moving from your dining table to your sofa.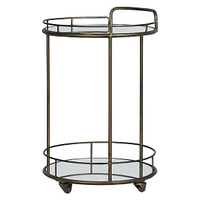 Pimlico Antique Brass Drinks Trolley | £150 at Dunelm
This brass drinks trolley will go perfect in your living room, kitchen diner or dining room. With mirrored shelf inserts and a maximum weight limit of 16kg, it's ideal for your whisky collection.
Non-whisky related but still great must-haves...
6. This special Burns Night plate for serving your haggis
Looking for a plate for serving your haggis this year? This handmade option will be used for years and years to come. Alternatively, it would make a lovely present for someone who might be celebrating Burns Night alone.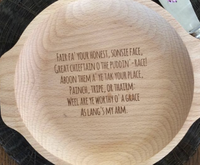 Wooden Burns Night Haggis Plate by HunterGathererUK | £18.50 at Etsy
It's made from beech wood and it's engraved with a few lines from Robert Burns himself. It'll look lovely on your table!
7. A stylish cheeseboard for your Scottish oat cakes and cheese
Although not a tradition, some of us like to enjoy a few Scottish oat cakes with some cheese after our Burns Night supper. To do it in style this year, buy a new cheese board. Not just for Burns Night, too, as you can use it year-round.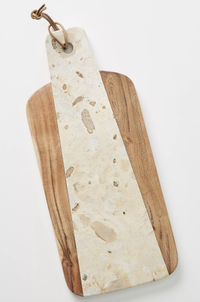 Marbled Acacia Cheeseboard | £32 at Anthropologie
Made from a mix of marble and Acacia wood, this cheeseboard measures 40 centimetres long. Not just for serving cheese, use it for serving desserts, canapés and more – whether at Christmas, Easter or on an average Saturday evening.
8. Buy a new tartan blanket to wrap up on the sofa after supper
Is there anything more Scottish than a tartan blanket? Okay, we are admittedly being slightly stereotypical right now, but from a non-Scottish point of view, the moment I see tartan I think of Scotland. Buy a tartan blanket to drape over your sofa – you never know how Burns Night will end up. Maybe you'll curl up on your sofa and watch The Wicker Man.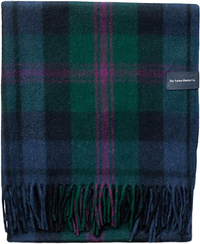 The Tartan Blanket Co. Recycled Wool Blanket Baird Tartan | £50 at Amazon
Available in lots of colours, this 70 per cent wool blanket is warm and durable. It's also fringed and it's sent straight from Edinburgh.