'Tis the season of goodwill, but maybe not to all guests, as it's revealed that one-in-two Brits have fallen out with friends and relatives while hosting.
In spite of people's best intentions, the stress of putting together the perfect gathering can result in rows and tears before home or bedtime.
In some cases, the damage caused to friendships during dinner and cocktail party dust ups has proved irreparable.
Research carried out by kitchen retailer Vitinni.co.uk, revealed that spills and breakages by clumsy guests were the biggest irritants for hosts, with 71 per cent of people saying it was what annoyed them most.
It was closely followed by the bad bathroom etiquette of leaving the loo seat up, with 68 per cent saying they found nothing humorous about this toilet faux pas.
And watch out anyone who messes with the host's tech and tries to change the music or alter the thermostat – as 55 per cent warned that things could get pretty heated if they did.
In order to avoid flare ups, 73 per cent of Brits admit to now being secretly selective about which family members they will invite to stay with them.
And 60 per cent confessed that they'd actually avoid inviting guests who don't abide by their house rules
Craig Corbett, marketing manager at Vitinni says, 'Hosting family and friends, whether it's a long stay with you or just a bite to eat back at your place, can be both pleasurable and painful at times!
'Anything to make it easier should be leaned on, whether that's gadgets in the kitchen to aid drink and food prep, or having another pair of hands to help you out. Ultimately, getting together in the comfort of your own home should be an enjoyable experience and not put off the host, or guest, from doing it again some time.'
So what makes the top 10 list of house guest horrors?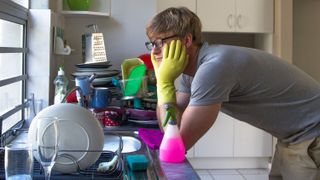 Homeowners' top 10 house-guest horrors
Spills and breakages by guests (71 per cent)
Uncleanliness e.g. leaving the toilet seat up (68 per cent)
Messing with tech settings, like speaker volume, heating (55 per cent)
'Space invader' guests who look through your belongings (54 per cent)
'Hotel' guests who expect to be waited on like you're staff (52 per cent)
Unappreciative guests who don't say thank you or show their gratitude (46 per cent)
Messy guests who don't help clean up (40 per cent)
Guests who constantly want attention and won't leave you alone (38 per cent)
Being rude about your home, drawing attention to faults like unfinished DIY tasks (11 per cent)
Inconsiderate car parkers who cause friction with your neighbours (9 per cent)