Brits throwaway attitude to appliances and careless treatment of their homes is costing them thousands, as they replace instead of repair or renovate whenever a shiny new model comes along.
Spending up to £50 on a kettle might not seem like much at the time. But people change them every four years on average, which is 15 kettles over 60 years. Add it up and that's £750. That's a lot of teas and coffees!
According to research carried out by Origin, the leading British window and door brand, homeowners spend almost £21,000 over their lifetime replacing the gadgets, appliances and furnishings they use the most.
And a quarter of people asked admitted they prefer to buy cheaper home items so that they can change them regularly, rather than choosing quality pieces that will last longer. Twenty-eight per cent confessed to replacing things just because they look worn, even if they still work properly.
Ben Brocklesby, director at Origin, warns: 'As a nation, we need to be more aware of the effect our buying decisions have, not just on our own wallets, but also the environment. In fashion, the concept of a 'capsule' wardrobe has been applied to help support this way of thinking. Consumers buy fewer clothes but invest in high quality brands they can wear again and again, getting more cost per wear. This is something we all now need to consider when we buy and replace items in the home, particularly those we use most often.'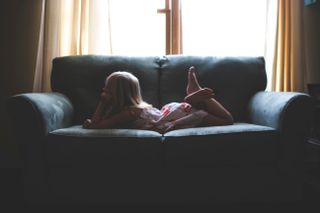 Slamming doors or kids and dogs clambering about on furniture can all shorten the working life of big ticket items. The living room sofa is the most used piece of furniture in the home, getting sat on more than 1,645 times a year. It can get upgraded as often as every eight years, as the seats wear out and cushions lose their support.
The most used gadget is the kettle (1,640 times per year), as everyone likes a cuppa when they sit down. The front door is opened and closed 1,615 times per year, but gets an extra battering during family rows. A third of homeowners admit to venting their anger by slamming it when emotions run high.
When people are sitting (armchairs used 1,036 times a year) they are usually relaxing in front of the TV, which is used 1,378 times. People take out or put away clothes more than they cook as the wardrobe gets used 753 times a year while the cooker is on 638 times. Though the microwave being used 513 times might account for that.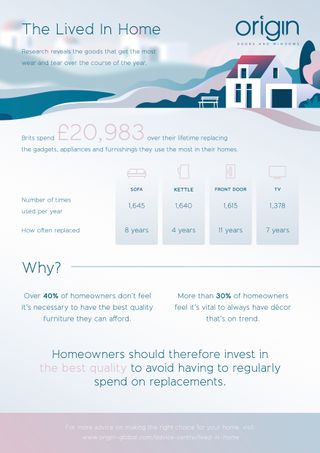 Replacing their most used items can cost the average homeowner £21,000 over their lifetime, when the rate of change is weighed up with how much they are willing to spend on these must-have items.
Ben Brocklesby said that by investing in items that might cost more but will ultimately last longer, people can cut this figure: 'By looking out for products with guarantees over and above the industry standard, particularly when replacing the most used items in their property, they can be reassured that their goods will stand the test of time.'