The Target patio sale couldn't have come sooner. Not only is spring just a few days away, but as we all do our part at social distancing, there's never been a better time to turn your backyard into your own personal oasis.
Get some fresh air in style with our top patio furniture picks, all on sale at Target. And hurry! These prices end Wednesday, March 18. (Not to mention Target makes some of the most stylish furniture available, and it often sells out quickly).
Want more patio furniture sales? Check out our patio sales page, which is regularly updated with the best deals we can find online.
Our favorite Target patio furniture deals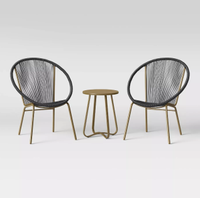 (opens in new tab)
Project 62 Fisher 3pc Patio Chat Set | Was $350, now $315 at Target (opens in new tab)
Sleek, 60s-inspired style at a bargain? It's possible with this fun chat set from Project 62. The brass and black coloring make a glam statement, so we love this set for a city balcony or contemporary pool deck.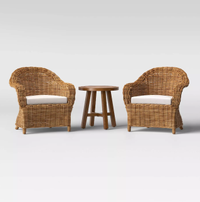 (opens in new tab)
Smith & Hawken Eldrige Wicker Patio Chat Set | Was $650, now $585 at Target (opens in new tab)
This patio set is an updated take on classic wicker designs. Timeless wicker patio chairs with pretty white cushions are complemented by a wooden side table. We love that the table goes perfectly with the chairs without matching them exactly. It makes the whole set feel more curated, like you picked it out all by yourself and totally nailed it.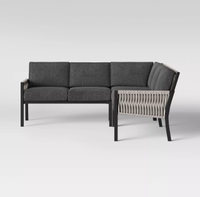 (opens in new tab)
Project 62 Lundig 3pc Patio Sectional | Was $750, now $675 at Target (opens in new tab)
Chic, meet comfy. This streamlined sectional from Target's midcentury-inspired Project 62 collection is a stylish addition to any patio or deck. The woven armrests are a highlight, but so is the weather-resistant construction.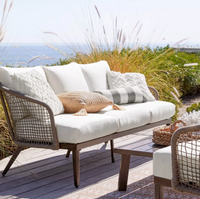 (opens in new tab)
Project 62 Risley Oversized Rope Patio Sofa & Coffee Table Set | Was $1000, now $900 at Target (opens in new tab)
An outdoor sofa so plush it could almost go inside? This is it. But you'll be glad you kept it al fresco when you're perched on it basking in the sun. Both the sofa frame and the matching coffee table are made from aluminum for durability.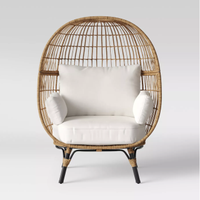 (opens in new tab)
Project 62 Southport Egg Chair | Was $500, now $450 at Target (opens in new tab)
The ultimate statement piece for your patio, this hip egg chair with white cushions is currently one of Target's most in-demand patio pieced. The three other colors are currently sold out, but white would be our top choice anyway, since it goes with everything.
For more Target patio furniture deals, check out: