Looking for a BRILLIANT patio cleaner? Those of us lucky to have outdoor space will want to make the absolute most of it this summer. Whether you're planning on updating your patio with a container garden and a chic bistro set, or transforming it into an outdoor room, the key to a successful patio update is patio slabs that are in pristine condition.
With algae, moss, and perhaps even moss growing on your patio all winter, achieving a like-new patio can seem like a mammoth task. What will rescue a grotty looking surface is the best patio cleaner, ridding it of the green and the black stuff that's growing on it. And we've found a really good one. It's organic and, with our hack, you can make it even more effective.
For more cleaning know-how check out our hub.
The best patio cleaner – that's also organic
The truth is, there are many effective patio cleaners out there – but almost none that are completely safe for wildlife. Most patio cleaners will say that they're safe for children and pets once the product has dried, but the back of the bottle will also tell you that the patio clean is harmful to aquatic life, which is really not great if you have a garden pond or live near a stream or river.
Which is why the Real Homes team decided to try out the Algon Organic patio cleaner, which boasts a formulation that is safe for all garden wildlife. This patio cleaner is impressive: it required no hosing, just brushing on, diluted with water. Results can seem underwhelming at first, but after about a week, you will suddenly notice that your patio looks remarkably clean and bright. It's worth the wait.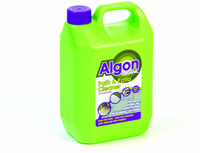 Algon Organic Patio Cleaner | £9.99 at Amazon
Just mix one part Algon with three parts water in a garden sprayer or bucket, and you can cover up to 60 square metres depending on porosity of surface. No scrubbing, rinsing or water blasting required.
How to clean a patio? The patio cleaning hack you'll love
OK, so you know that we think Algon organic is a fantastic patio cleaner. Plenty of home patio cleaners share our views, too, as the thousands of five-star reviews from delighted users online testify. But what's the hack that'll make it even more effective?
The trick to the very best patio cleaning results is to become a keen weather watcher, and that's down to the hour, people. So, there needs to be no rain in the forecast for the next five to six hours before you apply this best patio cleaner to your surface. Also, key is avoiding a scorching hot day. Why? Well, put it on when temperatures have soared and it'll evaporate too quickly. Swerve the heat and there's more of the cleaner left on your grubby patio.
Once it's down, of course, this clever patio cleaner will get working on the moss, mould and mildew. Even better, it'll be reactivated to lift the growths that are compromising your paving each time it rains, and it'll go on working for up to year.