The Nooie Outdoor Home Security Camera only launched this summer and is already making waves in the world of home security cameras. There are so many security cameras on the market now that to rise in the ranks of a seemingly endless range of products is quite an achievement. Even more amazingly, this little guy has an almost completely solid 'five out of five' star rating on Amazon, which is, again, a rarity.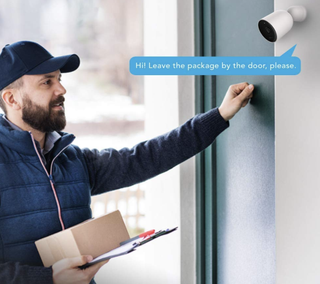 So, what's so special about this one? The Nooie outdoor security camera is advertised as a 'high definition, low profile' security camera, and it's this combination that has won over users.
Some of us are put off security cameras that look too big and clash with the exterior of our homes, while others worry about burglars tampering with or even destroying a camera that's too obvious.
The Nooie has excellent rotation (101 degrees horizontally and 90 degrees vertically), which makes it suitable for installing discreetly under the porch roof, for instance, where it's not immediately visible.
The second most important thing about security cameras is, of course, the quality of the video. Here, again, the Nooie delivers, with a high-definition imagery so crisp that users say it's better than any other security camera they've had, including in night vision mode.
There's two-way audio, too, so you can listen and talk to family or pets directly from your phone anytime, anywhere through the indoor camera with built-in microphone and speaker. Plus you can check in your home anytime with 24/7 live streaming; the Nooie can send real-time notifications to your smart phone when motion or sound is detected.
Add to that its guaranteed weatherproof build, and you have yourself a more than decent security camera for under $79.99.
In the UK? While the Nooie outdoor camera hasn't launched here yet, you can try out the (excellent) Nooie Indoor Camera for £30 at Amazon UK.