Got a small garden? Or even a balcony? A lack of square footage doesn't mean you have to write off your outside space entirely. In fact, this Ikea garden furniture  will give you a greater idea of exactly what can be achieved, no matter how little space you're working with.
Not only is it designed to be compact, it also makes the most of vertical space, which is key when you're designing a tiny garden. Plus, because it's from Ikea, it's all relatively affordable. And no, we wouldn't encourage you to head to the Swedish superstore right now, instead consider ordering online to abide by the current social distancing advice.
Keep scrolling for Ikea garden furniture designed with teeny tiny spaces in mind.
1. Choose a compact dining set
If you want to spend time in your garden, whether that's eating, working, or simply soaking up some sun, you'll need somewhere to sit.
This Tarno Dining Set, £35, is lightweight, compact and will fit in even the smallest of spaces. Plus, thanks to its classic bistro design, you won't have to worry about it looking outdated in a few summers time.
And when you want to make the most of your outside space, simply fold up your dining set and prop it against the wall.
2. Make the most of vertical space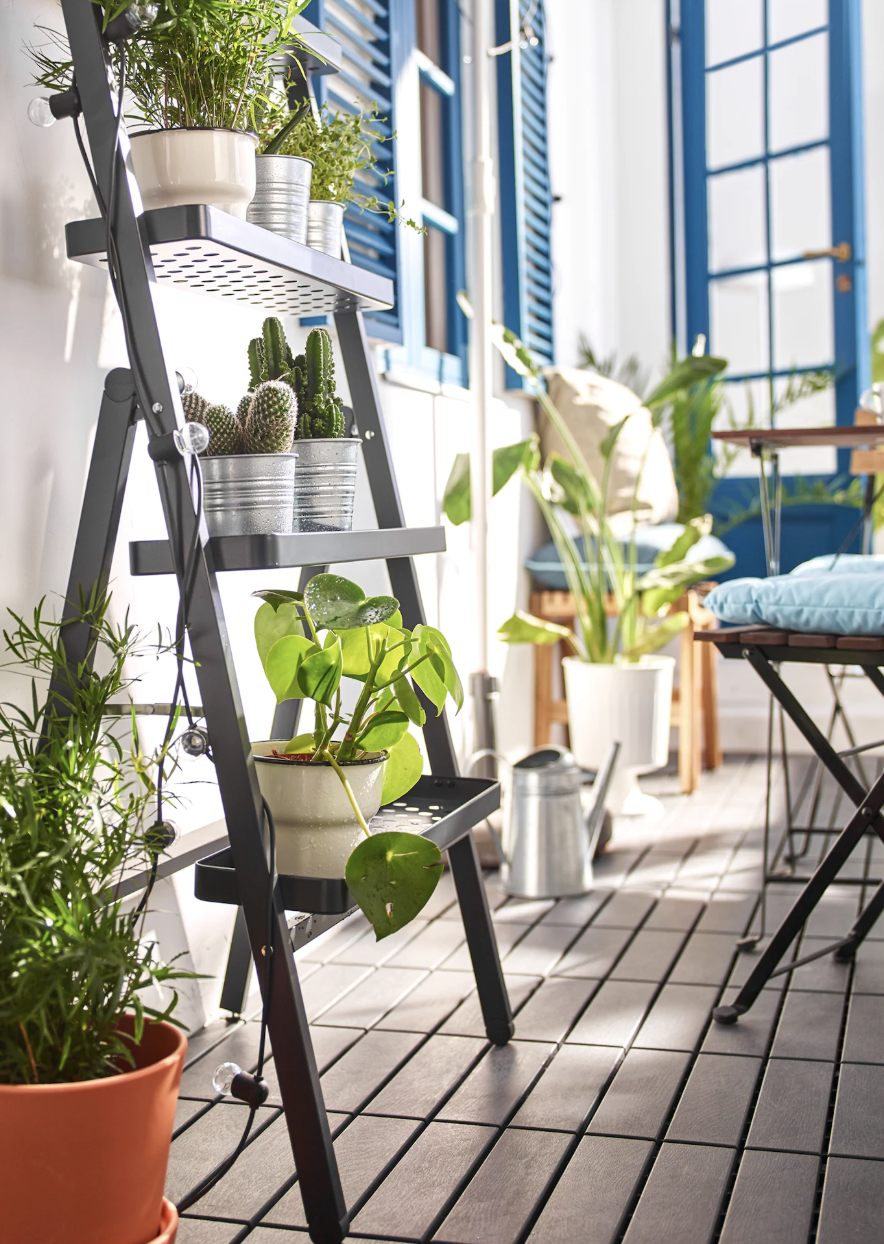 If we've said it once, we've said it a million times, vertical gardening is your friend if you're looking to make the most of a small space. And this Salladskal Ladder Shelf, £50, is designed to help you do just that. Style with plenty of plants to ensure you maximise the potential of your outside space.
3. Kit out your small garden for day and night
Okay, so this isn't technically garden furniture, but it does have the potential to completely transform the look – and feel – of your outside space. Seriously, garden lighting can add a subtle sparkle to your space, creating all kinds of atmosphere as soon as the sun goes down.
Here, the Utsund Garden Lights, £17, have been used. But you can browse more of the best garden lighting over in our guide.
The Great Garden Weekender – Easter Bank Holiday 2020
Garden looking a bit sorry for itself? This Easter we'll be bringing you everything you need to transform it with our amazing Great Garden Weekender, which runs from April 10th–13th. 
We'll have the best prices on garden furniture, lawnmowers, sheds and barbecues, as well as easy step-by-step guides to help you finally paint your decking, clean your patio or plant that veg.