This lawn mower deal could quite possibly completely change the way you look after your garden. At any rate, it's guaranteed to give you back the time you normally spend mowing your lawn.
The Flymo EasiLife is a robot lawn mower and will indeed make life much easier by taking care of your lawn to perfection. Three rotating blades ensure a razor-sharp finish, and the mower will cope with slopes of up to 35 per cent, making it perfect for gardens with irregular terrain.
Check out the deal below. If you were after a non-robotic lawn mower, see our favourites on our best lawn mower guide.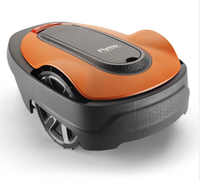 Flymo EasiLife 200 Robotic Lawn Mower | Was £649.99, now £599.99 at Robert Dyas
Compact and lightweight, the Flymo will nevertheless cover an area of up to 200 square meters and will cut grass between 20 and 50cm in height. Our favourite thing about this lawn mower, however, is that it's quiet: you might forget it's there.
And did we mention that you can control this clever device from an app on your phone? Easily turn it on and off without even needing to get out of the house (great for rainy days).
It will also fertilise your lawn by sprinkling it with grass cuttings as it goes along – no emptying of containers means even less work for you.
Read more: