Dunelm garden furniture is here to make your bank holiday feel like the ultimate staycation! Because who needs cocktails on a Mediatterean beach when you have Tesco Finest Prosecco on your patio? Okay maybe don't answer that...
Anyways, the weather this weekend does look to be lush for the most part, and we bet you have spent the past few weekends slaving away getting your garden looking lovely. Now it's time to relax and treat yourself to some new pieces of furniture.
It doesn't have to cost lots to spruce up your garden either – this gorgeous Dunelm garden furniture is some of the most affordable out there. We have rounded up our fave Dunelm picks (yes they are delivering!), so you have somewhere lovely to eat your Greek salad and drink your ouzo.
For more affordable picks, head over to our garden furniture sales feature, or check out our round-up of the best garden furniture you can buy.
1. Pick a compact cube set
Nevada Brown Rattan 4 Seat Cube Set | £299 (opens in new tab)
Oh how dreamy does this set up look? With this Dunelm garden furniture set you can four chairs and a spacious table, but it doesn't need to take up loads of room when not in use because it fits neatly together into one compact cube. It's a great price for the quality and has some amazing reviews too so you don't just have to take our word for it.
2. Go for a relaxed vibe with a Dunelm outdoor sofa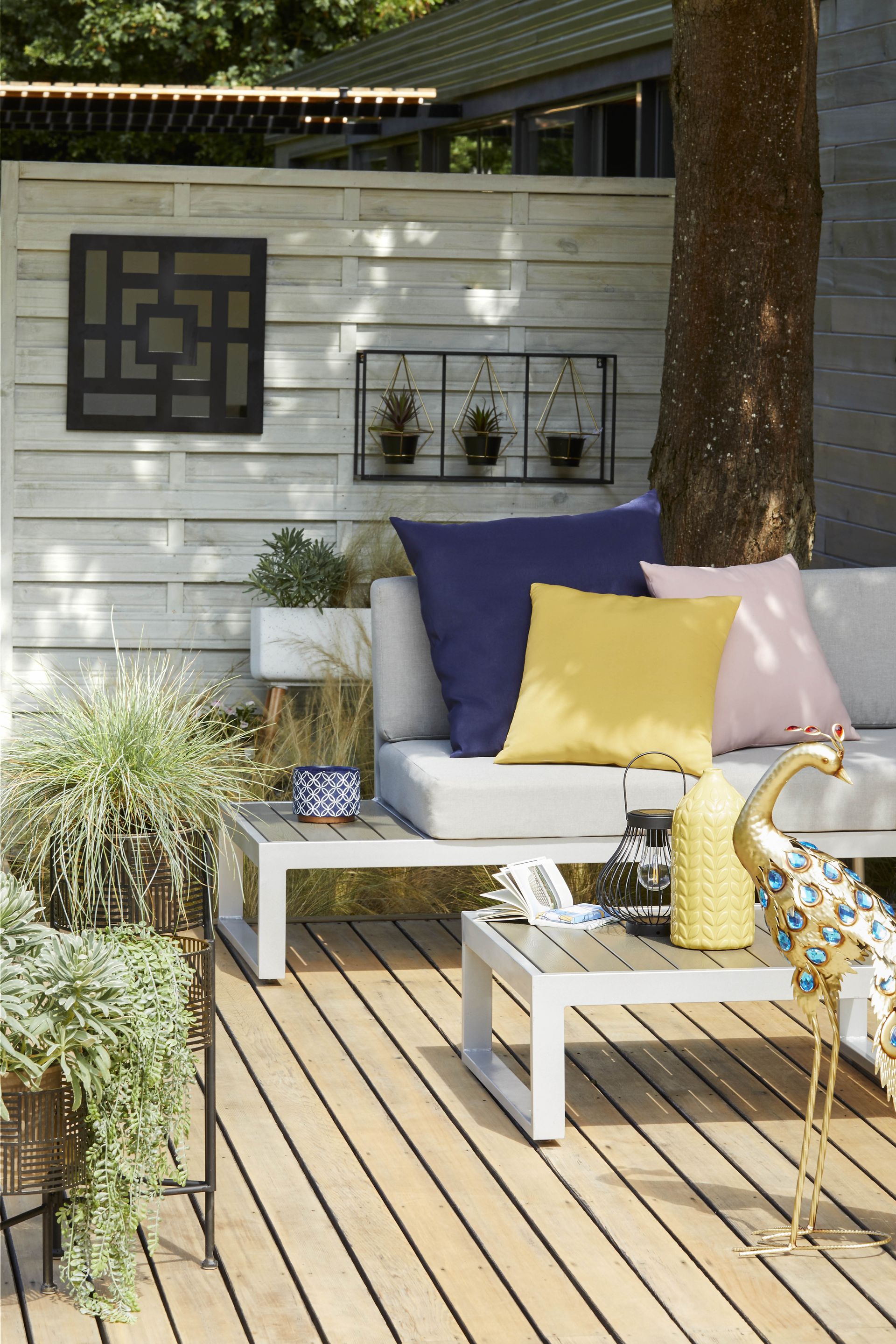 Ibiza Grey Corner Sofa Set | £579 (opens in new tab)
It's literally called Ibiza! Bring some Spanish island vibes into your garden with this stylish, relaxed outdoor sofa and coffee table. You can seat up to five people on these super comfy cushions and you can always add some colour by adding a few throw cushions to your Dunelm basket before you check out.
3. Opt for a classic (really affordable) dining table
Osaka Grey 6 Seat Dining Set | £299 (opens in new tab)
Larger outdoor dining sets can get expensive, which is why we want to draw your attention to this one. It comfortably fits six chairs around the table and has a really simple, stylish look but is still under £300. You could make it more your own (and a bit comfier) with some seat cushions – might we recommend these green stripe seat pads (opens in new tab).
4. Get it all in a super cheap Dunelm garden furniture set
Helsinki Bronze 4 Seat Dining Set | £129 (opens in new tab)
For the price, you get so much in this dining set. Four comfy chairs, a spacious table and (this is what got us the most excited) a parasol! All for just £129? Bargain.
5. Create a boho-style with Dunelm garden furniture
Honolulu Wooden 4 Seat Conversation Set | £249 (opens in new tab)
Nice, contemporary, affordable, you get a lot for your money with this set too. A cute outdoor sofa, two chairs and a coffee table, plus those really stylish denim-look cushions. Ah yes, we can see ourselves sat there in the sun with a G&T in hand, lovely.
6. Small garden? An elegant bistro set would work a dream
Churchgate Ivory Metal 2 Seat Bistro Set | £69 (opens in new tab)
If you are after a smaller set up, maybe for a balcony, this bistro set would be perfect. We love the classic look and the lovely detail on the back of the chairs, and tabletop very English country garden-esque. Plus this is really a really budget-friendly option.
7. Add more greenery with vertical planter
Galaxy Ladder Plant Stand | £145 (opens in new tab)
If you haven't got tons of room to indulge in your new found gardening obsession, a vertical planter can be a great way to add more greenery without taking up loads of space. We love the subtle colours of this ladder stand, a perfect home for herbs.
Read more: