The Aldi homeware deals dropping this week in the Specialbuys section are looking super cute and cosy. The range on offer boasts a fresh and colourful look – a great distraction from the news and the cold weather. We always find that a fab solution for the January blues and gloomy skies is a pop of colour indoors, and Aldi obviously think the same. So, whether you're looking for a new scent to welcome you home, or new cushions and pillows to nestle in after a hard day's work, these buys cover all bases.
So, have a scroll and inspire yourself... you deserve it and there's no time like January to show your home some love.
Head over to our dedicated deals hub for more great buys
1. Ikat Double Printed Duvet Set, £9.99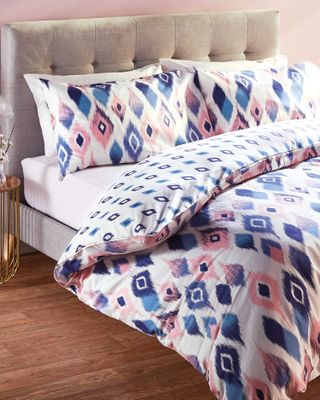 This duvet cover is gorgeous with its pink and blue colours and bold print to brighten up your day when it's grey outside. It comes with two pillow cases too, so you can totally refresh your bedroom. It's machine washable too, phew.
Ikat Double Printed Duvet Set, £9.99
2. Off White Cosy Cushion, £5.99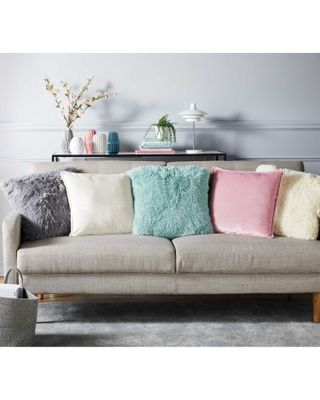 Ahhhh, how lovely do these fluffy cushions look? The pastel colours will give your room a necessary pop of colour, making the beating rain on the windows a welcome contrast. Meanwhile, the fluffiness will add texture and a cosy depth to your room. In this picture you can see the Off White Cosy Cushion, £5.99, Light Teal Cosy Cushion, £5.99, Plush Cushion, £5.99, Grey Cosy Cushion, £5.99
3. Oud & Bergamot Iridescent Candle, £3.99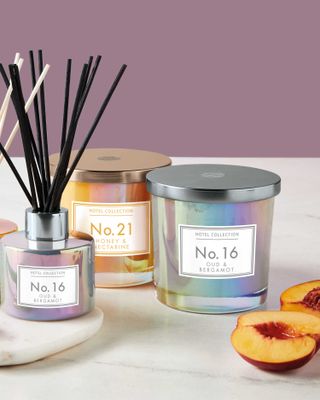 Mmmm, we love the tangy smell of a bergamot. Not only does this candle have a scent that's totally delicious and inspires calmness and relaxation, but the jar is also pretty cool. The iridescent glass container is sure to inspire a few compliments, from adults and children alike. Dreamy.
Oud & Bergamot Iridescent Candle, £3.99
4. Mega Bounce Pillow Pair, £5.99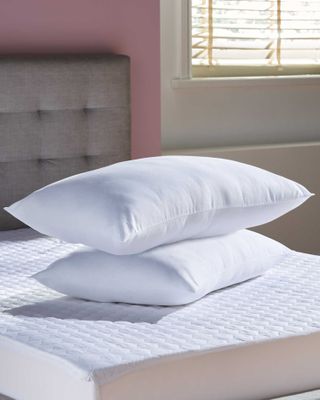 A mega bounce pillow sounds like our kind of pillow. Super comfy, with just the right amount of elasticity, so you can rest your head without the dreaded sinking and constant plumping. With rebound fibre blend filling, this pillow will give you a comfortable and supported night's sleep.... and for that price? We're sold.
Mega Bounce Pillow Pair, £5.99
5. Honey & Nectarine Reed Diffuser, £3.99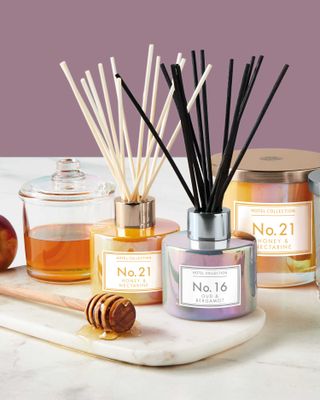 Honey and nectarine in the winter months may sound strange, but the sweet and tangy aroma actually acts as the perfect antidote to the chilly weather. Transform a space, from your bedroom to your bathroom, with this indulgent scented reed diffuser.