The shift from warm weather to colder seasons is always a bit of a shock to our lifestyles, as we pack away the patio furniture and settle into the sectional. But this year, as we're all trying to spend more time at home, the thought of bad weather can be particularly claustrophobic. Instead of giving in to cabin fever, we're on a mission to turn our outdoor spaces into all-weather areas we can use even in the middle of winter. Enter: the chiminea.
Sure, outerwear and warm fuzzy blankets can help stave off the cold, but a chiminea will add both warmth and ambiance to your outdoor space, so much so that we're calling it an essential for winter 2020/21.
In case you aren't familiar with these little fire pits, a chiminea is a front-loading fireplace (or oven) that features a vertical chimney or smoke vent. It's designed to allow users to load fuel from its rounded bottom section and draws fresh air into the fire by moving smoke through its chimney.
The result? A cleaner, hotter fire. Hello, safe, comfortable outdoor gatherings.
5 chimineas to invest in this season
Sounds exciting, right? It does, and if you're confused about which ones to buy and which ones to move past? We're here to help. Here are the five best chimineas to invest in this cold-weather season!
1. This modern version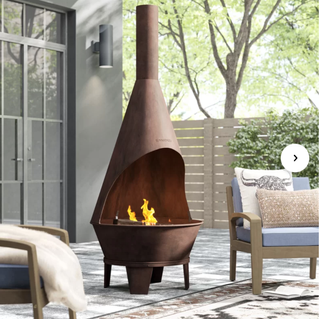 Amabel Steel Wood Burning Chiminea l Was $670.99, Now $559, at Wayfair
Instantly add charm and warmth to any patio, yard, or outdoor gathering space, courtesy of this wood-burning chiminea. It's designed to draw in the fresh air and move smoke and sot out of the fire, to burn hotter and cleaner than others on the market.
2. This wood-burning fire pit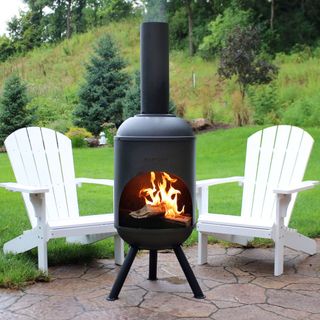 3. This angled version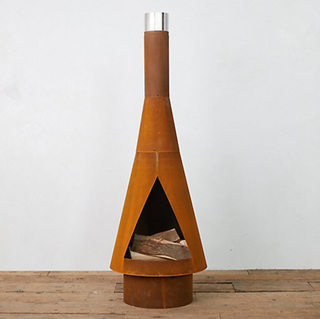 4. This circular version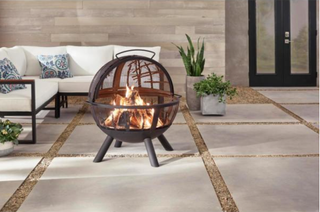 Hampton Bay Briarglen Fire Ball with Tree Branches for $129, at Home Depot
Designed with a 4-leg construction, this chiminea looks to ensure both stability and durability when used. Add in the 360-degree spherical spark screen that resembles a floating fireball when used at night? It's impossible not to opt for this fun-and-functional option.
5. This traditional option