Looking for coffee machine deals? Who could blame you? It's a tough time to be a coffee lover. When you're used to your local café's lattes or a Starbucks americano, the instant coffee you'll find in your local supermarket won't cut it as a WFH substitute. As if they read our minds, Macy's has launched a ton of coffee machine sales, and there's an option which will hit the spot for everyone.
Starbucks has responded to coronavirus fears, closing some stores and offering only to-go options in others, so if you want to settle down with a good brew, you're better off opting for an at-home option. Buying coffee to-go is expensive - one study (opens in new tab) has found that you could be spending an average of $100 a month on your caffeine hit. So as if these coffee machine sales weren't good enough, you can also consider them a long-term investment. You're welcome.
If you've checked out our guide to the best coffee machines (opens in new tab), you'll know this is our all-time favorite. The Sage Nespresso Creatista (opens in new tab) is a beauty, and its easy-to-use features make it an ideal pick for someone with little experience in making their own coffee. Nespresso offers 25 blends for this machine, so you'll have a host of options for every mood. We loved the flavor of the blends we tried, and it's really satisfying to make your own steamed milk (don't worry when it makes that initial squealing sound, it's meant to do that.)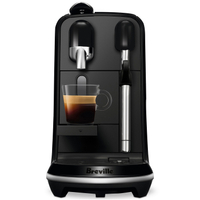 (opens in new tab)
Nespresso Creatista Uno | Was $499.99, now $399.99 at Macy's (opens in new tab)
Save 20 percent- This is our favorite coffee machine. It does it all - steams milk, comes with a variety of coffee blends available and it's really clean and easy to use. With $100 off, you won't be missing your local coffee shop whatsoever.
What's better than a coffee machine? A two-in-one coffee machine! This one costs as much as the average monthly coffee budget, and it's got 15 percent off. The Hamilton Beach FlexBrew 2-Way Coffee Maker offers single-serve and carafe options, in case you're missing your office filter coffee or you're looking to make a pot to get you through the day (or hour).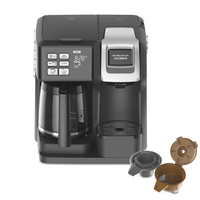 (opens in new tab)
Hamilton Beach FlexBrew 2-Way Coffee Maker | Was $112.99, now $99.99 at Macy's (opens in new tab)
Save 10 percent - Customize strength and brew up to 12 cups of coffee in this two-way coffee maker. Now available for under $100. What a great deal.
Fancy something a bit, well, fancier? This La Specialista Espresso Machine is the mother of all coffee machines. Seriously, it even grinds the beans fresh. If you're a coffee lover who's unwilling to compromise that doesn't mean you can't snag a great saving. This one is 25 percent off, which is pretty impressive.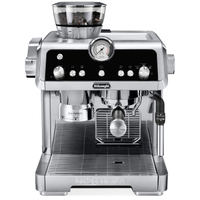 (opens in new tab)
De'Longhi La Specialista Espresso Machine | Was $999.99, now $749.99 at Macy's (opens in new tab)
Save 25 percent - It doesn't get more high-quality than this - the De'Longhi lets you create café-quality espresso, latte, cappuccino and americano coffee, and the built-in grinder dispenses the perfect amount of coffee for whatever drink you're making.