Buying a treadmill? Whether you aren't yet ready to return to the gym, or, you are struggling to get in 10k steps a day while working from home, the best treadmill is a great buy – especially if it's foldable. We've been shopping and have spotted a great model – the Reebok I Run 4.0 Treadmill – for the new low price of £499.99. Not only does this treadmill perform well, but it'll also look the part in your living room, home gym or spare bedroom. And, it folds away to fit under your couch or bed, behind a door or in any other small space. A highly functional treadmill that fits in with compact living? We love to see it.
With lockdown rules being tightened once again, we can't help but worry about the gyms closing for the second time this year. Don't get stuck again, like we all were in March – buy some gym equipment for your home now before it all sells out again. The majority of stock has only just started coming back. And, treadmills have been a very popular buy indeed. It's no wonder why...
This Reebok model is great for several reasons, but mostly because it can offer up to 12 pre-set workouts so you never get bored. That and it has a four degree set incline to make things tough, while it also boasts a smartphone and tablet holder so you can burn calories while watching Netflix. While using, you'll be able to track your speed, distance, time, calories, pulse bodyfat and steps with ease. Find out even more about this treadmill below and scroll to buy.
Check out our ultimate list of the best home gym equipment, should you want to work out from home using something other than a treadmill.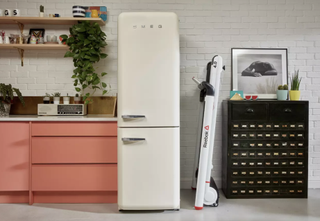 Reebok I Run 4.0 Treadmill | Now £499.99 at Argos
Built with the home in mind, the ultra-compact and surprisingly sleek looking Reebok I Run 4.0 Treadmill is great. It unfolds in seconds and boasts wheels for easy transport, while its fast, 1.25 HP motor means you can reach 16kph in seconds. The running deck measures 125cm long and 46cm wide, while it also has an auto-stop safety system. When folded, the machine measures 31.5cm high, 75cm wide and 153cm deep. Simply plug it into the mains and get running and tracking – there are handgrip pulse sensors built-in, too. Truly a great piece of kit.
Want to hear about more great deals?
Sign up for our newsletters and not only will you get loads of home inspiration straight to your inbox, but the best deals too, with our weekly Home Deals Digest.