SheIn home – yes, that website you see everywhere with cheap, cute clothes sells homeware! Thankfully for our bank balance, that is. So, if you have been considering putting in an order at SheIn but want proof that this website is actually half decent, then we can confirm – everything we've ordered from there has arrived looking exactly like the photos.
Convinced? Keep scrolling for our top favourite SheIn home buys, from lighting to bedding, wall stickers, rugs and more. And, with SheIn's discount code, this brand just got even more purse-friendly.
Head to our dedicated shopping page for more inspo on what to buy this month.
1. This lovely flower-print cushion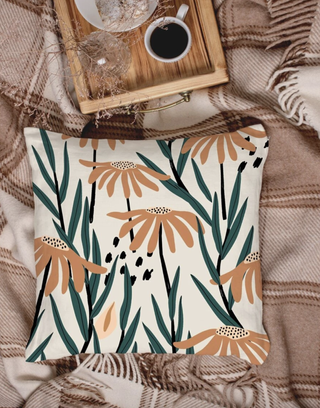 Plant Print Cushion Cover Without Filler | £2.99 £1.99
This cushion cover is giving us allll the spring vibes, which is wht we need right now. Peach, pink and green go perfectly together, and it's a bargain. We love it for a bedroom, or even a sofa. I have three of these on my sofas and can confirm they are super soft!
2. A small letter board for daily reminders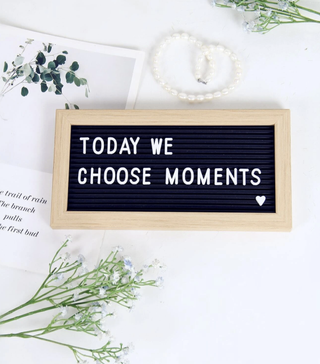 Letter Design Decorative Object | £4.49
This tiny letterboard is perfect for spatially-challenged homes. Perfect for just a few words – Hello sunshine, FriYAY, C-YA Covid – and it comes with a huge range of letters and emojis. Perfect for a bedroom or home office, we reckon. Reviewers love it.
3. This cosy faux Sheepskin rug for your bedside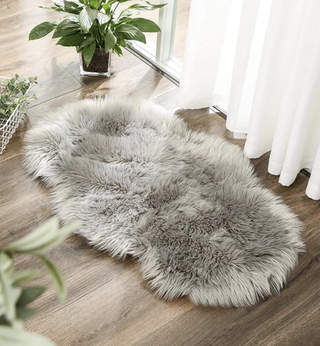 Plain Plush Carpet | £5.49
Available in three colours, this gorgeous faux-fur rug is small so ideal for your bedside. That or you could pop it over a chair, use it as a bed for your pet or have it sit under your desk to warm your feet. A bargain price and it has 4.6 stars. From 700 plus reviewers...
4. These cute pressed flower wall stickers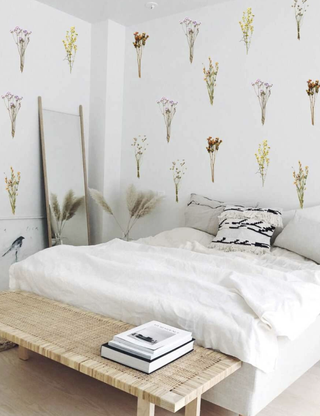 Floral Print Wall Sticker 24 bunch | £2.99 £1.99
Bring the outside in with these super affordable and super pretty wall stickers. They come in a pack of 24 and in all different colours, while they are perfect for renters, too. I've got these in my home office, and although they were a slight pain to stick (I ended up using spray glue in the end) they do look lovely. And they are so affordable.
5. A cute rainbow rope decoration – for a nursery or playroom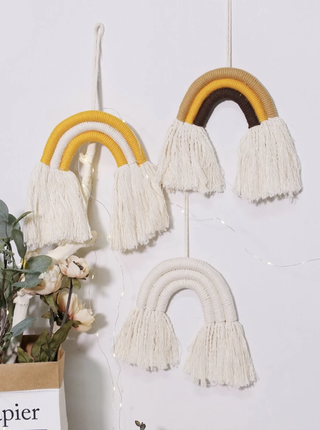 1pc Rainbow Tassel Wall Decor | £5.99
Okay so we know that these are technically for kids' rooms, but we just think they are soooo cute! Choose from three different colours and hang them wherever you like. On a door, from a shelf, in your car... And, reviews rate them 4.9 out of five!
6. Some faux rime to bring the outside in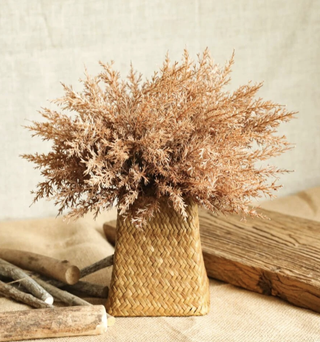 1bunch Artificial Rime | £4.99 £3.49
Get your hands on some artificial green(pink)ery and pop it around your home. Great for bathrooms, bedrooms or kitchens. Buy a few bunches to make a feature out of it. So far, 50 plus reviewers have loved theirs...
7. This minimalist flower print – for your bedroom, kitchen or living room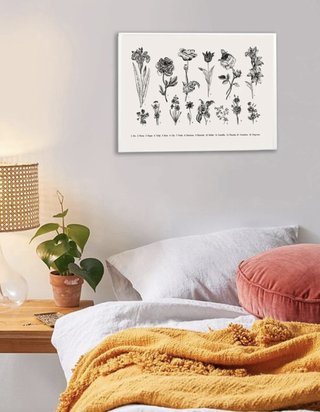 Flower Print Wall Painting Without Frame | £2.99 £1.99
This very cute print features drawings of all our fave flowers, and it comes ready to frame. Minimalist and inexpensive. It (obviously) has good reviews, too. Go out and buy a frame now...
8. This agate jewellery that also makes a great coaster or perfume holder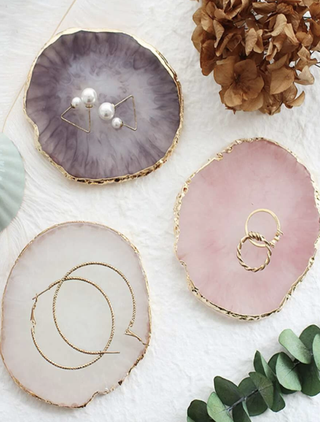 1pc Jewelry Storage Tray | £2.49
This cute agate coaster comes in several colours, and they are great for holding more than just your glass of Prosecco.
9. The perfect home office storage – these iron wall hangers...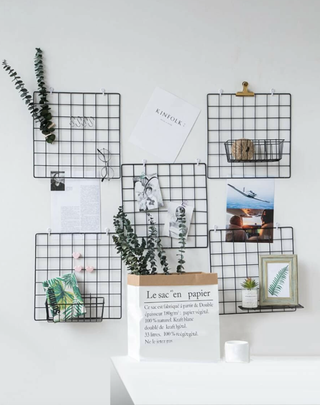 1pc Iron Grid Wall Hanging Decorative Rack | £4.49
This multi-functional iron wall hanging can be used in almost any room in your home. Some people have used them to hold their sunglasses, others in their home office for pegging notes, for displaying jewellery, or for polaroid photos. Buy a few and hang them together like the photo above, for a full effect.
10. Buy this flower bedding to snooze in style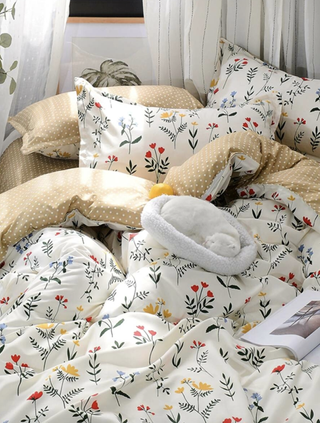 Floral Overlay Print Sheet Set | £20.49
Okay, we LOVE this bedding set. It's great for year-round use, it's super soft according to reviewers and it'd look lovely in an otherwise plain decorated bedroom.
11. The fairy lights of dreams – complete with artificial flowers and greenery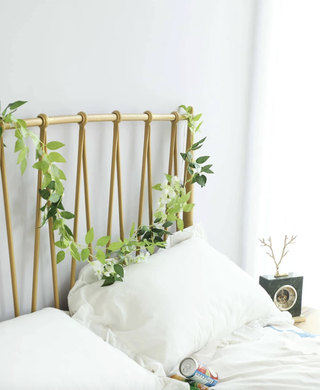 1pc Artificial Flower String Light With 20pcs Bulb | £5.49
Looking for some fairy lights for your living room or bedroom? These ones double as artificial flowers so they still look nice when off. And, they're new to the site!
12. These storage boxes to organise your tops from your jeans and your pants from your socks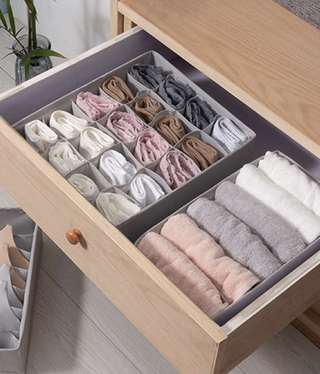 3pcs Underwear Storage Box Set | £7.99
Fed up of constantly reorganising your drawers? Us too. Buy these storage boxes to separate your jeans from your skirts, your socks from your bras and more – they'll make finding your clothes a lot easier, too.
13. Two rope curtain tiebacks to let the light in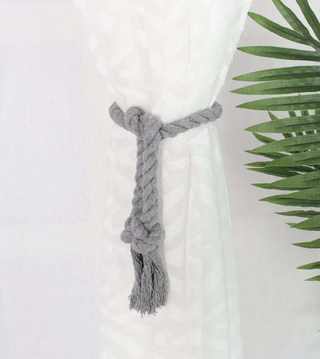 1pair Braided Rope Curtain Tie Back | £2.99 £1.49
A no-fuss way to hold your curtains open and let the light in, these curtain ropes may be plain but they're great. They come in all different colours, and I've tried and tested so can assure you they are worth the £1.49 – that's the price for two!
More of our favourite buys...