Shea McGee has just revealed a sneak peek of her new basement, and it's left us so excited for season 3 of Dream Home Makeover. (We're still not sure when it launches but it's gotta be soon.)
In a TikTok video – which you can check out below – Studio McGee posted a short clip of the newly renovated basement in their Utah home, panning around a stunning entertainment space. In typical Studio McGee fashion, it's full of effortlessly cool, classic yet modern basement ideas.
...Including these gorgeous bottleneck glass vases. Cue a big bottle vase trend – you heard it here first.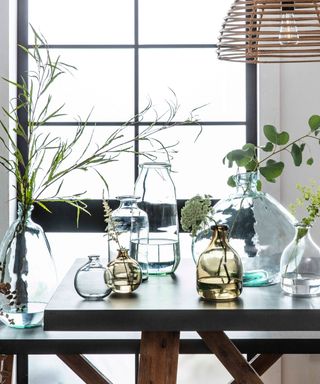 'Might get in trouble for sharing an early sneak peek — but finished filming the reveal last week! 👏' writes Studio McGee in the caption. 'OMG I've been so excited to watch it!!!!' one fan commented.
Fun fact: the basement chez Syd and Shea McGee is where all of the interview scenes on the couch from seasons 1 and 2 were filmed, in a set constructed for the show. But, most of the basement still needed lots of work done at the time of filming.
Now, the basement is officially complete, with a huge TV projector screen for movie nights, a large and comfy sectional grounded on a striped rug, and arched shelving holding an array of chic decor pieces.
Shea McGee's basement is sure to spark a bottle vase trend
Some of the most striking items in these shelving alcoves are the two lovely oversized bottleneck glass vases. They look vintage and beachy, and like the kind of thing you might find at a flea market. Happily, you can also order similar vases on Etsy.
There are also some beautiful bottle vases at Wayfair, but sold at a higher price point. Similar to a large glass table lamp, these bottleneck vases bring texture and visual interest while keeping to a fairly minimalist aesthetic.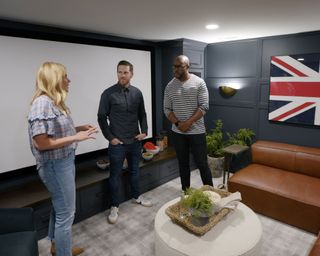 Style yours with a few pieces of pampas grass or display it up high with your shelving ideas, as Shea has done in her basement. Shea and Syd are no strangers to basement renovations, so we can't wait to see more of their very own basement transformation.
Season 2 of Dream Home Makeover came out back in January 2021, so fans have been waiting for season 3 for over a year.