Regardless of whether your purse collection houses a one-of-a-kind vintage rarity or thrift store finds that barely cost you a thing, keeping your handbags clean, in good condition, and organized is low-key crucial.
Just when you thought that there was nothing new that could be added to your TikTok FYP, enter: purse organizer recommendations. Aka, the easy-to-mimic trend that tidies up your purse collection — however big or small. For far too long, my handbags have lived hooked over the edge of my closet doors. Sigh.
While you could buy one of those hanging closet organizers or hide your collection away on a shelf, TikTok's alternatives are far cuter. Instead of shoving them in a corner, it involves displaying them like your home is a seriously chic boutique.
Want to test out the trend yourself? I've rounded up three easy-to-use storage solutions that will help you to take back control of the purse chaos and get things a little more organized.
TikTok purse wall hack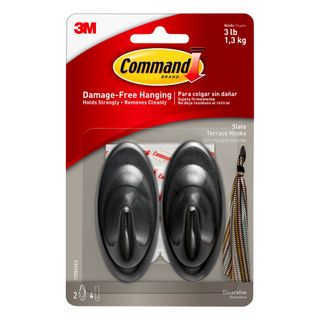 $9.18
Command Slate Terrace Hook Set
Admittedly, not the most sophisticated or stylish product, but when utilized effectively, these handy self-adhesive hooks can help create a really cute, TikTok-approved purse display wall. And, they're guaranteed not to cause any damage. Just make sure to select the right weight capacity to suit the size of your purses.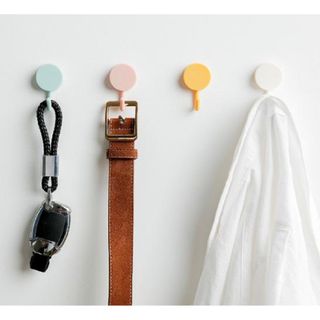 $6.99
For a set of stick-on hardware that looks a little prettier, this pack of circular self-adhesive hooks is a great buy. Available in a selection of pastel hues — as well as a more minimalist-friendly black and white — they're strong, sturdy, and won't damage your walls.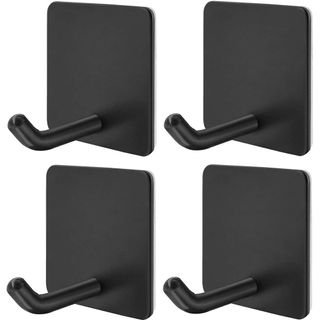 $10
Black Stainless Steel Hooks
How chic do these matte black self-adhesive hooks look? For creating a stylish-but-understated purse wall, these would work like a dream. They're hard-wearing, sturdy, and shouldn't scratch any paint or wallpaper.
Other purse organizer ideas
If you're not interested in hanging handbags from your wall, these door and closet purse organizers will make storage just as stylish as the first hack.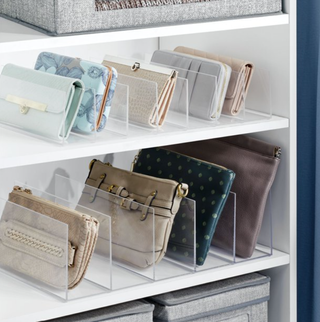 $27.49
mDesign Plastic Divided Purse Organizer
If you already have shelves or are thinking of installing some, add these handy plastic dividers to your basket. Simply place them atop your shelves and allow them to elevate how you store your purse collection. Forget draping them over the banister at the bottom of the stairs or hanging them delicately off the edge of the door (something I'm guilty of constantly doing), an organizer tray with separators will quickly become your saving grace.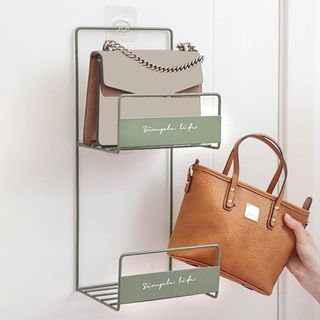 $31.88
Double-Layer Closet Purse Organizer
We love the color of this cute two-tier storage rack; it's just so effortlessly stylish. The muted olive hue is the perfect combination of subtly elegant and wonderfully punchy. And, thanks to its self-adhesive, damage-free installation process, it's super easy to install and ideal for renters. Get creative with how you use the different compartments and how you store your purses.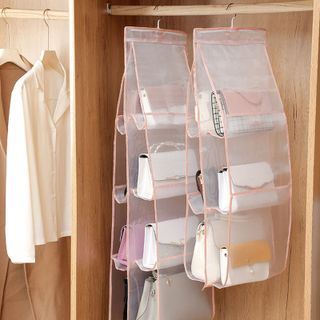 $10.95
Hanging Purse Organizer for Closet
Prefer to store your purse collection inside your wardrobe? These ultra-handy hanging purse wallets are ideal for keeping your favorite bags clean and makes finding your favorite one so much easier. If you can't quite squeeze them into your closet, they also work a treat for hooking over the top of a door or behind one.