If there's one place where you don't have to fear experimenting with trendy colors and patterns, it's your bathroom. Small and cute but usually pretty plain (if you rent), it's the perfect space to amplify bright hues. All it takes is switching out your bathmats, throwing in some bright printed towels, and adding a super plush robe that happens to match. A few little details like these and you've got a gram-worthy shower space your landlord won't complain about.
Brooklinen's new collection makes all these swaps possible. Yup, this brand isn't just for bedding. You can grab all your bathroom essentials (including a bathrobe, obvs) and give your en suite the refresh it needs. The new range is made of Turkish cotton and comes in rich shades that are a little more fun than the classic white and gray that's pretty much everywhere.
I can't get enough of the checked bathmat and purple striped towels (talk about Y2K energy). Whether you want to give your bathroom a full style upgrade or need to pick up a fresh washcloth, these three picks are worth adding to your cart immediately.
The new Brooklinen collection I'm talking about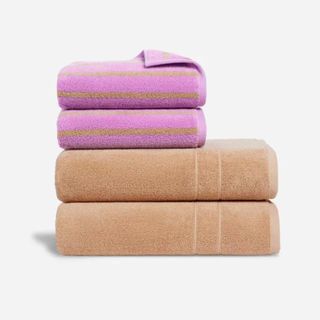 From $120
Super-Plush Bath Towel Bundle
Bath towels are the best (and easiest) way to get your bathroom looking a li'l extra — the brighter the better. Forget plain white, these fun purple-striped options won't show your fake tan stains either. Thank me later.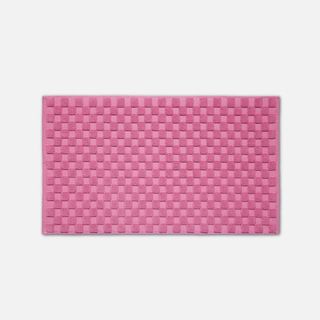 $45
If you're not obsessed with checks at the moment, we can't be friends (sorry!). Checks are having a moment, and grabbing a new bathmat in this bright pink is a great way to get in on the trend without having to spend your life savings.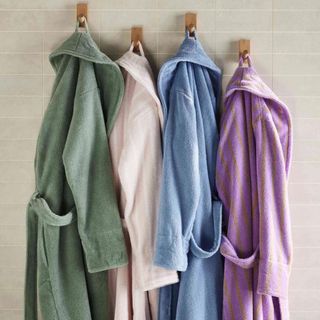 $99
Super-Plush Turkish Cotton Robe
If you're known for being a bit ~extra~ then you need a bathrobe that matches with your towels. Just picture your Sunday night self-care ritual with this fluffy pick involved. Hop out of the bath and cozy up in cotton for the ultimate relaxation vibes.
Click to view more of Brooklinen's new in collection