If you could get away right now, where would you go? A treehouse retreat in Oregon, perhaps? Or a stylish cabin in Texas? Airbnb has identified a new trend of 'Wishlist Wanderlust', as house-bound Americans are keeping optimistic by dreaming about future trips.
According to new research by Airbnb, exploring new travel bucket list destinations online and looking back at past trips triggers positive emotions including feeling happy, uplifted, and hopeful.
So where do we all want to get away to? Airbnb just released its roundup of the most wish-listed unique destinations in the U.S., and by the looks of it, we're ready for adventure. Hilltop treehouses, cabins in the woods, and themed getaways are calling our name -- essentially, the less the space resembles the four walls we've been in the last year, the better. And bonus if the space packs a stylish punch. Many of the most-wanted homes boast enviable interiors.
Curious to see what made the list? Take a look at the entire roundup of most wished-for unique Airbnb stays in each state on their website, or keep scrolling for a roundup of our favorites.
1. The Pirates of the Caribbean getaway in California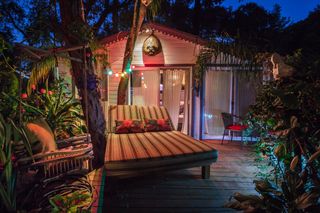 Isn't this place just awesome? With its dreamy tropical vacation vibes, the Pirates of the Caribbean getaway is located in the Topanga Canyon area in the Santa Monica mountains. It features waterfalls, ponds, a hot tub and a brand-new cedar sauna.
2. The riverside cabin in Michigan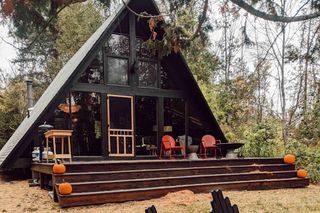 This super-cool A-frame cabin in Michigan has an enviable location right on the banks of the Indian River and is surrounded by luscious woodland. You literally can hear the sound of the river flowing from the cabin, it's that calm and secluded, and the interiors look like they were done by a pro. Perfect for forgetting the stresses of modern life.
3. The secluded treehouse in New York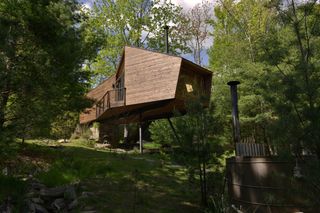 Is there anything more romantic than a treehouse? And when it's as stylish and comfy as this one, you'll want to stay a good while. Surrounded by woodland and facing a pond you can swim in (in the summer, obviously), this beauty is only 15 minutes away from Woodstock.
4. The Oklahoma mountain lodge with amazing views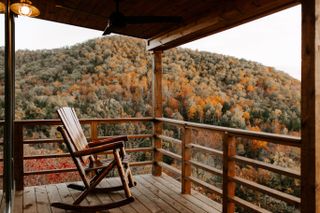 This gets our vote for best views, hands down. If mountains are your thing, then this lodge in Oklahoma is definitively one to day-dream about. There's not one but two outdoor decks for enjoying the spectacular views, and there are hiking trails right outside.
5. The treehouse resort in the Oregon forests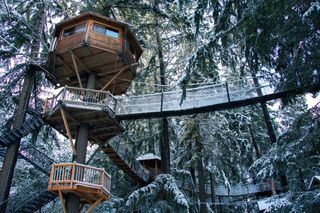 If you've always wanted to wake up in the middle of your very own adventure park, you'll love this awesome Oregon treehouse resort. Located close to the Oregon Caves National Monument, Redwood National Forest and the Oregon coast, it's big enough for a whole family (six to seven people). Waking up to the sound of birdsong in the trees is sooo appealing right now.
6. The dreamy tiny cottage in Tennessee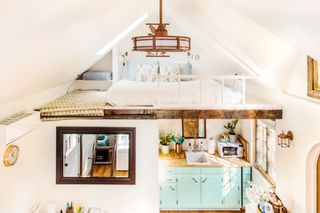 This tiny cottage in Tenneessee is big on interior charm – it's bright, airy, and that mezzanine bedroom is so cute. The design is so striking, in fact, that this little gem has been featured in Travel+Leisure, Southern Living, House Beautiful, the Tennessean, and USA Today.
7. The classy Texas treehouse with a soothing atmosphere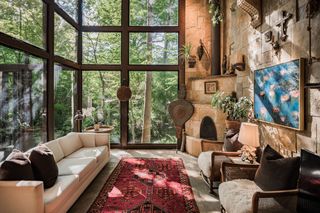 Just looking at this awesome treehouse in Texas is making us feel calmer – its secluded location in the middle of Little Forest Hills alone is worth checking out. Waking up to sunlight softly streaming through beautiful Japanese maples? Yes, please. Thoughtfully designed decor with Bauhaus influences? Count us in.
8. The ultimate rustic treehouse in Utah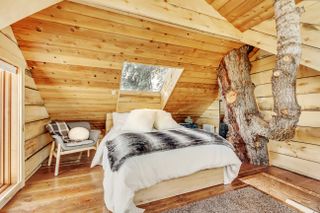 This charming treehouse in Utah epittomizes what treehouse living is all about: this place is so close to nature that there's an actual 200-year-old tree growing through it. It's perched right above Park City and is only accessible by a four-by-four – and we're totally down for that.
9. The glamping experience in Vermont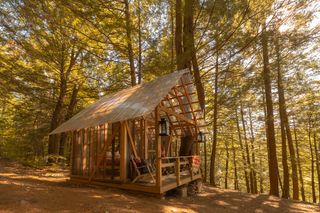 Oh, Vermont. Who hasn't dreamed of spending a whole fall there? Though, actually, it's pretty year-round, especially if you stayed in this gorgeous cabin located in a forested area of a flower farm (yes, a flower farm). Brattleboro is 20 minutes away, and the Stratton Mountain Resort – 25 minutes.
10. The quiet rustic cabin in West Virginia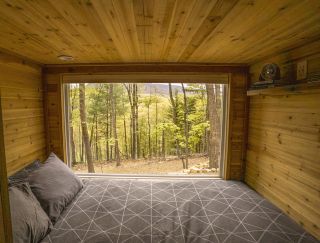 With a view like that, what more do you need? We really like how the timber finish inside echoes the forest outside this charming West Virginia cabin. Situated on 23 acres of private forest, it's right next to the Lost River state park. Perfect for hikers and nature enthusiasts.