Magnolia Network finally launched last week with a vast array of inspiring shows we can't wait to get stuck into. One particularly exciting series coming out on Friday, July 23rd is Mind for Design, starring interior designer Brian Patrick Flynn.
When asked 'Who is Brian?' he says, 'I'm just some guy who's making things up and it seems to be working.' We love him already.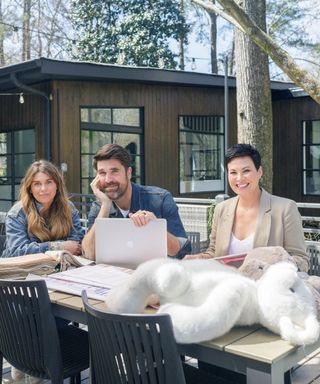 The self-taught designer's unconventional career path has given him a unique perspective and original style. Expect to see many vibrant colors, bold stripes, and even some wallpaper featuring a dog motif.
The second episode of Mind for Design sees him take on a project for his younger, heavily pregnant sister who finds out she's having twins. In the very personal episode, he helps her to adapt her home from serving a family of three to a family of five. Tune in for fun nursery room ideas and pointers on how to design a kids' room that will grow with them.
In another episode, Brian revisits his first-ever clients who he met when he was just starting out in his 20s and barely getting by financially. Brian revealed that the married couple for whom he did his first interior design project had even kept their home exactly as he designed it all those years ago.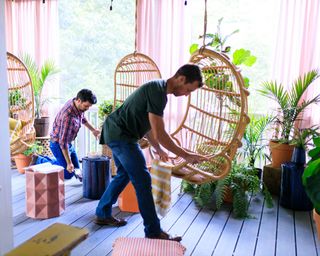 He's down-to-earth and openly winging it, yet pulls off thoughtful and beautiful living room ideas for a family of six. 'I'm inspired by pushing the envelope,' he says. 'I try not to have one particular look that I'm replicating again and again.
'Personally, my house looks like me, and people's houses need to look like them,' he says. Brian went to film school and spent years on set making things look beautiful for the lens.
After being asked to take on small projects for people he knew and documenting the process, his business exploded. He says his job is telling the story of his clients through their homes and elevating it with design expertise.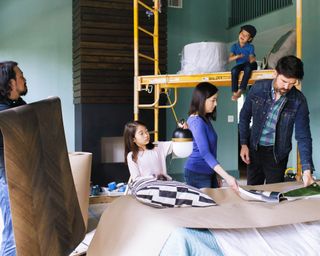 Brian swears by his 70/30 rule, whereby 70% of the design is set in stone, and the rest is flexible. This fluid approach makes the final stages of putting his designs together a little like a puzzle game.
He'll be seen swapping out decor pieces and items of furniture in unexpected places - up until the last minute.
You can follow Brian on Instagram where he is @bpatrickflynn. We can't wait to tune in.