You know what? We've often dismissed B&Q garden furniture – and all DIY store garden furniture to be honest – as affordable but, well, dull. And while we spend a lot of time (we mean a lot) browsing every piece of garden furniture available around the world, from high end to DIY store, we don't often find pieces that stop us in our tracks.
But now we have, and the Apolima egg chair (opens in new tab) is a humdinger (is that still a word?). Better still, it's B&Q's latest offering. It's not the cheapest piece of garden furniture you'll find in a DIY shed, but it does put high end design within an affordable price range. Difficult to find online and for click and collect, we have however spotted it in store. But we warn you: getting your hands on one won't be easy. Still, we think it's worth the effort. Stick it in the corner of the garden and let everyone who spots it assume you've won the lottery. Or just make them steaming jealous by telling them it's a DIY shed bargain. Read on for more.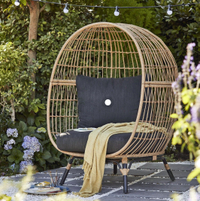 (opens in new tab)
Apolima Brown Metal Egg Chair, £368 (opens in new tab)
There's little information about this online (it's almost like they don't want you to have one), but we can tell you that this chair is in rattan effect (we're guessing some kind of plastic) and metal. It measures 110cm x 151cm x 114cm and weighs 27g. That's all we've got folks.