As another weekend in lockdown comes around again, there is no better time to get creative with some of your tired IKEA furniture, but where do you begin?
Thankfully for us, Instagram is full of ingenious IKEA hacks that will breathe new life into old furniture—so you can spend your weekend doing something sustainable, creative, and (maybe even) fun, depending on your DIY soundtrack.
See: 9 times the IKEA MALM series was used to perfection
If you're looking for an ideal place to start, we recommend taking inspiration from a Texas-based artist, @lizzmakesthings who decided to let her imagination run wild and transformed her IKEA drawers in the process.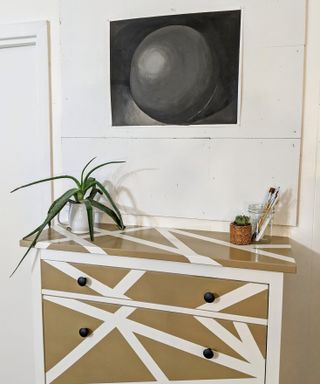 If anybody epitomizes spontaneous design and DIY, it is Lizzy. The San Antonio-based artist shared her IKEA hack on her Instagram, and we honestly just wish that IKEA would reproduce her design because we want it in every room in our house, apart from the bathroom (maybe).
However, though we can't buy this cabinet for ourselves, we can try still our hand at creating one of our own, as Lizzy shared:
'My creative process is ever-changing, but I've realized that I create some of my best work when I'm having fun. Giving ourselves license to experiment and make mistakes lifts us from the pressure of perfection and creates room to grow.'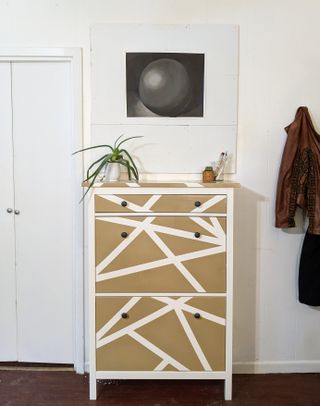 'I painted this design completely on a whim. I wanted something striking but neutral enough to play a supporting role when I staged my artwork. I combined those goals with a bit of painter's tape and came up with just the right fit, but I certainly made mistakes in the process.
About a third of the way through, I realized I should have done a coat of primer and debated starting over. In my fervor, I hadn't considered that IKEA laminate was vastly different from my usual paint surface. However, the project was [created] on a whim for personal use, so I decided I was there for a good time - not a long time - and compensated with several coats of sealant.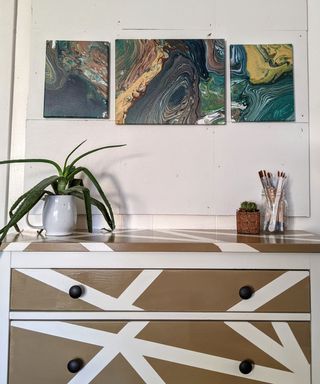 So far, everything is standing up to the test, but I'd encourage any other DIY-ers to research the best way to prep their paint surfaces first. After that, let loose and do something spontaneous. The results might just surprise you.'
Why not let this be the weekend you unleash your inner artist? As Lizzy shared, you might just be surprised at the final result.
See also: IKEA closet hack: See how one DIYer saved £1,200 on a built-in closet with this genius PAX hack