Our homes tell a story. We hope every last detail will leave a little bit of ourselves in each room, and we're all about adding our personal touch. And, one of the best ways to do that is with a gallery wall.
It doesn't matter if you're looking to update a current room in your home or you're starting with a blank canvas, a gallery wall is an easy to pull any room —or story — together and make the narrative come alive.
When choosing a theme, try tapping into your own experiences. Where have you traveled? What are your favorite hobbies? Are you going to show pictures of your family? Since there are no real parameters on what you can and can't add to a gallery wall, it's best to think of what your overall objective is and then select individual pieces.
Once you nail down your style, it's time to pick up the hammer. But this is where things can get a little confusing. So, we turned to the pros to get some help.
In a recent PEOPLE (opens in new tab) magazine article, Fixer Upper star Joanna Gaines (opens in new tab) shared three simple ways to create a gallery wall:
Joanna Gaines'sguide to an at-home gallery wall: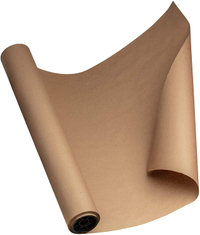 (opens in new tab)
Kraft Paper Roll 24'' X 1800'' (opens in new tab) l Now $20 at Amazon
1. Start with a roll of wrapping paper (opens in new tab) or kraft paper to trace the outline of every piece of art, frame, etc. that you're looking to hang. From there, cut out the paper to create paper templates.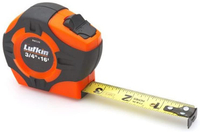 (opens in new tab)
Crescent Lufkin PHV1316N 3/4" x 16' P1000 Series (opens in new tab) l Now $14 at Amazon
2. With a measuring tape (opens in new tab), measure side to side and then top to bottom for the placement of the hanger on the back of the frame. Next, make a mark on the front of the paper template for the hanger location.
Joanna's Pro Tip (opens in new tab): "For an item with a hanging wire, measure with the wire stretched tight toward the top of the item, as if the wire were holding the weight."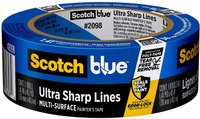 (opens in new tab)
ScotchBlue UltraSharp Lines Multi-Surface Painter's Tape (opens in new tab) l Now available for $9.78, available at Amazon
3. Using the floor (or a flat surface), safely lay down your paper templates and arrange them in the best way you see fit. Keep in mind this is creating what your wall will look like so take your time. Take each template (one-by-one) and recreate the same design on your wall using painter's tape (opens in new tab).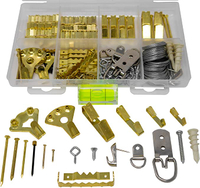 (opens in new tab)
Picture Hanging Kit (opens in new tab) l Now $9.95 at Amazon
4. Feel free to keep rearranging the templates until you find a cohesive look you're married to. Once you've found that, take your nail (opens in new tab) and drive it into your previously marked spot. After that's completed, remove your template and begin hanging your picture frames.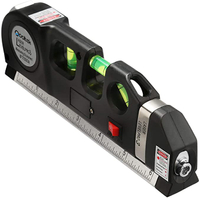 (opens in new tab)
Qooltek Multipurpose Laser Level Laser (opens in new tab)l Now $13.98 at Amazon
Joanna's Pro Tip: (opens in new tab) "If you are planning to hang your gallery wall in a grid arrangement, it helps to use a ruler, tape measure, or level (opens in new tab) when placing templates to make sure everything lines up perfectly."
Additional suggested items: