Do you walk your dog in the dark? And sometimes lose track of where they've got to? Or perhaps your cat regularly goes astray? You need a pet tracker. Pet trackers have grown significantly in popularity over recent years, which is somewhat unsurprising given the attachment we feel towards our furry friends.
But, what do the best pet trackers do? And where can you find the best deal on one? We're here to answer your questions. What's more, we're doing so just in time for Christmas, because we think a pet tracker would make the best gift for the pet owner in your life. So, let's get to it.
Pet trackers make use of GPS technology to help you locate your furry friend, from any location. All you'll need to do is fit them with the super lightweight device, connect your smart phone, and you're away. From there, pinpoint tracking will allow you to monitor the live location of your pet, which is super handy if they tend to have a habit of disappearing mid-walk.
You can also share your pet's location with friends and family, if necessary, and set up virtual fencing which will notify you should you fluffy friend leave a designated area.
So, whether you're a strict pet parent who wants to ensure they meet curfew or are tired of weekend spent shouting 'Milo!', 'Milky!' (or whatever else you decided to name your disobedient pet), we think this is a device that's more than worth the investment.
Especially now, when Amazon are offering the Tractive Dog GPS Tracker – one of our top rated pet trackers – for just £28.99. Shop it below...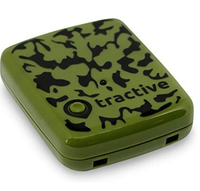 Tractive Dog GPS Tracker | Was £59.99, now £28.99 | Save £31
Keep an eye on your furry friend, from any location, with this super handy pet tracker. Lightweight and waterproof, it's perfect for all pets that weigh over 9lbs. And we think it would make the perfect stocking filler for the pet lover in your life.
Looking for more top rated gift ideas?