Welcome, September! If we're friends or you follow me on IG, you know that I am a fall girl through and through. I basically have to drag myself through summer. And yes, I am also one of those people who every year goes all out to decorate my living room in time for the cozy season. Orange leaf garlands, pumpkin-shaped pillows, fall home fragrance — I want it all. Some might say I go a little OTT, but I really don't care. It makes me happy and only does harm to my bank account.
During my yearly fall overhaul, one thing I never forget is my apartment's scent. I always aim to imitate the way it looks through candles and diffusers. In summer, I light all of my fresh, floral, and fruity candles. Then come early September, I dig out my woody, warm, vanilla fragrances in time to snuggle up and watch a Hocus Pocus marathon. Yes, I am obsessed with home fragrance so when I say that today is the day to invest in some fall scents for the colder months, listen up.
I've been looking for the best Labor Day sales live today, and while doing my shopping I stumbled upon a bunch of candle and reed diffuser sales. Most people will start to decorate for fall next week, so this is your last chance if you're on a budget. Here's where to do your shopping — and which candles to buy this fall if you're a little lost...
Where to shop for fall home fragrance this Labor Day
Here's where to buy a reed diffuser or scented candle on discount this Labor Day.
6 fall home fragrances on sale for Labor Day
Listed by price, low to high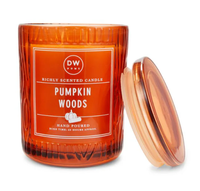 1. DW Home Pumpkin Woods Scented Candle | Was $24, now $12.72 (save $11.28) at Saks Off 5th
I bought this candle from T.J. Maxx a couple of years back and I burned it all through fall, way past Halloween. I also cleaned out the vessel and now use it for storage. It smells SO good and is nice and big, so it's perfect for the center of your coffee table. It's a total steal RN.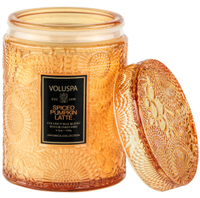 2. Voluspa Mini Spiced Pumpkin Latte Glass Candle | Was $20, now $15 (save $5) at Sephora
This mini candle is perfect for a small bedroom or even a dorm (if you're allowed a candle, that is!). It sits inside a gorgeous orange-tinted glass vessel complete with a lid, and it's made from a coconut wax blend. Pumpkin spice latte fans will love it. The matching reed diffuser is also on sale at Sephora, too.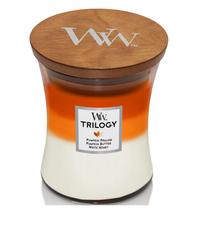 3. Woodwick Medium Jar Pumpkin Gourmand Trilogy | Was $29, now $16.87 (save $12.13) at Walmart
The look and smell of this candle screams fall, and because of its clever layered design, it's essentially three fragrances in one. First, you'll smell Woodwick's Pumpkin Praline scent, then this will merge into Pumpkin Butter. To finish, your home will be flooded with its White Honey scent. With a total burn time of 60 hours, it's a mega deal at just $17.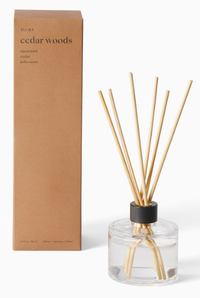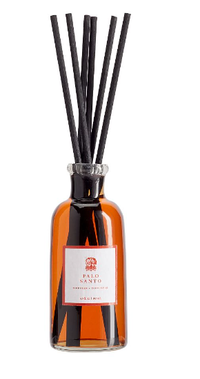 5. Apothecary Diffuser Collection Palo Santo | Was $39.50, now $31.50 (save $8) at Pottery Barn
Available in two sizes, this reed diffuser is housed in a gorgeous glass vessel and its oil is orange in color — talk about fitting for fall! With woody undertones and notes of cloves, vetiver, and Tahitian vanilla, it's definitely a unique blend.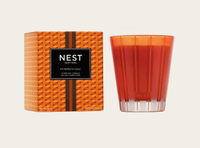 6. Nest New York Pumpkin Chai Classic Candle | Was $48, now $36 (save $12) at Nest New York
This bestselling pumpkin candle comes highly recommended, and it's poured into a stunning orange vessel that you can reuse afterward. With notes of wild pumpkin, spicy masala chai, cardamom, ginger, and cinnamon, it screams fall. Plus, it's cruelty-free and vegan as well as made in the USA. Use the code FALL25 to save at checkout.