If you haven't already guessed, I am obsessed with reed diffusers. I always make sure to have one in each room in my home as it's an effortless way to scent a space without having to keep an eye on a flame. Plus, you can switch up your fragrance depending on the season. This makes reed diffusers ideal for Christmastime — and beyond — and even better for gifting.
If you're still looking for a winter fragrance to bring the festive cheer, then this is your sign to buy a Christmas reed diffuser. Whether you're spending the holidays at your own place or going to your parents, these will impress, trust me. Not only do I own four of the diffusers I'm shouting about, but I've also only listed my three absolute favorite home fragrance brands so that you know you're buying from a quality brand. Some can be delivered fast (and before Christmas) so don't procrastinate gift shopping any longer. You'll thank me later.
The White Company screams elegance, and if you want a reed diffuser to gift to someone you love, this is where you should go. Its diffusers are scented using high-quality oils and come contained in a glass vessel with rattan sticks. Just bear in mind you can't get refills, but they do last for a while. You can also recycle a majority of the vessels.
$44
The White Company Fir Tree
Whether for your own home or for someone else's, this festive reed diffuser smells like anything but your classic cinnamon and orange diffuser. Instead, it's both woody and fresh and smells a little like your Christmas tree — but better. I suggest using it in a living room, dining room, or entryway, as it might be too strong for a bedroom. Rest assured, it will subtly bring the festivities indoors. It's also made using high-quality oils!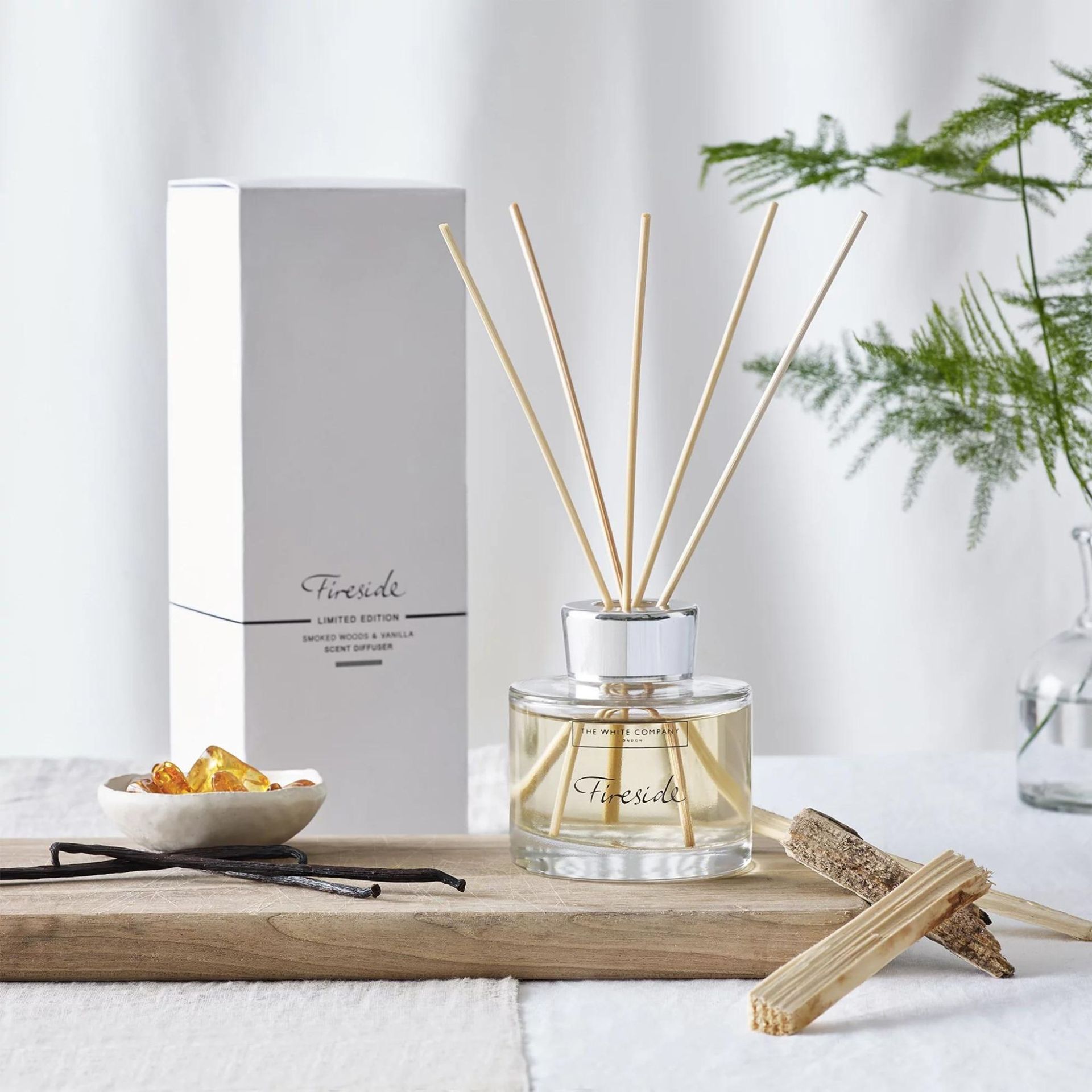 $44
The White Company Fireside
I am obsessed with this fall fragrance from The White Company. So much so that it makes a recurring appearance in my apartment every single year. It makes your home smell like you have a fireplace, and no matter how large your room is, its scent will reach every corner. It will forever be my favorite reed diffuser for cooler seasons, and I love it for my living room or bedroom.
$44
Scented with bergamot, vetivert, and cognac, this 3.4-fl. oz. diffuser comes in a lovely ribbed vessel. Its woody fragrance is a little earthy and warm, so you'll want to put it in your entryway or living room. It's a fan favorite for winter and for good reason. I'm obsessed with its vessel, too.
I LOVE Nest New York fragrances, not just its diffusers but its candles, too. The brand gets bonus points for being cruelty-free, and its holiday collection definitely hasn't disappointed this year. These diffusers aren't just incredibly scented but their vessels are something to look at, too. They come with stoppers so that you can choose when you want to use the fragrance, and the packaging is recyclable. Unfortunately, you can only get refills of certain scents. They're all 5.9 fl. oz. in size and come with black rattan sticks.
$58
I have this scent as a candle, and it's truly unlike any festive fragrance you've smelled before. In looks and smell, that is. Its aroma is fresh and citrusy, and it's anything but overwhelming. Although it's super festive, it doesn't hit you in the face — it only makes your room feel warm and cozy. Poured inside a decorative gold-etched glass, it'll also look the part with the rest of your Christmas decor.
$58
Nest New York Blue Cypress & Snow
I've currently got this sitting in my bathroom and it's incredible. Subtle in looks and aroma, the scent can be used way after Christmas and into January and February. It's crispy, warm, and
has hints of vanilla.
$58
Nest New York Birchwood Pine
This is a holiday bestseller, and it's no wonder why. The woody aroma gives off notes of white pine, fir balsam, and birchwood over a base of rich musk and amber making it a unique blend. Its gold-etched vessel also makes it a gift anyone would love to receive.
This is a brand loved by our editor. To put it simply: P.F. Candle Co. scents are to-die-for. The diffusers and candles come in a range of vessel types, and while they don't do any Christmas-specific fragrances, there are some that we love using from December through to March.
$29
P.F. Candle Co. Teakwood & Tobacco
Our editor-in-chief is obsessed with this reed diffuser. In fact, she says it hits the nail on the head for her. "I am not a floral person and prefer more musky masculine scents. Its scent isn't too overpowering (which is another pet peeve of mine) but it's subtle and earthy." It'll be sure to give your apartment a cozy feel.
On sale for $36.50
This spicy and aromatic diffuser is strong, earthy, and cool. It's fragranced with black pepper, clary sage, palo santo, and blooming iris. Not only that but it sits inside a gorgeous custom-printed glass vessel that definitely makes a statement in a room.
$35
If you're looking for something subtle for your bedroom, then this woody scent should be it. It's perfect for this time of year and it sits in an unobtrusive apothecary-style amber glass bottle. Its scent replicates a log-burning fire with a hint of cedar and vanilla, of course. You'll enjoy this one for the whole of January.
Don't miss our ultimate roundup of the best home fragrances, including diffusers, candles, room sprays plus more.