If, like me, you've seen every episode on KUWTK, you'll know that the Kardashian (and Jenner) family have some serious interior style. Given the siblings' wealth, I can only dream of having, in the words of Kourtney Kardashian, "that effortless look, you know?"
I might not be able to afford their furniture, but having the holy trinity of Kai's home fragrance in my home is the road to having celebrity style in my suburban abode.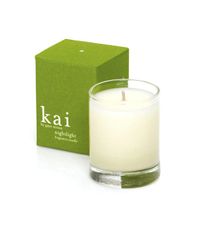 This slow-burning candle, crafted with a blend of soy, palm, and coconut wax, will fill the room with the smell of a Hollywood home. It's brimming with gardenia-scented notes.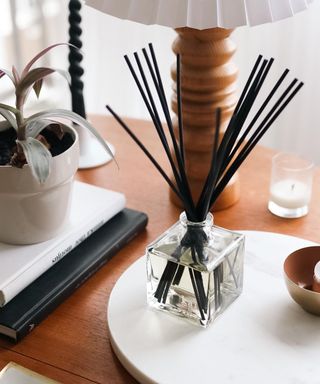 If you've ever played reed diffuser roulette at the store, get ready for life to be made a lot simpler. Kai has just two scents across its 27-product range (the signature KAI scent, and KAI*Rose). It has been described as a "vacation in a bottle," and I think it's fair to say, that's a pretty accurate description. It totally gives me that island staycation scent — even if I can't afford a tropical getaway to Bora Bora or Hawaii any time soon.
The super fresh gardenia nose is clean but not too feminine. What I like best is that the diffuser comes with a cute cork stopper, so if you're actually going abroad (or want to save it on special occasions only), you can use it more sparingly. However, if you're all for popping bottles, the diffuser lasts for three to four months with constant use.
My favorite of the three options is the linen room spray. It's totally queen behavior, but I like misting my bedding with this white flower scent for sweet dreams and 5-star hotel vibes. And, okay, I might add a spritz or two to the guest room if friends are staying over.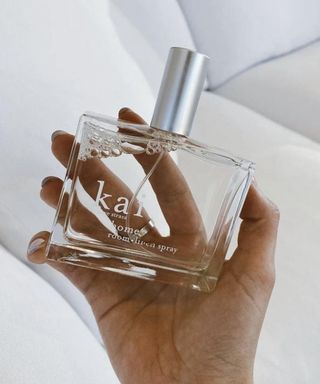 Which celebs use Kai products in their homes?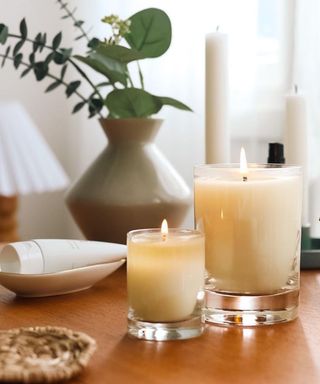 It's not just Khlo that likes a little Kai in her space. The brand is loved by loads of other cool A-listers if you don't aspire to be like the Kardashian klan. Other fans include Oprah, Mila Kunis, and Gwyneth Paltrow. And, unlike the last star's products, it doesn't smell like you-know-what.
I consider myself a bit of a product paparazzi. You'll find me getting up close and personal with the labels to see if there's anything shady lurking in the ingredients list. Just like my makeup, there are some non-negotiables if it's going to be used on my body or in my home.
But it was Instagrammer Naadine Koi aka @wellboxed, who inspired me to kit out my abode with this high-end home fragrance haul. She really understands the assignment with all things scent-related and captures candles in their best light.
Thankfully, the whole Kai collection is free of parabens, sulfates, phthalates, phosphates, and aluminum. What's more, when we reached out to the brand, reps shared that it never uses microbeads in its formulas or tests on animals. All of its product offerings are vegan and all packaging is recyclable too.