Spring is a busy time in the world of real estate – the holidays are out of the way and many parents are looking to move to a different school district for the year ahead. Selling your home this season or have plans to in the future?
Your choice of bathroom or kitchen tile could in fact sway it if you're trying to sell your house faster. Juliette Hohnen of Douglas Elliman is one of Hollywood's top real estate agents and was named by the Wall Street Journal as one of the top 250 realtors in the country.
When we spoke to Juliette about potential 'turn-offs' she commented that bold tiles should be avoided if you want to shift your house quickly.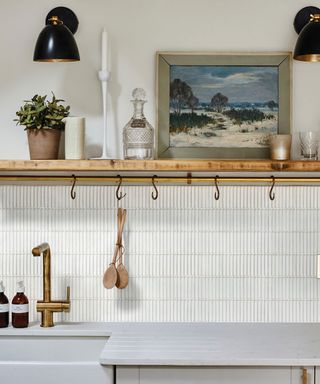 The bold tile trend could put buyers off
'I've seen houses with loud wall or tile colors sell for less than those with clean white walls,' says Juliette Hohnen from Douglas Elliman. When thinking about kitchen or bathroom tile ideas in anything other than your 'forever home', it pays to opt for something inoffensive.
Fresh white tiles are like a blank canvas for buyers, helping them to imagine themselves living in your home. As much as we may love bold patterned tiles for making a statement, when appealing to the highest number of people, it's better to go for something more subtle.
Blank walls will also help buyers imagine how their belongings would look in your home, making them more likely to make an offer.
It's definitely wise to keep things white or a neutral. If you want to add some visual interest and personality, you could DIY your tiles with vinyl cut-out shapes. These can easily be removed before you have viewings.
It's definitely worth updating old tiles rather than leaving them be, though. Juliette Hohnen says that dated bathrooms and kitchens will put buyers off unless they're looking for a project or fixer-upper specifically.
'Almost no one likes dark rooms,' she adds. White is sounding more and more appealing.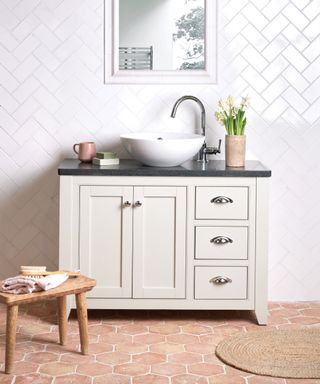 Painting tiles white or cream could be a quick fix to wipe the slate clean, read our guide to learn how to get a professional finish.