Pati Robins, an artist and full-time carer living in a 1970s house in Cardiff, has transformed her living room into a stylishly eclectic delight. Ripping out dated striped wallpaper and painting on black walls gave her the perfect blank canvas for her imaginative gallery wall ideas.
Pondering around her space feels like being in an art gallery–come–treasure trove, as our eyes are diverted from frame to frame, desperate to take it all in. Pati is a real believer in the importance of putting your own mark on a property. 'For me and my family to be able come in the door and feel "at home",' she says, 'it's worth putting all the effort in.'
The eagle eyed of you out there will be thinking that such unique and quirky pieces don't come cheap. And you're right, they don't. Where Pati doesn't spend money, she spends time, to sit down (or in some cases stand up) and DIY to her heart's content. So let's chat to Pati some more, and find out both how she formed the look, and how she did it at such little cost.
The before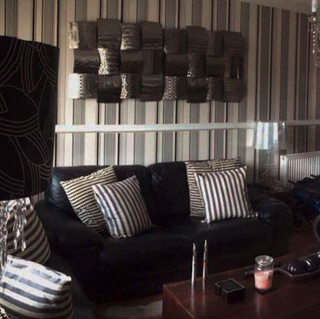 The existing living room was dated and dull. The neutral colours and artwork didn't appeal to Pati, and didn't give that feeling of 'home' that she wanted.
The after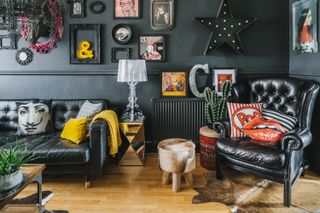 It's a feast for the eyes. Pati upcycled all of the ornate, decorative frames herself, using paint. She bought them at bargain prices from Ikea, Home Bargains, B&M and second hand stores, and transformed them into one-of-a-kind pieces that are perfect for her space. 'When it comes to my interior skills, I am self-taught. I don't have a background in art, but I was quite into crafts when I was young and I enjoy watching tutorials and just going for it.'
Pati panelled the walls of the living room herself using MDF. The armchair was originally red vintage leather, and Pati restained this to suit her scheme. 'My husband Colin wasn't sure it'd work,' Pati says, 'but I like to try out new things and hope for the best.'
With protecting the environment in mind, Pati loves to reuse things and save them from landfill. 'We live in a throwaway society. It's silly paying full price when you could just get your hands a little dirty and do something with a beautiful piece.'
The complete scheme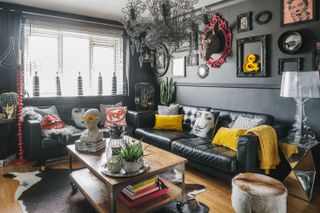 Yes – that is a donkey head in the centre of the gallery wall! This was found on Ebay, and is by Abigail Ahern for Debenhams. 'It was bought as a kind of joke as my husband's regiment was called the Donkey Wallopers,' explains Pati. Perfectly displayed with a bright pink frame that combines grandeur and fun, it's clear the family's personalities and histories shine through the space.
The decorating process has been a real learning curve for Pati. 'When we first moved in and work began, I was pretty much crying because I was frightened of the drill. Now I love my power tools.' The sofas are from Ikea and the coffee table was bought second hand.
The dining area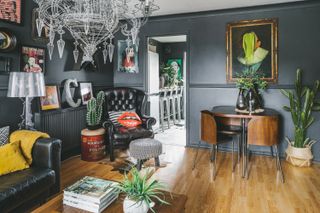 We simply couldn't enter this room without asking about the chandelier – it's both larger than life and barely there – surely that was an expensive purchase?! 'The chandelier is my best bargain,' Pati says, 'it's worth £2,000 but I won it on Ebay for £50.' (Please excuse us while we turn slightly green with envy over here.) The mid-century style dining table is perfectly compact for the space. The knitted footstool is from Home Bargains, and the skin rug is from Ebay.
So it's clear that Pati's whole space has been a quest to squeeze the most out of her budget. From clever Ebay bidding to upcycling and shopping around the for best deals, taking the time to focus on her design was an integral factor to the success of this space.
Swapping out a picture for a donkey head is certainly a gallery wall feature we've never seen before, and just goes to show what can be done with a little imagination and DIY know–how. We don't know about you, but we're off to buy some swirly frames and black paint...