A bathroom might be a functional space built with bathing and beautifying in mind, but it's full of endless design opportunities, too. Could yours use an upgrade? Thanks to Amazon, it's possible to spruce up your bathroom without spending the time and money on a full-blown renovation.
Nicknamed the Everything Store, Amazon is packed with virtually everything you'd need for a bathroom refresh, from plush towels, to shower head replacements, to a fancy vanity mirror. Not only does Amazon give you the opportunity to flex your DIY muscle, but the e-tailer makes it possible to create a beautiful bathroom for next to nothing.
But with so many options to choose from, finding anything on Amazon can feel like a trip down the rabbit hole. To help, check out these easy bathroom upgrade essentials that only look expensive.
For more bathroom ideas, check out our roundup of our favorites.
1. Transport yourself to island time with a new shower head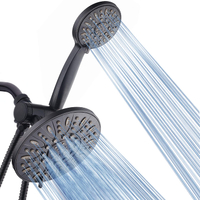 (opens in new tab)
AquaDance 7" Premium High Pressure 3-Way Rainfall | Was $59.99, now $54.99 (opens in new tab)
Just because you weren't blessed with cascading waterfall doesn't mean you have to settle for a ho-hum setup in the shower. With three setting to choose from, AquaDance's shower head will transport you to tropical rainforest. The seven-inch shower head is perfect for rinsing off, while the matching handheld option will help you cleanse those hard-to-reach nooks and crannies. Best of all? AquaDance claims this model is easy to install and doesn't require superfluous tools.
2. Lather up with these stylish soap dispensers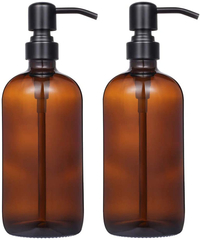 (opens in new tab)
CHBKT Amber Glass Dispenser with Matte Black Stainless Steel Pump | $17.99 (opens in new tab)
Looking for a virtually effortless way to elevate your bathroom? Reconsider your soap dispensers. Instead of settling for the disposable, plastic container your soap comes in, pour the formula into this sleek dispenser from CHKBT. Between thick amber-colored glass and matte black pump, this option has a cool, apothecary look that will make your bathroom feel fancy. Since you can use this dispenser over and over again, you can ultimately save money and plastic by purchasing a big refill bottle. An upgrade that will make your wallet and Mother Nature happy? Sounds like a win-win.
3. Treat yourself to a towel hook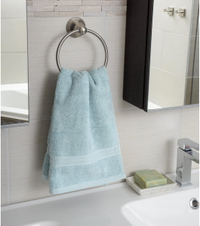 (opens in new tab)
AmazonBasics Modern Towel Ring | $10.99 (opens in new tab)
Chances are, you already have somewhere to hang your bath towels, but what about a small hand towel dry to off your palms? Do you leave it on your counter? Or worse, do you wipe your hands on your pants and call it a day? Not only is this nickel-finished ring from AmazonBasics large enough to hold your hand towel, but it'll also make your bathroom feel like a fancy, five-star hotel.
4. Beautify your bathroom with wall decals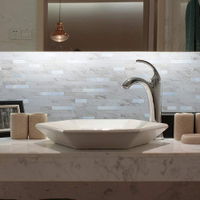 (opens in new tab)
DIH Peel and Stick Backsplash Tile | Was $59.99; now $49.19 (opens in new tab)
Calling all renters: If you want to spruce up your temporary space, but don't want to risk your security deposit, pick up DIH's peel-and-stick backsplash tiles. Simply place these adhesive decals over your unsightly backsplash and you can easily peel them off when it's time to move out—or you're in need of a change. Made with a durable PVC, these tiles are heat and moisture-resistant so you won't have to worry about them spontaneously slipping off. Though DIH has plenty of styles to choose from, this faux marble option looks oh-so luxurious.
5. Brighten your space with a new sconce

(opens in new tab)
Rivet Mid-Century Modern Double Glass Globe Wall Sconce | $59.91 (opens in new tab)
Most design enthusiasts know that light can make or break your space; however, selecting the right fixture is just as important. If you want to give your bathroom an easy, affordable upgrade, switch out the light fixtures. Scones are perfect for bathrooms because they offer plenty of light without taking up precious square footage. This mid-century-inspired option from Rivet will give your space a cool, updated flair. Plus, aren't two bulbs better than one?
6. Focus on finishing touches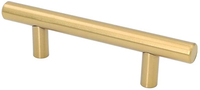 (opens in new tab)
Goldenwarm 25pcs Brushed Brass Kitchen Cabinet Hardware Handle|$35.19 (opens in new tab)
Small finishing touches are the key to a fancy (or seemingly fancy) bathroom. If you want to give your vanity some extra love, try swapping out its hardware for this shiny set from Goldenwarm. With a half-inch diameter, this option is easy to grip but looks dainty. Plus, its brushed brass hue will look good with a number of bathroom styles and color palettes. Goldenwarm's 25-piece set is currently available for about $35, which mean each piece will cost you under $1.
7. Finish it off with some plush towels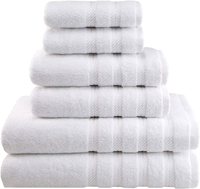 (opens in new tab)
American Soft Linen 6-Piece Towel Set | $39.99 (opens in new tab)
Of course, you don't have to take on a DIY project to breath new life into your bathroom. If you're looking for an affordable option that requires minimal effort, restock your linen cabinet with some new towels. (A crisp, white set will give your space some serious spa vibes.) Made with Turkish cotton, this set is lightweight, soft, and surprisingly absorbent. It's no wonder why this set has over 2,000 positive reviews on Amazon and an "Amazon's Choice" badge.
Read more: