Any homemaker worth their salt will agree — a bathroom should be no less stylish and slick than your kitchen or living room. Sure, you might be sharing with messy roomies, but there's no reason you can't set an example. Trust me, eye-catching bathroom decor in a small space really counts, and not just because of the increased clutter potential.
As someone with years of experience living in small rentals, I place a lot of care into the small but essential items. Like bath towels, shower caddies... you get the idea. That's why I've taken a recent shine to the humble bathroom trashcan — a handy addition to any restroom and a neat excuse to flex your interior nous.
Whether it's sanitary pads, used dental floss, empty toothpaste tubes, or *hangs head in shame* those pesky toilet roll tubes no one can be bothered to throw out, bathroom trash tends to collate if ignored. Giving it a quick and easy home until garbage day is a must. Of course, if your apartment is anything like mine — teeny, that is — you won't want anything too clunky.
I've done the honors of searching for cute bathroom trash cans for you, so you needn't spend hours scrolling to find the perfect one. If you'll pardon the pun, this list is the untrashy guide to bathroom trashcans, based on the honest reviews of shoppers. While I've yet to test each one myself, you can rest assured, the shopper never lies. Didn't make a minimum of four stars on the rating? It ain't cutting it. Here, I show you how to trashcan, not trashcan't.
The best bathroom trashcans to buy
Why you can trust Real Homes Our expert reviewers spend hours testing and comparing products and services so you can choose the best for you. Find out more about how we test.
The prices below were correct at the time of publishing.
Bathroom trash cans with lids
It goes without saying — some items are best kept out of sight and out of mind. We won't go into details as everyone needs their privacy, and we're far too old for toilet humor. Either way, you know the drill.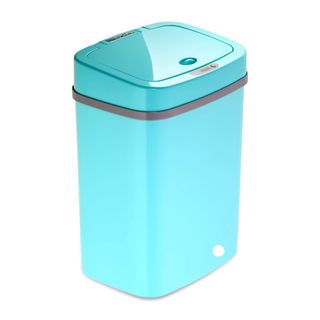 Sensored
1. Nine Stars Plastic Motion Sensor Waste Basket
Size (in.): H14 x W10.3 x D7.8
Made from: Plastic
Colors: 5
Price: From $24.98
Available in a poppy palette spanning teal blue (my fav) to rose and canary yellow, this handy design is both slim and tech-savvy, complete with motion-sensor operation for the utmost convenience. My take? I can see this slotting into the bathroom corner, adding an overdue charge of color to an otherwise tawdry space. Plus, with three gallons capacity on offer, it's roomy enough for a shared apartment. And who could argue with that slick silhouette? As for the shoppers' thoughts, it's smiles all around — easy set-up and guaranteed to spice things up.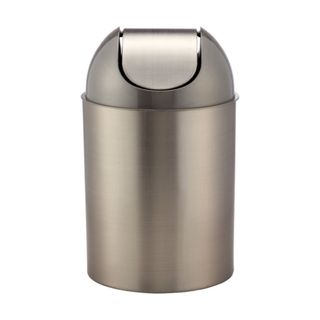 Minimalist
2. Umbra Mezzo Gunmetal Trashcan
Size (in.): H15 x Di9
Made from: Plastic with foil laminate finish
Colors: 2
Price: From $19.99
Slick? Check. Cheap? Double check. Coming in a cool, steely gunmetal metallic or bronze metallic colorway, this swing-lid design brings economical design and polished minimalism to the fore, promising understated style in buckets. In terms of construction, it's a durable design, perfectly sized for the bathroom space, and easy to use. Indeed, there's a reason this style of trashcan has been everywhere like forever. The best part? It matches any brushed stainless-steel bathroom, and according to shoppers, no one can tell it's not actually metal! Win-win.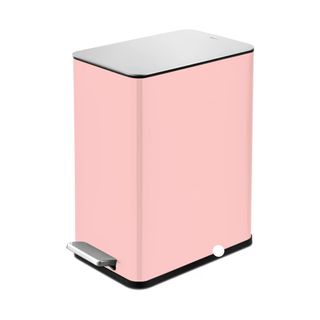 Pretty in pink
Size (in.): H14 x W7.5 x D13.2
Made from: Stainless steel
Colors: 6
Price: From $24.98
Honestly, talk about cute. For me, this was an instant match, especially in that pastel pink hue. Of course, there are myriad hues — from minty green to baby blue and silver — to suit your tastes. Featuring a soft-close lid with pedal operation and fingerprint-proofed surfaces, it's ideal for busy households, where it's guaranteed a lot of use. Oh, and you needn't worry about it tipping over when you push down — the non-skid base has your back. Yep, no slams or topples here. As for the reviewers' verdict: easy to empty, easy to clean, and totally adorable.
Small bathroom trashcans
When it comes to bathroom trashcans for those short on space, keeping them teeny but convenient ain't up for debate. Fortunately, these designs provide ample space without clogging up your bathroom's minimal room.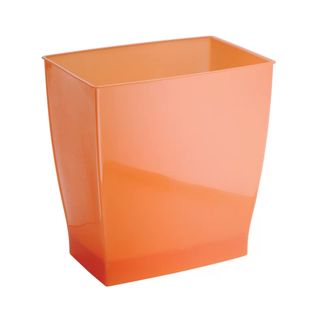 Go bold
4. Ebern Designs Hardyal Open Waste Basket
Size (in.): H12 x W11.2 x D7.1
Made from: Plastic
Color: Orange
Price: From $22.99
Unless you've been living under a rock, you'll know that bold resin-style trashcans are hot stuff right now. And it's little wonder why. Immediately injecting your bathroom with a liberal hit of dopamine, designs like this might be small, but they're mighty in effect. With a slender profile, this Tango-orange design scores highly with reviewers, earning words of praise for perfect, bathroom-ready proportions. Oh, and you can trust this to be a breeze in terms of cleaning — a simple wipe always does the trick.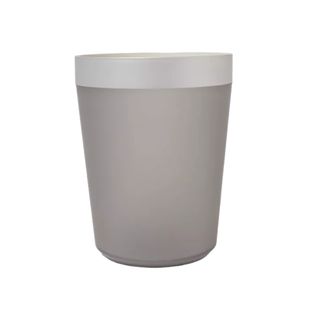 Basic
5. Room Essentials Wastebasket
Size (in.): H11 x Di8.5
Made from: Plastic
Color: Gray
Price: From $12
Bringing together a cool, classic silhouette in two-tone gray, this flared cylindrical design is a masterpiece you can trust, built with sturdy plastic and lightly polished. Minimalism is going nowhere, so a number like this is always an easy investment to make, especially at that price. As for shoppers, they could not speak highly enough of it, touting its elegant and hardwearing construction and weighty design. Topples, farewell!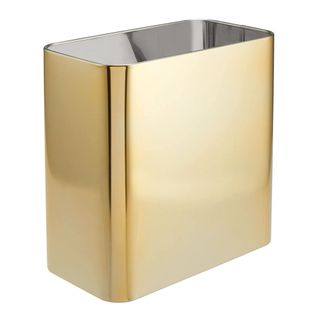 Gold
6. MDesign Small Wastebasket
Size (in.): H10.25 x W10.25 x D5.5
Made from: Stainless steel
Colors: 16
Price: From $22.99
Say hello to the gold standard of small trashcan design, available in a whole spectrum of colors, from soft brass (my go-to) and lilac to marble-effect. Instantly leaving an impression on your guests, this splashy piece is equally discreet, taking up only a small amount of space in your bathroom. Plus, you can trust it to last, with sturdy construction suitable for plenty of use and a rust-resistant finish that's a savior in steamier bathrooms. Oh, and shoppers were suitably delighted, praising its almost unbreakable strength and easy cleaning. Sounds like a dream to me.
Black bathroom trash cans
Sometimes, you can't beat a classic. Indeed, the black trashcan is not only sure to chime with most bathrooms — unless, say, it's all pink — but it's also a winner at keeping its looks in working condition. Marks are obscured and wear and tear have little impact.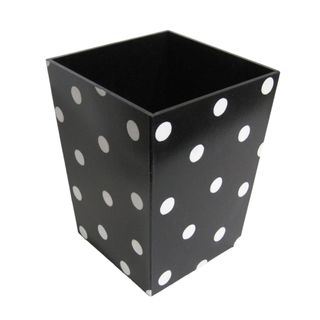 Hand-painted
Size (in.): H11 x W8 x D8
Made from: Wood
Colors: 15
Price: From $42.95
Sure, opting for an all-black design is smart, but there's no reason you can't keep it a little spicy. Enter polka dots, the age-old design that instantly adds a quirky feel to an otherwise understated piece. In this case, it frames a handmade basket, which has been crafted, primed, sanded, and hand-painted, before finally undergoing a final coating for added protection and shine. Where reviewers were concerned, it nailed the brief thanks to its high-quality wood construction and the cutest looks. Oh, and if black isn't your vibe, there are 14 other colors to pick from!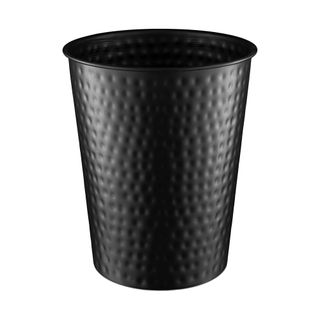 Sleek
8. Monarch Abode Matte Wastebasket
Size (in.): H9.75 x Di7.9
Made from: Metal
Color: Black
Price: From $24.95
Rendered on metal, this durable delight features a hammered surface that's both subtle and big on panache. Ideal for little bathrooms, it's a small piece, primed with a rust-resistant surface and graceful rim. As for its maintenance, that's a piece of cake — all it needs is the occasional wipe down with a cloth, as and when required. Word on the street? This golf-ball-textured beauty has premium metal construction and serves its purpose well. Sure, it's not reinventing the wheel, but it's a tried and tested winner with a fresh twist.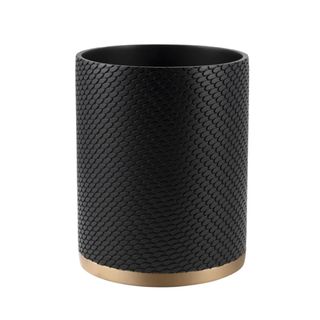 Elegant
9. Mercer41 Plastic Open Waste Basket
Size (in.): H9.88 x Di7.91
Made from: Plastic
Color: Black and gold
Price: From $29.99
Glamour has entered the chat... Yep, this gold-rimmed resin piece is a must for anyone with a penchant for glitz. Not only does it feature a brushed gilt base but also a unique textural surface, embossed across the cylinder in an intricate design. Chiming perfectly with most bathroom spaces, it's a smart blend of flashy and pared-back. Luckily, shoppers are on board, complementing the handsome looks and graceful details. As for the quality, it's next to none.
FAQs
Should you have a trashcan in your bathroom?
Always! It's only natural that your bathroom generates garbage — be it tampons, used tissues, or even old nail varnish tubes. Having a little spot to put them while you're using your bathroom space is a must, avoiding waste buildup in your own personal sanctuary. Of course, no one wants to be ferrying back and forth between their bathroom and kitchen trashcan when they're carrying out some of our less-than-chic activities (let's not go there). It's just not that simple. Plus, as the designs featured in this list highlight, a trashcan is also another way to imbue your bathroom with a bit more of you. Have fun with it.
How often should you clean your bathroom trashcan
Short answer? As much as you can. Long answer — keep it to a minimum of once per week or risk facing a sticky and perhaps rotting buildup of grime and dirt no one needs to see. Sure, it's a trash can, but unlike a larger, heftier, and more secure design such as that in your kitchen, this shouldn't be left for too long, or it will attract unwanted nasties and make your room smell — especially if it has an open-top. So long as you use a small, specialized bin liner, you should be all set and won't need to wipe down the interior as much either.
Where to buy a bathroom trashcan
Meet the best-in-class bathroom trashcans to spruce up your bathroom, courtesy of our favorite retailers, as listed below.
How we chose these bathroom trash cans
Yes, all of these bathroom trash cans were handpicked because of their amazing star rating from shoppers. Which means that all of the trash cans featured have reviewers' seal of approval, plus they are actually worth their price tag. We've gone for a mix of style and practicality, as always.