Often times, when looking at a space that needs a lot of improvements, you might be struck with the though that it would be easier to simply gut it. Start over, from scratch, with a clean slate.
In some cases, this might be true, but gutting a space isn't always an option, or even necessary. A lot of money, time, and effort are required to completely renovate a space, but as someone who's spent the last few years completely rehabbing my home without gutting it, I truly believe that you can give a space a new look without a renovation. In fact, it is kind of the name of my game. I absolutely live for a refresh without gutting anything.
Here are a few of my favorite ways to give your space a brand-new look, and all without renovating a thing.
Paint
First and foremost, with perhaps a few exceptions, I believe that virtually every single space can be changed drastically with the addition of paint. Whether it be to change the color or add some new ones, painting truly has the power to make a space look completely different, and it is always the first place I start. Painting kitchen cabinets or bathroom vanities can make a world of difference. I for one have painted every single cabinet in our house since we moved in, and I haven't looked back once.
In our kitchen, where we hired out the cabinet painting, white cabinets elevated the space as compared to our previous, outdated wood facades. The bathroom vanities in our home have all also been outfitted with new colors. These I did myself, (I highly recommend a good paint sprayer when painting cabinet doors), and I love how they turned out. I am a very visual person, and so whenever I see a photo of a space that I want to emulate in my own home, I ask myself first if anything I see can be achieved with paint. And I love when the answer to that question is "yes." I've said it before, and I'll say it again: the power of paint is real, my friends.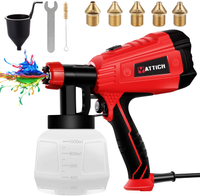 YATTICH Paint Sprayer | $65.99 on Amazon
Amazon's best-selling paint sprayer comes with five copper nozzles and an adjustable flow control, and can be used on furniture, cabinets, interior doors, and more.
Add in rugs
Another realistic (and super simple!) DIY that can drastically change the space is the use of rugs. Sometimes floors can be an eyesore, and replacing them can get pricey. A large area rug in a space is a much more affordable option and can really change the feel of a room. I personally even love the look of an area rug over carpeted areas, and this can also be a great way to add in texture or color that wasn't there before.
Price ranges vary for this item, but I personally tend to stick with rugs that won't break the bank. I know that styles and tastes change, and so I may not love the same rug a few years down the road. If I don't spend a small fortune on it, I won't feel as guilty switching it up if a room needs a refresh.
Refresh lighting
And speaking of switches, this brings me to my last item that has the power to completely change a room: LIGHTING. Light fixtures are a fantastic way to make a home feel more custom, and they are also another great way to bring in texture or design. So many houses are built with normal, builders-grade light fixtures, and one of the first things I love to do when I move into a house is to change the lighting. From flush mount to chandeliers, light fixtures have endless options that can fit every style. Lighting in a room can take a space from a farmhouse vibe right into a modern one with just the flick of a switch.
No matter what vibe you are going for in your home, always remember that it is the people inside the walls that truly make a house a home. Though the pressure to have a stunning space can feel like a lot at times, no home is ever perfect, no matter how beautiful. So, don't go spending your life savings on updating a space if it isn't the right time for you. A few small changes can make a huge difference!
About the author
Liz Hartmann is part of Real Homes' Real Expert panel. She's a DIYer and lover of all things home décor. She can be found on social media @misslizdidit.