Jim Hall and Julie Scott moved into their picturesque old farmhouse in 1997, and for Jim these were very familiar surroundings. The farm had been his grandparents' home and was where he'd spent each summer as a child. The couple worked through a huge programme of repairs to maintain the historic home and preserve its original features.
Read on to find out how they did it, then browse more real home transformations...
THE STORY
Owners: Julie Scott, an illustrator, and Jim Hall, an electrical engineer
Property: A 1700s farmhouse in Alford, Berkshire County, Massachusetts, USA, which has been extended and improved over the years
What they did: Julie and Jim renovated the farmhouse, replacing rickety outbuildings with work studios and entertaining spaces, and also added a new kitchen extension
Imagine a classic New England setting, and a town like Alford is exactly what comes to mind. With its distinguished homes amid picturesque, natural surroundings, Alford embodies a venerable past at peace with an ever-changing present.
Jim Hall and Julie Scott live in a house that fits nicely into this picture. At 230 years old, the property has seen its share of changes through the centuries. It's not the same house as it was in the 1700s: there have been frequent alterations to fit the times and the needs of the owners.
'It was like every 50 years there was something added on,' says Julie. That's a tradition the couple have continued, expanding and perfecting the house's physical space, while honouring its history.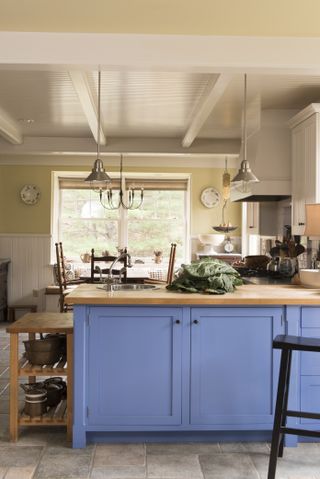 It is a history with a strong personal connection for Jim, who grew up spending summers there with his family. It was originally bought by his great-aunt and uncle in the 1940s, then in the 1950s Jim's grandparents bought it as their summer and retirement home because they had become involved in the area's thriving amateur dramatic scene. 'They moved up here because it was cheap, easy to get to, and beautiful,' says Jim.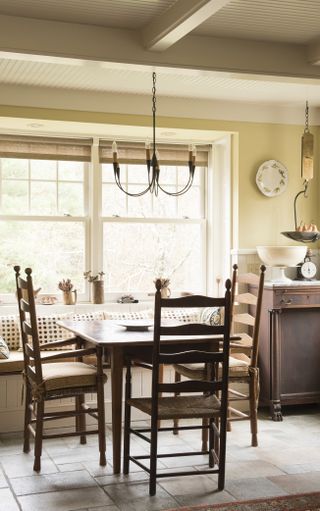 Jim and Julie moved into the old farmhouse with their daughter in 1997, and immediately began making changes. The oldest part of the house served as a centre for the renovations to come, with its solid, barn-like timber frame. Many of the previous add-ons had been done on a budget, simply laid on top of stone with no foundations. They were so unstable that when the modern renovations began, one of the old additions literally crumbled to dust with dry rot.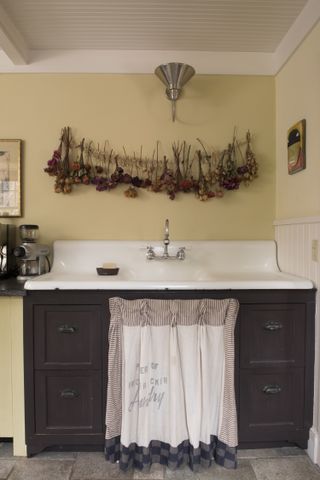 The couple's plans involved removing the precarious additions and replacing them with new, sturdy structures in keeping with the house's historical ambiance. 'It is a modest little farmhouse, and the goal was not to mess it up or try to make it into something it's not,' says Jim.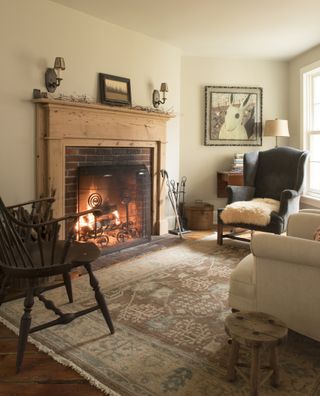 The work included relocating the kitchen and stairway into the newly built extension, and repurposing those original spaces for a different use, including a bar. Eventually, an extra storey was added to the extension, for an office and bedrooms, and another add-on was rebuilt as a granny flat. The original attic in the old house
was transformed into a bedroom for the couple's daughter. 'My grandfather and I shared that room when I was a child,' recalls Jim.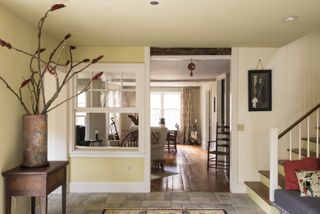 As much of the original material from the house as possible was salvaged and used in creating the new spaces. The sink base from the old kitchen is now in a bathroom, and the original living room floorboards and some of Jim's grandparents' furniture are still in evidence. When something couldn't be salvaged, the couple sought out appropriate replacements from reclamation yards.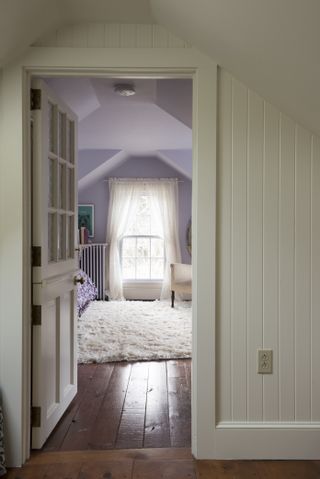 It wasn't until a couple of years ago that Jim and Julie shifted their renovation sights to the old barn at the back of the house, which they were using as a chicken coop. One night, a bear burst into it and destroyed one side to get to the chickens. Where some might see wreckage, Jim and Julie saw opportunity. So, soon after having the barn dated to pre-1820, thanks to its rare, hand-hewn beams, the couple began a complete rebuild. The remaining chickens were relocated to a friend's farm.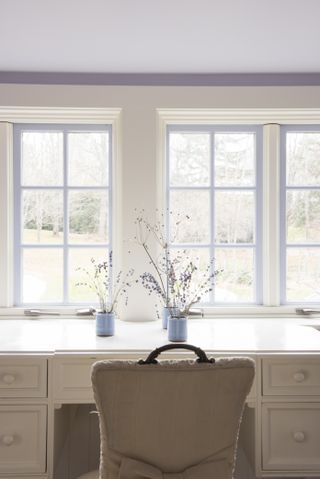 No alterations would be quite as crucial as moving the barn six feet away from the house. 'The barn used to crowd the house,' remembers Jim. 'Now it's at a good distance and it feels right. We were able to put that little breezeway connector between the house and the barn.'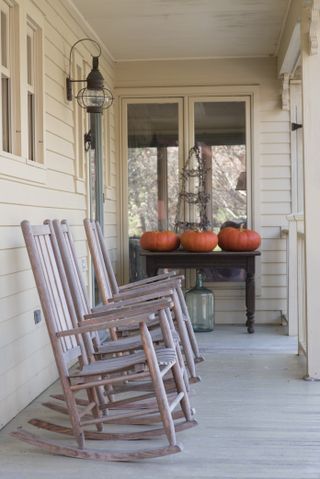 MORE FROM PERIOD LIVING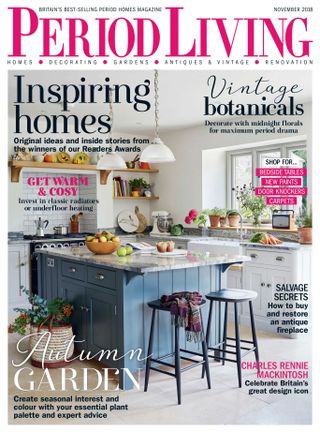 Period Living is the UK's best-selling period homes magazine. Get inspiration, ideas and advice straight to your door every month with a subscription.
The main section of the barn includes both new and old boards and cladding, although all of the beams are original. With expansive doorways on either side and a deck at the back, the three-season barn has become a multipurpose space, perfect for entertaining. The completion party last spring featured a jazz band, and Jim and Julie hold foraging dinner parties, where guests forage for wild food and bring it back to cook and eat.
The barn is also a creative workspace for Julie, with the main area roomy enough to hold a monotype press and an enclosed, heated studio at the back. Downstairs, where once was a dark, wet area with troughs for animals, is now a music studio for Jim, with his guitar collection and a space for jamming. Next to that is an outdoor shower inspired by those they saw on Martha's Vineyard.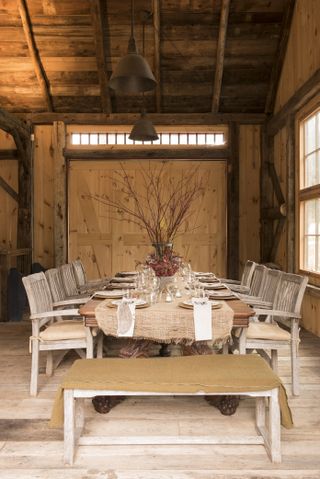 The property has come a long way since the days before Jim's family owned the house. Back then it belonged to a woman named Mrs Place, who is still remembered by some in Alford. 'She had a potbelly stove, there was no running water or electricity, and there was a tiled water cistern that collected water off the roof,' Jim explains. 'She lived alone, and ran a reading room. The village blacksmith was across the street, and people would bring their horse to be shod and come to the reading room.'
Mrs Place might not recognise her former abode, but she would surely approve. 'The goal was to take the old farmhouse and keep it like a farmhouse,' says Jim, 'and I think we've pulled it off.'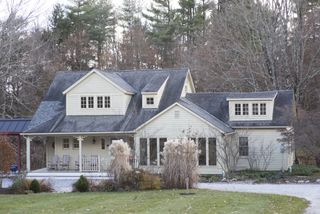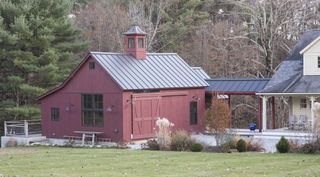 More period homes to browse: