Back in 2012, Amber and Thomas Haynes decided to return to Amber's roots: Hampshire coastline. As luck would have it, a Georgian mews property offering vast revamp potential came on the market. Spotting the possibilities it afforded – and then some – the couple jumped at the chance of buying it, then set about renovating it into a nautically-inspired contemporary cottage.
Find out how they created this cute but chic home – and don't forget to check out all our real homes.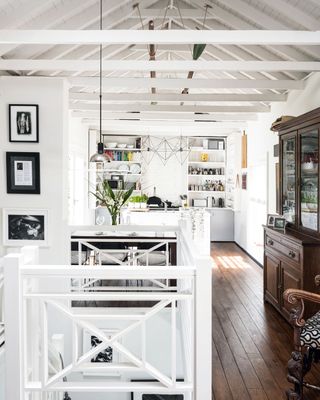 When Amber and Thomas began searching for this renovation project, although keen to find a period home, the pair were determined to avoid the rigmarole of any potential listed building battles. 'We'd just been through the mill with our first "together home" – a Grade II-listed flat,' says Amber. 'Since this proved to be such a nightmare in terms of various planning issues, we wanted the next project to be far more straightforward.'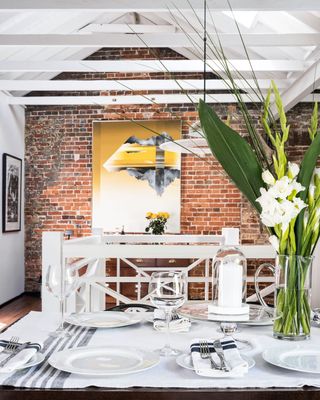 After a property fell through in Southsea, they turned their attention to Old Portsmouth – a picturesque area they'd pinpointed as up and coming. The Georgian mews house they found was in Spice Island – a fascinating part of Old Portsmouth that's steeped in history. Hidden along a side street, its traditional brickwork and old-world charm instantly stole the couple's heart. 'We loved the fact the house was tucked away down a quiet cobbled lane, and had good light and plenty of space,' Amber explains. 'With vision and time, we realised we could turn this dated property into something very special.'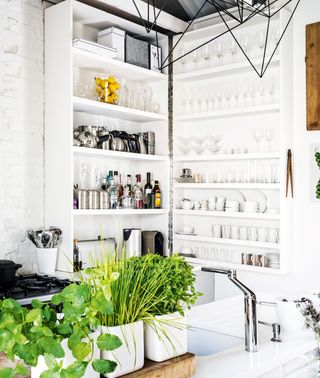 The building, dating from 1820, started life as a boat store for the neighbouring house. Later, it was converted into stables, then an antiques' shop and, during the 1980s, turned into a three-bedroom house. Most recently, it had been rented out
as a holiday home. 'When we viewed it, the property was very much in 1980s "fake cottage" style,' Amber says. 'Despite its appearance not being to our taste, it had
a lovely feel – and, best of all, it wasn't listed.'
With the property ticking so many boxes on their wishlist, Amber and Thomas snapped it up and lived there for the next six months. In that time, they considered how best to transform their new house into a practical yet beautiful home.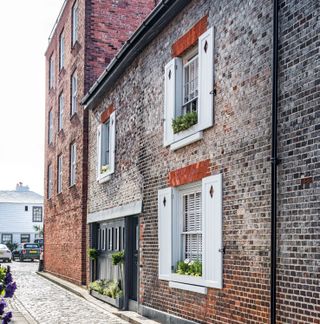 First of all, they needed to rejig the layout. 'It was something of a jigsaw puzzle,' says Amber, reflecting on their plans. They decided to create an open-plan kitchen-diner, and moved one of the first-floor bedrooms downstairs to free up space. They also planned to replace the downstairs courtyard with an en suite. 'Above this, we'd gain room for a secluded, decked space – a little sun-trap with glazed doors leading out from the new kitchen,' Amber says.
Profile
The owners
Amber Haynes, a sound recordist, and her husband, Thomas, who works in private finance.
The property
A three-bedroom semi-detached Georgian mews house in Old Portsmouth, Hampshire.
Project cost
£93,300
Having drawn up their own plans and hired a team of builders that had been recommended by neighbours, Amber and Thomas immersed themselves in the project, playing as much of a hands-on role as possible. One of their boldest moves was to remove ceilings on both floors. 'We were able to gain more head height in the downstairs bedrooms and an incredible amount of space on the first floor,' Amber explains. 'As well as evoking the building's boathouse past, it gave the space a loft-like feel with an industrial edge.'
Being located so close to the water's edge, Amber and Thomas felt a staircase with an eye-catching design, inspired by a nearby sailing club, would work well to pull both storeys together seamlessly.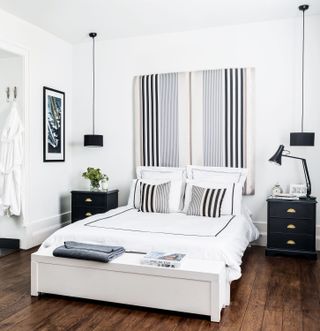 As the building work progressed, the couple added to their plans. 'We'd seen an idea for a glazed wall in a magazine and wanted to incorporate that in the bedroom en suite,' Amber says. 'In the second bedroom, we created another airy en suite, plus a little door that would bring in more light and be handy for watering the umbrella sedge plant.'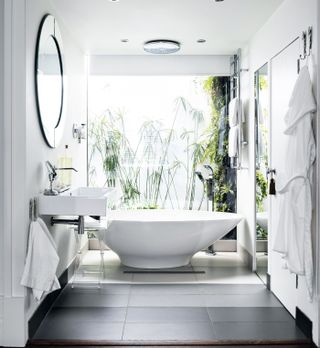 As the 22-month project nudged steadily forwards, the plumbing was overhauled, the house completely replastered and painted, and smart solid oak flooring laid. Progress was slower than Amber and Thomas expected because they took on the bulk of the project themselves, but they've reaped the benefits of their hard work.
The couple's sought-after seaside life is now a reality, and their dream property as rewarding as they hoped. 'We are both so delighted to have created a unique home,' Amber says. 'It's incredibly rewarding to give this dated house a new lease of life. Thomas and I have been well and truly bitten by the renovation bug and, once we find another suitable – preferably not listed – property, there'll be no stopping us.'
Contacts
Wood paint Valspar, 0344 736 9174, valsparpaint.co.uk
Bath Pura, 01892 611240, purabathrooms.co.uk
Basin and taps Saneux, 020 8686 5100, saneux.com
Artwork Pete Codling, 07503 105655, petecodling.com
More lovely homes to nose around: