You've probably heard of the Emma mattress protector before, and if you haven't we're about to transform the way that you sleep. Yes, it's one of the best mattress protectors around, with an impressive 5-star rating from us. Not only that, but right now has proven itself to be the best time to buy an Emma mattress protector, with Black Friday deals live and a staggering 50 per cent off at eBay.
Why should you spend your money on an Emma mattress protector? Not just for doing the job of... well, protecting your luxury mattress, but it actually adds a comfortable layer to your bed. Whether your mattress is brand new or a few years old, the Emma mattress protector does the job of wrapping your mattress, ready for your fitted sheet to go atop. Plus, it's also anti-allergy and damp-resistant for good measure. The best part? It's washable in your machine in case of accidents – and to keep it in tip-top condition.
A member of the Real Homes team tested this mattress protector for us, and ever since she has had it on her bed. Not only does it suit her, who is a front sleeper, but her side sleeper partner loves it, too. A great all-rounder!
Now starting from £49.50 at eBay, for a single size, usually this projector RRPs at £99. For a double, you're looking at £65.50. For a king-size, it's only £69.50 and a super king is £79.50 – with £79.50 off. This means this is one of the best Emma mattress deals around right now!
Whether you are searching for a mattress protector to simply just do its job at shielding your luxurious mattress, or you want something with a slight cushion for added comfort – perhaps you have allergies so are you after an allergy-safe protector? Keep reading for our opinion on the Emma mattress protector.
Emma mattress protector Black Friday deal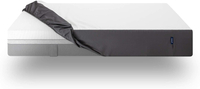 Emma Mattress Protector | £99 £49.50 (save 50%) at eBay
All sizes of the Emma mattress protector are on sale this Black Friday at eBay – new, with tags of course. This breathable protector is designed to keep you cool all night long. Not just that but it has a 100 per cent waterproof layer to protect your mattress from anything including spills. It's also made with AllergyShield technology and is clinically proven to protect you from dust mites as well as pet hair allergens.
Our Emma mattress protector verdict...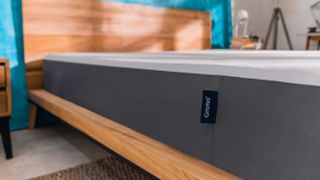 For maximum mattress protection on your new or old mattress, there's no other option to this one. It's the best luxury mattress protector you can buy, we think.
What does it do well?
Jam packed with features, this protector is 100 per cent probiotic and made from Innovative Cairfull® material for a comfortable night's sleep. Acting as a base for your sheet to sit atop, the protector, unlike many others, is cushioned on top for added comfort, a huge winner for many.
This mattress protector isn't just waterproof and breathable, but it's also antibacterial too. Thanks to special fibres, it's ideal for those with allergies as it prevents dampness in your mattress and it shows 89.3 per cent less dust mite allergens compared to other conventional covers.
Our honest opinion? It's like wearing luxury designer underwear beneath a high street-bought outfit; only you know it's there but you can feel the benefit...
Ease of care
In terms of cleaning, the protector is washable at 60°C, meaning it's easy peasy to wash accidents away!
What else?
As with all Emma products, the Emma SmartSleeve mattress protector comes with a 100-night guarantee, so if you don't get on with it, you'll get your money back.
What made us try the Emma mattress protector?
Our Deputy Ecommerce Editor, Annie Collyer, tried and tested this mattress topper for us, and spoiler alert: she loved it. Here's her verdict:
"I bought a basic IKEA mattress after moving out, as we all do when we are on a budget, and it's safe to say that it didn't take me long to realise it was a little harder than I thought it was when awkwardly laying on it in the shop. Obviously, I hadn't considered that show mattresses are sat on every day, several times a day so they are already broken in when you test them. Don't get me wrong: I love a firm mattress as much as the next person, but this was a tad too hard, even for a front sleeper. So, I went out to seek a mattress topper – or protector. This is when I found the Emma one, which, is technically a 2-in-1 topper and protector as it does both thanks to its cushioned top."
"There are so many reasons why this mattress protector is worth shouting about but first let me just say although it's expensive, it's more than worth it. I've had it on my bed for the past three and a bit years, and it doesn't look like it's going anywhere soon (I hope!). I also very much realise the difference when I take it off for a night to wash and dry it, and it's really easy to put on a bed thanks to the elastic around the edges – it never moves an inch once put on tightly."
"Other things I love about this mattress protector are that it's easy to wash – just throw it in your machine at 40º – and it's not noisy. By that I mean some toppers or protectors have plastic in them to protect your mattress, but when you move in the night you can hear this plastic crinkling. There's no noise, no popping off and generally just no fuss with this one."