The holiday season can be filled with so much magic and excitement, especially if you have young children at home like I do! This is my favorite time of year, I love the coziness of it, like cuddling up with a cup of hot cocoa and watching a good holiday movie surrounded by twinkling lights and pretty Christmas decorations! But, I have to say one of my favorite traditions to bring back year after year is our family's North Pole Breakfast, AKA our Elf on a Shelf arrival party!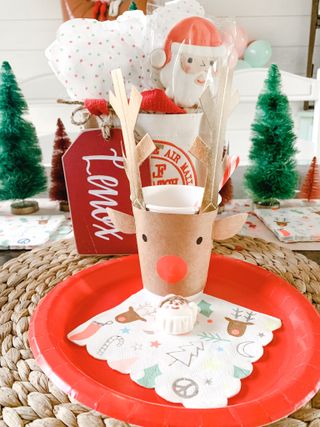 I started the Elf on the Shelf ideas tradition when my oldest was just two and our elf would bring her a little gift when he arrived. I thought it was such a cute idea to bring more magic into the Christmas season. When we had our second child, I started making a little breakfast and the now elves would arrive in the morning with a gift and we would have a festive breakfast to celebrate with. As the tradition continued I started to get more into it, and as a person who loves to style parties it became a passion of mine to create these cute themed breakfast parties every year! I chose the day after Thanksgiving because the season seems to fly by and I wanted the magic to be around as long as possible but you can do it any day around the end of November or start of December.
How to throw an Elf on the Shelf arrival party
I plan this breakfast every year for my kids for the morning after Thanksgiving, and every year it gets a little bit more extravagant than the last. Last year's breakfast was by far my favorite one that I have ever done, and I'm excited to top it this year. But for now, I'm excited to get you guys the details on this little party so that you can incorporate this sweet tradition into your own home.
1. Start with the decor and set the table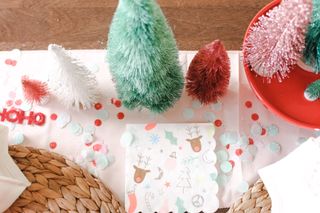 For the planning and styling I start with the table settings since the main part of this party is the breakfast! I like to find festive napkins or plates and center the colors in the rest of the décor around that. I am a big supporter of small shops and tend to find my party décor from small shops online and on Instagram. I feel like they carry unique items that you will not find in the big box stores.
I should add that I start looking around online in late October-beginning of November for Christmas decorations. Once I find either plates or napkins or both, I look to find other décor items that coordinate with it. For example, I found the napkins first for this set up. When I saw them on Ellie and Piper (my all-time favorite party shop) I knew they would be perfect. I absolutely loved the festive little images and colors on them! Then, I saw that they also carried confetti that matched the napkins flawlessly so I obviously had to have it to add some more fun to the table.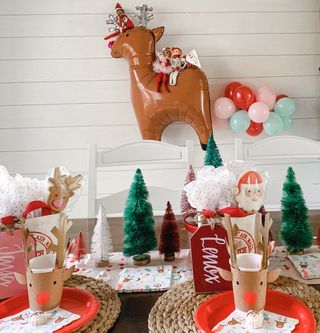 Since the napkins were so fun and festive I decided to pair them with just solid plates underneath. Simple things like that I grab when I'm out in the stores. I always "shop" my home for things I already have to add to the settings. I used woven basket placemats underneath the napkin/plate combo to give some more texture. I also used a table runner I already had from a previous party as well as bottle brush trees that are normally in my daughter's Christmas room décor because the colors went well.
Usually, these extra things come into play the night of Thanksgiving, while the kids are asleep and I'm setting up the dining area, but it's also a good idea to look and see what you have and what you may want to use while you are planning the main décor. Things like garlands, banners, greenery, and even ornaments that you may already have and use in your Christmas décor are good items to use for this type of event as well.
2. Add in some hot cocoa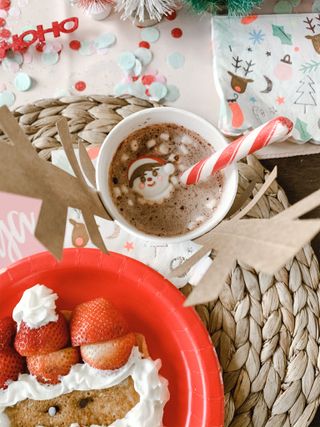 We always have hot cocoa at this breakfast, it's one of the things the kids love about the meal. In the past I've used festive Christmas mugs that we already own, like Santa mugs. With this set up, I opted for the adorable reindeer paper cups because they matched the reindeer on the napkins, but also because they went with the backdrop I created! A lot of the time you can find cups that match or coordinate with the napkins or plates you choose from the same place.
I love to add fun marshmallow toppers to the kids' cocoa and last year I stumbled upon a set that came with elf marshmallows and peppermint stir sticks, doesn't get any better than that! I found them at a local party store, stores like that usually carry those type of things. I've also gotten other shaped marshmallows like snowflakes from TJ Maxx type stores and Target usually has a whole section devoted to hot cocoa.
3. Come bearing gifts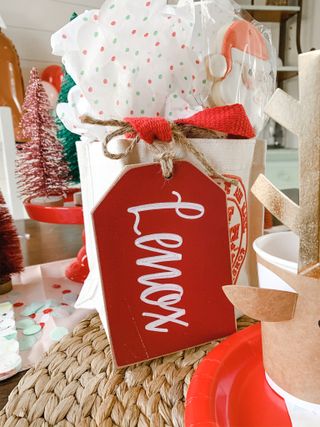 Another thing that gets the kids' excited about this breakfast is the gift that the elves bring them! I always set their gift bag at their place setting, and I always try to coordinate the bag and/or tissue paper to the other décor I'm using. I absolutely love these little canvas bags because they can be reused year after year. I had gray ones with the same exact design in past years but I saw these ones with red last year and decided to swap my gray ones out because the red went much better with what I had planned.
I found them at Marshall's and they usually carry them every year as well at TJ Maxx and HomeGoods. Of course I always choose tissue paper that compliments my color scheme as well. The wooden tags were a new addition to their bags this year from Chalk Designs by Me, I love these because they can also be reused every year. I fill the bags with little things that they love, both from small shops and big ones. Anywhere from Target, Walmart, and even Dollar Tree!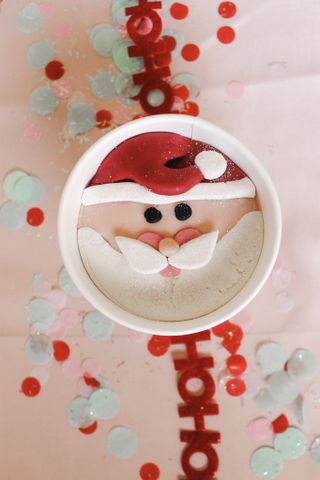 The cookie pops from Frost Your Cookie were a huge hit last year and I plan on giving them to them this year as well. You can customize the colors on your cookies which makes them a great addition to a gift but to the table scape as well!
4. Greet the guests of honor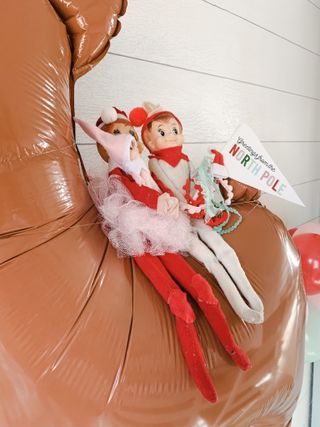 So the next important thing to incorporate is how your elf, or in our case elves will arrive. Ours have shown up in a sleigh before, but when I saw this jumbo reindeer balloon from Girly Girl Gifts on Etsy, I knew they had to fly in on him! He matched the reindeers in the place settings so it was definitely meant to be! I added mini pennant flags and some mini 5" balloons trailing behind him to add a pop of color and some whimsy to the entrance. The entrance can be as grand or as simple as you would like. The breakfast set up is already pretty grand, so going simple is perfect and still makes an impact. But, if you are extra like me, balloons, balloon garlands, and decorative sleighs are always super fun!
5. Serve festive fare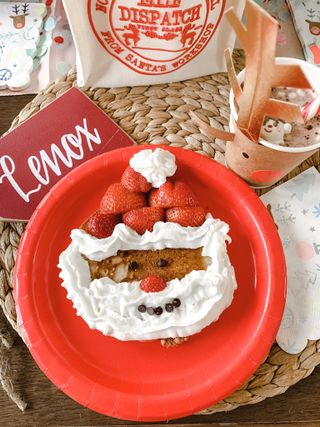 And last but certainly not least…the actual breakfast! This is a fun element for me because I love to make treats, but if that's not your thing, simple pancakes or a stack of donuts with festive toppers stuck in can be just as cute! I try to find a different way to present the breakfast every year. Some years I may use the same concept but add different elements to it. I'm pretty sure I've made a Santa pancake in the past, but last year's Santa pancakes I thought came out so adorable! And they were delicious too! I honestly turn to Pinterest for this part because I always find great ideas there. I've also done reindeer pancakes and a snowman out of donuts, those are ones that pop into my head when I think of past years. Just search for Christmas breakfast ideas for kids and you will find so much inspo, you'll probably want to make them all!
All in all, big or small, fancy or simple, a North Pole breakfast is such a great way to start off the most magical time of the year!
Kara Cofield is a blogger, small shop owner, and party planner. You can find her at @mrscofieldandco on Instagram.