These Airbnb stays will take your breath away with the beauty of their interiors. If you like attention to detail and beautiful furnishings when travelling, these stunning properties will not disappoint. Unfortunately, due to Covid-19, not all of the places on this list are currently reachable, but they're still amazing to daydream about.
Find out how to become an Airbnb host in our guide – or scroll to the bottom of this gallery for a quick low down.
Find more of the best places to book a holiday in our guide.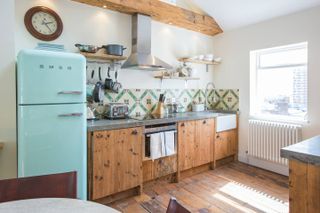 Planning a staycation? We fully recommend Brighton for a little seaside get away. This gorgeous apartment is right in the centre of town and has a roof top garden if you get lucky with the weather. The interiors are divine, a little bit quirky but without being too much... and that fridge!! Can we just spend a moment appreciating the fridge?
Sleeps: 2
Price: £95 per night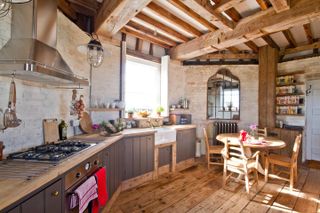 Surrounded by the lovely Kent countryside, this converted windmill would be the perfect place for a romantic weekend we're sure, but let's talk about the interiors! Exposed beams galore, plus loads of the original mill machinery has been left. The furnishings are a mix of traditional and contemporary, we think our favourite feature is the huge walk in shower in the middle of the mill so make sure you go and take a look at that too.
Sleeps: 2
Price: £175 per night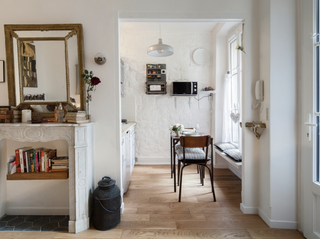 How beaut is this studio apartment in Paris? Oh, we just love a white washed wall. There are loads of interesting pieces dotted around this place that any interiors enthusiasts will just love. It's also located in the heart of the arty Montmartre and there are plenty of trendy restaurants and bars in the area for you to explore.
Sleeps: 2
Price: £101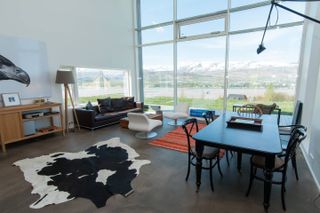 Imagine just chilling in that funky leather white chair while you watch the Northern Lights over the lake. There also a sizeable hot tub if you fancy watching them from there instead. The glass house perfectly situated for exploring the Northern part of the country, and is just a short drive from Akureyri. There are fjords, waterfalls and you can even take a day trip to the Arctic Circle!
Sleeps: 5
Price: £210 per night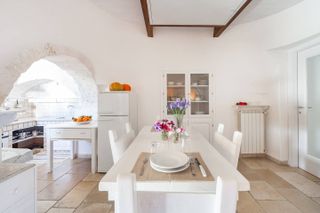 For those of you who don't know (we only recently learnt this) a trullo is a dome house that's iconic in this area of southern Italy. If you are a lover of all white, Med-vibe interiors then this is the Airbnb stay for you. We love that it's super chic but has definitely kept some traditional elements so this place has plenty of character. The outside spaces are lovely too, lots of places for al fresco breakfasts or sipping sundowners.
Sleeps: 5
Price: £81 per night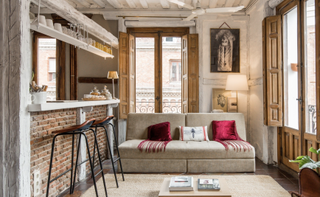 In might be advertised simply as 'Terrific Location with Video Projector, Screen & Netflix', but look at this place! The apartment has plenty more going for it than a projector and Netflix. It has eight balconies! Plus insanely Instagrammable interiors.
Sleeps: 4
Price: £187 per night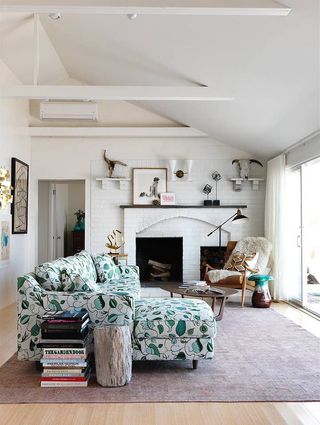 It's on Mermaid Avenue! Of course it's going to be beautiful. This house looks like it's straight out of a magazine, all white everything and very boho. It's literally on the beach and when we say beach, we mean private beach of course. There are paddle boards, canoes, kayaks plus a fit pit for BBQs on the sand.
Sleeps: 6
Price: £1,237 per night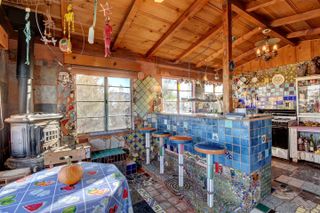 If you love quirky interiors this is the Airbnb stay for you. It's located in the Californian desert and sounds to be a bit of a retreat type getaway, lots of meditating and stargazing and counting exactly how many tiles actually cover this place...
Sleeps: 6
Price: £148 per night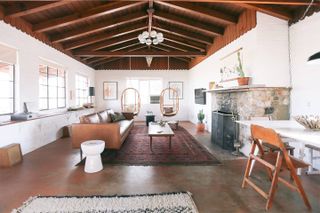 Interior goals right here. Make sure you go and check out the bedroom too because it's just as perfect as the living space. The house is just 10 minutes from Joshua Tree National Park and Downtown Joshua where there are plenty of shops and restaurants. There's a hot tub and a mini pool to cool off in and if you can drag yourself from the gorgeous bedroom it looks like the sunrise from the porch is incredible.
Sleeps: 6
Price: £216 per night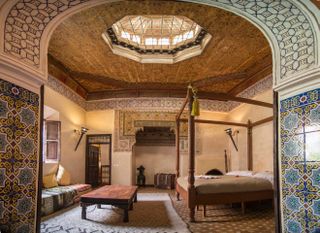 Just reading the description of this place makes us feel relaxed. The rooms are all decorated in the traditional Moroccan style and the architecture of the place is stunning. There's a shady courtyard and a sunny roof terrace, both look like pretty dreamy places to spend an afternoon.
Sleeps: 4
Price: £50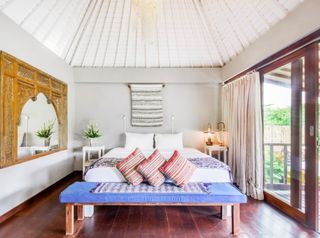 Oh, we can just imagine floating about this villa in a kaftan and bare feet, feeling the epitome of zen. It's just a two minute walk to the beach and there's a pool too if you can't bring yourself to leave this gorgeous place. The bathroom is so cool, make sure you go and have a look at that too. Seriously, who knew that Airbnb could be such a source for interiors inspiration?
Sleeps: 2
Price: £70 per night
12. A grand Cotswolds home with traditional charm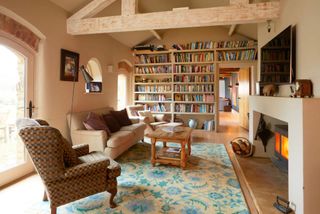 This breathtaking five-bedroom home with massive grounds has exquisitely designed traditional spaces, from the spectacular open-plan kitchen diner in the traditional rustic style to cozy reading nooks and sitting rooms. Attention to detail is amazing here, with gorgeous rugs, lamps, and beautiful furniture. A country retreat like no other, and, for our money, the most perfect wedding venue.
Sleeps: 10
Price: £950 per night
How to become an Airbnb host
Let's be honest. Holiday travel can be crowded, stressful, and most of all expensive. But you could possibly earn some of that money back with Airbnb. While you're travelling out of town to visit relatives and friends, why not rent your empty room or home and maybe earn some extra money for the holidays?
Becoming an Airbnb host is easy and creating a listing is always free. You'll have the support of fellow hosts and Airbnb's world-class customer service department to answer your questions along with lots of other tools to help you be successful. Airbnb may even cover your property up to a million dollars per stay in the unlikely event that an incident occurs. Airbnb gives you a chance to earn extra money by putting your unoccupied space to work this holiday season.
Read more: