There is nothing better than the thrill of booking a last minute holiday, and thanks to these last-minute Airbnb finds, it literally couldn't be easier to plan a trip super quickly. So if you have been stressing about where to go on your summer vacay, and feel like you have left things a tad late, then chill out, there is still plenty of time to get something in the diary.
Just keep scrolling for load of inspiration about where you could stay on your last minute holiday... Find out how to become an Airbnb host in our guide – or go to the bottom of this page for a speedy download.
Why you can trust Real Homes Our expert reviewers spend hours testing and comparing products and services so you can choose the best for you. Find out more about how we test.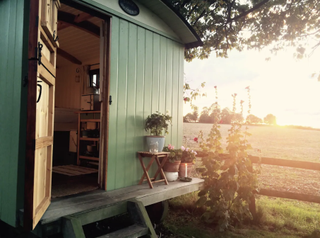 Decided that last summer was definitely the final year for the annual camping trip? Upgrade the tent and billy can to this gorgeous shepherd's hut. It's in a really beautiful location, near the North Wessex Downs Area of Outstanding Natural Beauty and not too far to get to the Chiltern Hills either, so it's perfect if you like walking and exploring the countryside.
The inside is kitted out with a fold out double bed, a log burning stove (plenty of wood provided) a super cute baby belling stove, plus there is electricity inside the hut and running water is situated just outside. Surrounding the hut is a hammock, a picnic bench and a oak framed shelter with an outdoor wood burner. If you are after a lovely, relaxing, country getaway, it doesn't get more perfect than this.
Sleeps: 2
Price: £79 per night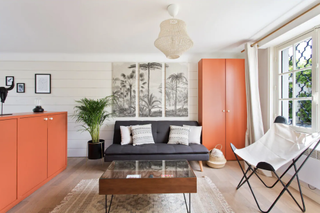 If you are in need of more than just a staycation, check out this super stylish apartment on the South-West coast of France in Biarritz. It's in the perfect location if you are a beach lover as it's just a 10 minute walk to the sea and if you are after more of a city break then it's just a 10 minute walk to the city centre too.
The interiors are stunning, and the small space has been transformed into a super cool (and very Instagrammable) apartment. There is a separate kitchen too for self catering and free, secure, parking outside the property if you wanted to hire a car for day trips.
Sleeps: 2
Price: £89 per night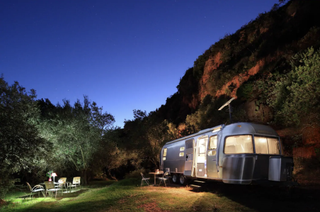 Surrounded by the beautiful Sierra de las Nieves mountain range in Southern Spain, this 1930's classic airstream is the ideal stay if you love outdoor adventure. You've pretty much got all the comforts of a hotel room here – a fully fitted kitchen, including a fridge, oven, hob, a bathroom, a double bed, sofas, a flat screen TV with surround sound, we really could go on, but basically this is glamping in its true form.
Moving on from the movie star on the road interior, there are loads of walks to be explored straight from the door. There's a nearby village Alozaina, about a 20 minute walk away with tapas bars, cafes and restaurants, plus a super market if you fancy cooking one night. Plus larger cities like Malaga, Seville and Marbella can all be accessed easily by car, so it's recommended to hire one to explore the area to the full.
Sleeps: 2
Price: £112 per night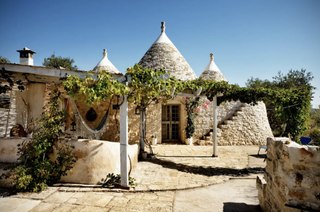 How gorgeous is this property?! In case you were wondering it's called a Trullo, and is iconic of this particular area of southern Italy. This Airbnb is set in a quiet valley, overlooking the beautiful countryside that's filled will acres of olive trees. It's recommended to explore the area either on bike or by foot but a car is an essential if you want to explore further afield or head to the coast.
In terms of the property itself there's a lovely shady gazebo and a barbecue area at the front of the property that would be the perfect spot for a sundowner. The interiors are cool and airy and have been decorated in a really tasteful way, a combination of modern minimalism and traditional features.
Sleeps: 4
Price: £186 per night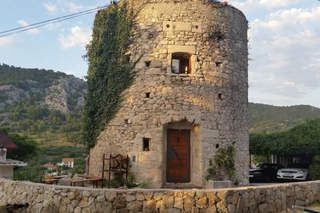 Hvar has been a popular holiday choice for the last few years now, and is only growing in popularity, so get there quick before it gets too busy!
And why not stay somewhere a bit more unique than a apartment by the beach? Check out this tower, situated right in the middle of Hvar's historical centre, just a few minutes walk from the main square. The property was a windmill, built in 1761, and has been restored to create a modern home. The interiors are gorgeous, and so much of the stone has been left exposed which not only makes for a really cool feature of the property, it literally keeps the property cool. If you are considering Croatia for your last minute holiday, we reckon this could be a good shout!
Sleeps: 6
Price: £331 per night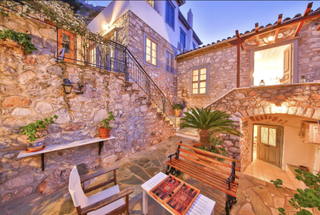 While we all love the Greek Islands, it is no secret that due to their popularity they can get very busy, but this Airbnb property is located on the lesser explored island of Hydra. It's definitely still bustling, there are plenty of bars and restaurants and even night life in the larger towns, but it's no where near as busy as some of the more popular islands.
This apartment is actually built into the rocks! It's lovely and quaint and much of the traditional features have been retained since its refurbishment. It's just a short walk to the port, taverns, supermarkets and an array of beaches.
Sleeps: 2
Price: £89 per night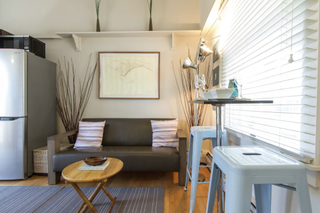 Fancy going further afield? Go and have an explore of the East Coast of America. Cape Cod is a great place for a long holiday, or you could make this stay part of a road trip around this part of the country.
If you are after the full on Cape Code experience, you couldn't really find anything more typical than this property. It's just a five minute walk from a lovely remote beach and is really easy to explore Provincetown from. For the area too, which can get quite pricey, this is also a really affordable stay.
Sleeps: 2
Price: £119 per night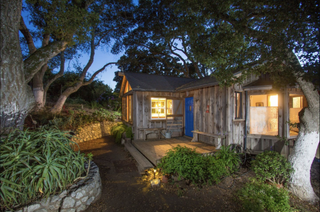 Head over to the other side of the US, for equally amazing road trip territory. Big Sur is iconic for it's road tripping (Google it, we can guarantee you will recognise it), and this goat farm is at the heart of it, the perfect position for exploring the area.
The property is a wooden cabin situated on the host's farm, although don't think wooden cabin means small. It sleeps four, has a large kitchen, a full bathroom, washing and drying facilities and even WiFi! The property is situated just 1.5 miles from Pfeiffer state park which is very close to Pfeiffer beach (again Google it, it's iconic).
Sleeps: 4
Price: £474 per night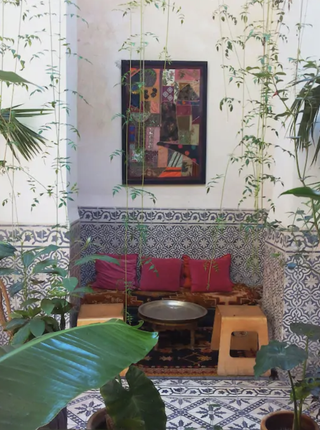 Just looking at a pic of this Airbnb property make us want to be chilling in a square, sipping mint tea and just enjoying the vibrancy of this city. The interiors of this property are bang on trend, if you are fan on boho interiors, you will love the vibe of this place. There's a lovely airy courtyard, filled with plants and little nooks to sit in, in fact this place is just full of gorgeous places to sit and relax.
It's in a great location for exploring, all the big sites are within walking distance and it's right in the middle of the hustle and bustle of things, that being said the second you walk into the courtyard you could be in the middle of nowhere.
Sleeps: 6
Price: £35 per night, per person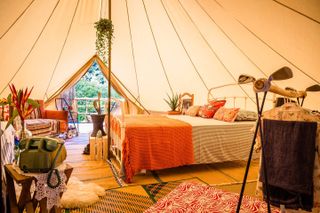 Want to head to the jungle on a last minute summer holiday? This beautiful bell tent is situated in the Bantai jungle in the southern part of Koh Phangan. With this stay you are guaranteed to feel like you have gone off grid, but you will still have all the all the comforts of a hotel room. The interiors are to die for, seriously whoever has decked out this tent knows what they are doing. There is a really quirky mix of boho interiors and retro accessories. Weird, wonderful and whacky are the words that come to mind. It's also really close to restaurants and only 3km from the beautiful beaches.
Sleeps: 4
Price: £59 per night
Become an Airbnb host
Let's be honest. Holiday travel can be crowded, stressful, and most of all expensive. But you could possibly earn some of that money back with Airbnb. While you're travelling out of town to visit relatives and friends, why not rent your empty room or home and maybe earn some extra money for the holidays?
Becoming an Airbnb host is easy and creating a listing is always free. You'll have the support of fellow hosts and Airbnb's world-class customer service department to answer your questions along with lots of other tools to help you be successful. Airbnb may even cover your property up to a million dollars per stay in the unlikely event that an incident occurs. Airbnb gives you a chance to earn extra money by putting your unoccupied space to work this holiday season.
Read more: