DIY-er transformed her concrete yard into a Mediterranean-inspired space with a smart painted wall makeover.
As the weather warms up we all want to get out into our gardens again. But, when your backyard ideas consist of a colorless, concrete yard even the sunnier days can't entice you outdoors.
Tik Tok and Instagram DIY-er Crystal Lynn Boyle @Crystal_lynn_home had that very dilemma; her small garden in Arizona was plain and lack-luster, with nothing but patchy brown grass and cinder block walls.
Before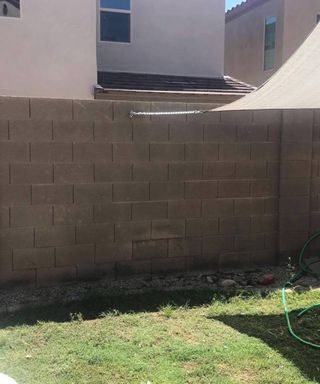 'We knew we didn't like our back yard but we didn't know what to do about it that wouldn't cost an arm and a leg. Until it hit me. On a whim, I decided to paint our wall,' says Crystal.
Crystal took on her budget garden idea on a whim at the start of quarantine, during the pandemic. But the creative mom-of-two had no idea at the time how good the garden makeover would be for her soul.
'We have lived here for 11 years,' says Crystal. 'And we have used this space more in the last year since completing this project than we ever did before.'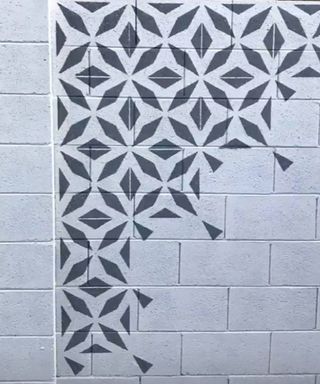 It took 3 days (a couple of hours each day) to paint the entire wall white with a primer.
Crystal admits that it would have been quicker if she'd used KILX exterior siding fence and barn paint in white, available from Amazon, and a sprayer straight away. But that's the beauty of DIY - you learn as you go.
Stenciling with StencilsLab wall stencils Athena – Modern Tile Stencil took an hour per four tiles once she got the hang of it. Crystal used KILX interior / Exterior enamel port and patio latex floor paint in slate grey, available from Amazon.
Crystal worked out it took 50 hours in all to complete the pattern. She did a few hours per night. Plus 5-10 hours on touch-ups later.
The stay-at-home mom alternated between two stencils in order to always have one clean and at hand.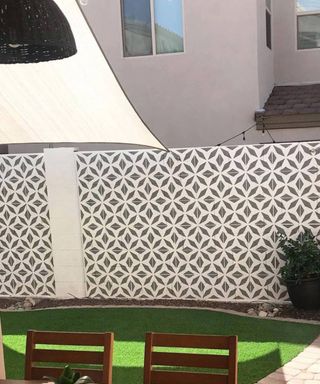 Crystal worked on the garden project a few hours each night after her boys went to bed. She found it therapeutic to have something to focus on at the start of quarantine.
'Do it little by little whenever you can just like you would a large puzzle or lego set,' advises Crystal, should you want to try this incredible transformation.
The labor of love paid off. When the statement garden wall was completed Crystal felt excited and empowered to take on the next project.
'It had a positive impact on our family because we enjoyed waking up to our new view and were able to use the space so much more.' She says.
When Crystal posted a Social Media poll her fans voted this their favorite of her DIY projects by far and we can see why. The grey geometric pattern, offset against a fresh white backdrop is the perfect backdrop for her best garden furniture.
It pops out framing a freshly laid artificial lawn and pretty sun terrace.