Today's fridge freezers have come a long way from the durable goods we once knew. In their new-and-improved state, these cool kitchen solutions are now a fashionable feature in many interior schemes.
And as customers, we're becoming more eco-conscious about our electronics and their greenhouse emissions.
From hybrid car purchases to dietary decisions, nearly three-quarters of us are willing to part with a little more in exchange for a more sustainable purchase.
We take a look at LG's premium fridge freezer models (GBB92MCBAP, GBB92STAXP and GSX961NSVZ) and why you should give other brands the cold shoulder.
Benefits of LG fridge freezer appliances
1. Stay cool as a cucumber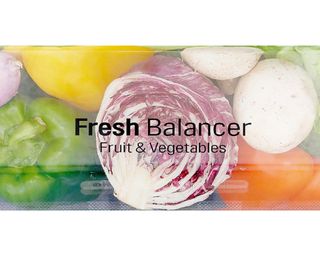 There's nothing more sad than scanning the salad drawer or crisper, only to find limp and lackluster vegetables that look uninspiring and unappetizing. If you don't want to eat it - we only have to assume what your kids (or partner) might think too.
But with LG's FRESH Balancer compartment, you can keep fruit and veg looking colorful, crunchy and more crucially, retaining more of the vitamin and mineral goodness.
This is especially important in today's world, where research suggests almost half of us say being in good health will be more important post-pandemic.
2. Ensure food safety — even before preparation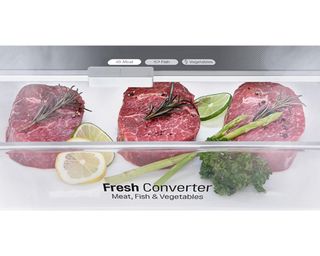 From building bones and muscles to keeping kids full, protein is packed with benefits for your body. But keeping meat and fish at the right temperature is so important to reduce the risk of getting ill.
Innovative and ingenious, the fast-cooling LG FRESH Converter compartment can be used flexibly and independently to the rest of your fridge to ensure everything from seafood, meat and vegetables can be kept at a suitable temperature.
3. Quiet cooling without the acoustics
Whether it's a clunky dishwasher or washing machine that sounds like it's going to take off, we've all experienced the unnecessary noise pollution of a household appliance.
Much to our embarrassment, these devices put on a theatrical performance when we're entertaining friends and family. But a whirring fridge shouldn't be your party trick.
That's because LG's inverter linear compressor (or 'heart' of your fridge), used to pump cool air, works at a low noise level of 35DB. That's comparable to a nearby whisper.
So the only sound you'll hear is the talk of envious guests wondering where you bought your new Quiet Mark approved gourmet gadget.
Coupled with a 10-year guarantee, this trusty bit of tech will stand the test of time.
4. Cold as ice — without the frost
How many hours have you spent scraping the freezer of excess ice, only to get numbingly cold fingers? Or settled for a beige assortment of items for dinner when your freezer has packed up? Trust us, we've been there.
With Total No Frost technology, the LG guarantees cleanliness, freshness and even faster cooling.
5. Family-friendly features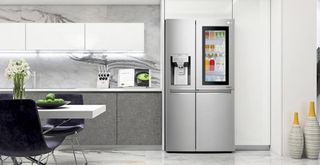 From remembering your bags, to finding a parking space, remembering what you need, and juggling the kids - the food shopping experience can often be a challenge in itself. So your fridge needn't cause any extra hassle.
If you've found yourself playing Tetris with your fridge shelves, or denying the kids ice creams because you lack freezer space - it's time to consider upgrading your fridge-freezer to an LG model. With considerable storage space and immediate access to food, feeding growing kids has never been easier.
Our favorite highlights include the variable glass shelf and bottle shelf for helping ourselves to a glass of wine once the kids have gone to bed. The big box for larger foods in the freezer area is a lifesaver for storing meal prep ideas for post-workout nutrition or an after-school dinner that's on the table in under 30 minutes.
6. Do a fridge audit without losing your cool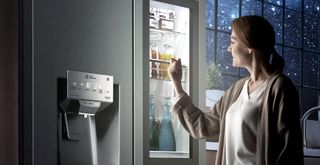 In the age of Instagram and AI, we've got used to instantaneous communication.So shouldn't the same principles be applied to everyday electronics?
With LG's InstaView Door-in-Door™ technology, you can see inside the fridge compartment with just two quick knocks. This helps lock in freshness and keep food fresher for longer.
Plus control your fridge from your smartphone with ThinQ™ technology. Whether you want to adjust temperature settings, freeze items when you're out and about, or find yourself too comfy to leave the sofa - this is an uber 'cool' feature that aligns perfectly with our modern lifestyles.
7. Awarded Which? Best Buy Fridge Freezers
The LG InstaView Door-in-Door™ GSX961NSVZ American style Fridge Freezer is rated Which? Award Best Buy Fridge Freezers. Beating its competition and gaining a badge with that much industry credibility - need we say anymore?