Key facts
The owners: Annabel Diggle, who works in executive coaching, and her husband, Jack, a management consultant, live here with their children, Woody, seven, Jimmy, six, and Elizabeth, three
The property: A detached, five-bedroom 16th-century Grade II-listed house with Edwardian additions
The location: Near Cambridge
What they spent: The couple's kitchen project cost around £30,500
Annabel Diggle's Grade II-listed home – with its relaxed weatherboarding, rustic render and clay roof tiles – is every inch the country dream; circled on one side by a medieval moat and surrounded by glorious mature gardens. 'The garden was a huge draw, but the house felt very shut off from it – particularly the kitchen, which was dark with a brown carpet and dated units,' she says.
As the kitchen was the original entrance to the property, there were four doors opening off it. 'When we bought the house, we knew we wanted to extend. Our vision was a family kitchen-diner where we could cook and spend time together – and which felt connected to the garden.'
Having heard that the planning department at their local authority was particularly strict, especially with listed buildings, Annabel and her husband Jack researched successful applications in the local area.
Find out what they did next, then check out more real home transformations and read more about extending a house.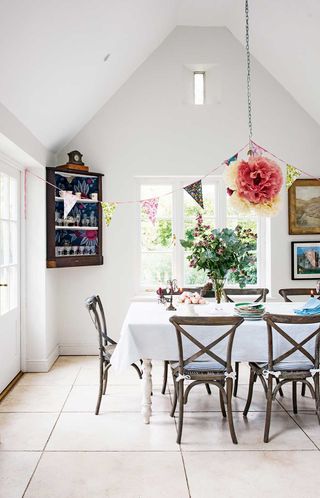 Planning consultant Charmaine Hawkins had worked on a local build with much work approved. Although commissioning her added £3,000 to the cost of the build, the Diggles saw it as money well spent to secure what they wanted: a kitchen extension that was as big and as light as possible.
The planning officer originally suggested that a lean-to would be the most appropriate style of extension, but Charmaine, together with architect Jane Snell of Snell David, proposed a pitched roof kitchen extension, subservient in height and scale to the original house.
Planning and design took around nine months, during which time the couple's architect put the project out to tender. Local firm George Collin & Sons were chosen for their experience in listed buildings, as opposed to price.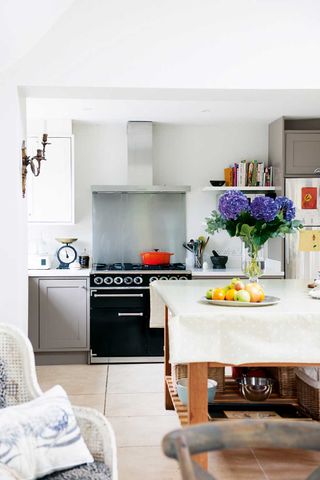 The whole property was gutted (work to the kitchen was part of a large-scale renovation of the whole house), and an extension added, while underfoor heating was laid and walls plastered and painted. The cabinetry was made by a local joiner.
Large-format honed limestone tiles from Floors of Stone make the space feel bigger. For similar cross-back dining chairs, try Alexander & Pearl.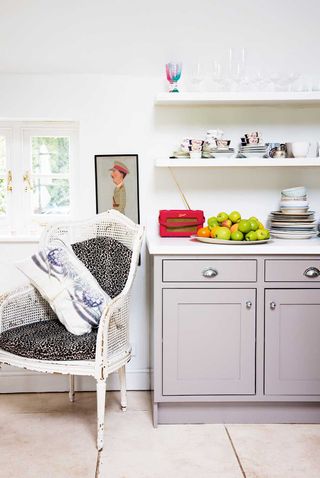 'I couldn't live without our Falcon range cooker. It's wonderful and cheaper to run than the original range cooker. As we have underfloor heating, we're no longer reliant on the oven to heat the room,' says Annabel.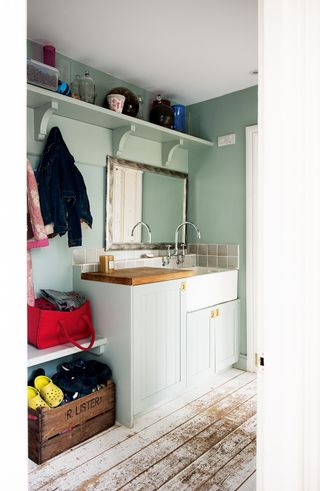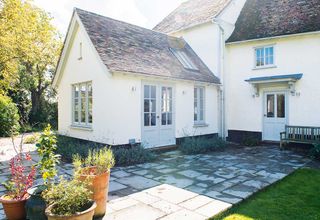 The pitched roof addition creates a dramatic vaulted space inside, which is flooded with light through the bespoke timber windows and French doors, made by Ernie Warren at George Collin & Sons. The conservation rooflight is from The Rooflight Company.' The look is very much sympathetic to the original house, with timber-clad block walls, reclaimed roof tiles and painted timber windows,' says Annabel.
The contacts
Architect: Snell David, 020 8870 3335, snell-david.co.uk
Planning consultant: Charmaine Hawkins, Beacon Planning, 01223 810990, beaconplanning.co.uk
Builders: Ernie Warren at George Collin & Sons, 01638 750264
Kitchen: Mark Borley & Sons, 01223 291170
Images: Jody Stewart
More real home transformations: