When Debbie Statham moved from Wolverhampton in the Midlands to Brighton in East Sussex, she hadn't planned on tackling a major property restoration – or on beginning a new business from home.
'All my friends had moved to Brighton over the years and they'd say, "Come on, you're the last piece of the jigsaw,"' explains Debbie. 'In 2005, I decided the time was right to make the change. I was running four hair salons in the Midlands but I also had my daughter Lola, who was only three. So I started property hunting in Brighton at weekends.'
The property Debbie chose was a three-bedroom ground-floor flat in a Victorian house that had been converted into apartments. There was an obvious problem with mice, mushrooms growing in a damp corner of one of the bedrooms, and many of the original features were falling apart.
'It scared the life out of me because I could see how much work it needed and I'd never done anything like it before,' she recalls. 'But I also felt I couldn't let this opportunity to create my dream home pass me by.'
The purchase was completed in March 2006, and Redman Developments began working on it immediately. She also got planning permission to turn the cellar below into a basement living space, adding a further 25 square metres to the flat. To stay within budget, she put plans to fit a sauna and a wine cellar in the new basement on hold, opting to use those rooms for storage. She made the main space into a playroom for Lola and added a utility. The next step was to connect the two floors with a new staircase.
In 2013, Debbie had her son, Oscar. It was the trigger for her to rethink her career and launch Debbie Statham Hair from home, converting the playroom into a salon. A year later, she had saved enough to make over the kitchen.
Fact file
The owner: Debbie Statham, who runs a hairdressing business from her basement, lives here with her two children, Lola, 13, and four-year-old Oscar
The property: A two-storey, three-bedroom apartment in a Victorian house in Brighton, East Sussex
Project cost: The project, including the basement construction and new kitchen and bathroom cost £64,000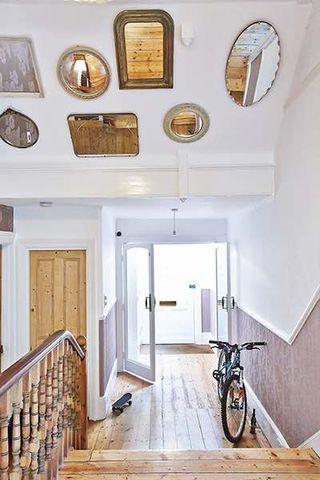 The two floors are connected by a new staircase. 'I wanted it to look as if it had been here forever, so I found reproduction Victorian banisters and waxed them to make them look old,' Debbie explains.
Rather than spending money on buying art, Debbie uses mirrors as an inexpensive way to fill the walls, picking them up cheaply at car boot sales and junk shops. She sanded back the floorboards, which were originally varnished.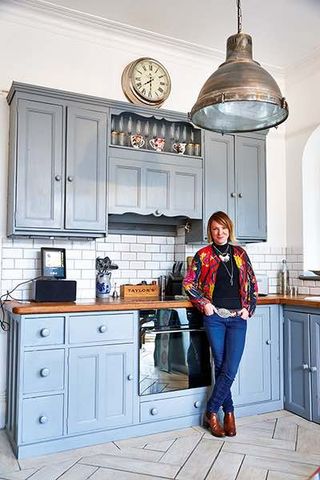 Debbie updated the pine units, painting them in Fog from Neptune, and adding a new worksurface from Kitchen Worktops Direct. Wood-effect porcelain floor tiles, Master Tiles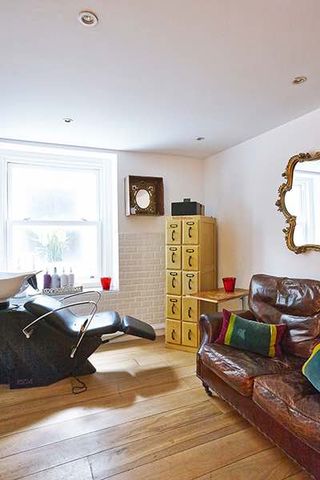 Once a dark cellar, the converted basement is now home to Debbie's hairdressing business. Metro tiles, Master Tiles. Wooden flooring, The Wood Store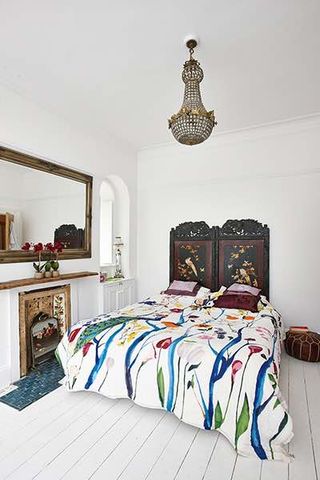 Debbie removed the modern fire and replaced it with a cast-iron surround. This and the screen, used as a headboard, were found at a car boot sale. The mirror is from local store Berry & Son. Bedspread, Anthropologie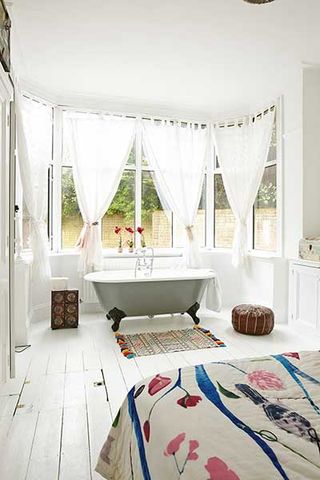 Rug, Urban Outfitters. Vintage lace curtains, Powell Craft
Rather than create an en suite to the master bedroom, Debbie had a freestanding bath from Parker Bathrooms put in the window. The white-painted floorboards give it a fresh look, while travel finds add a boutique-hotel feel.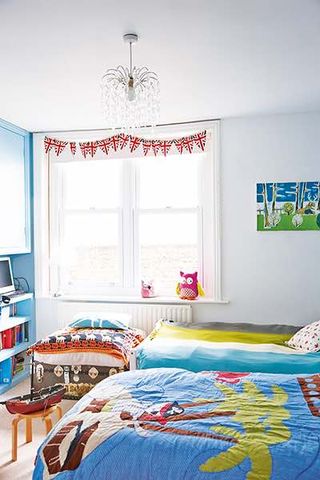 Four-year-old Oscar's bedroom is a bright, fun space with its vibrant textiles and paintwork. Pendant light, BHS. Duvet cover, Bluebelle & Co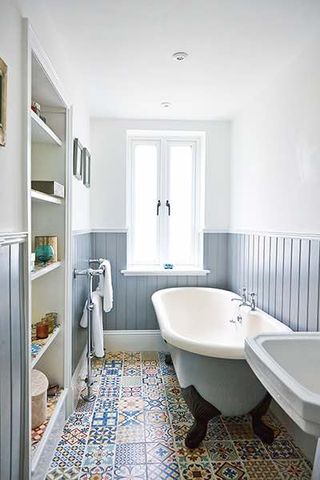 Morocco-meets-Brighton is the theme of daughter Lola's redecorated en suite. The bath and towel rail were both bought on Ebay. Floor tiles, Tile Depot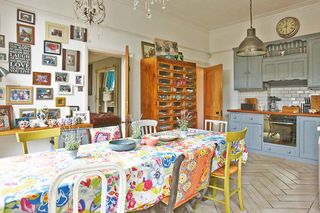 The vintage haberdasher's cabinet is from Swag in Brighton, and the table is by B&B Italia, which Debbie has covered with a Bluebelle & Co cloth. Pendant light, The Conservatory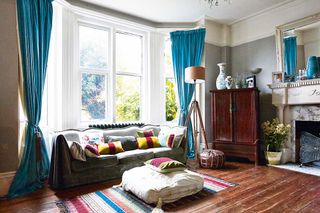 The eclectic living room is filled with treasures. The sofa is from a house clearance, a client's mother made the curtains, and the Chinese cabinet was bought from a friend; for similar, try Orchid Furniture. Cushions and tripod lamp, Bluebelle & Co. Mirror, Berry & Son. Walls painted in Suede, Dulux
The contacts
Wetroom/basement construction: Redman Developments (now Neptune Kitchens), 01323 849483
Kitchen and bathroom joinery: Robert Thornton, 07810 753357
The full feature appears in the May 2016 issue of Real Homes. For back issues, call 01527 834435. Subscribe today to take advantage of our money-saving subscription offers.