The first room you enter in a home is usually the hallway, corridor or even the living room. But for many houses all over the UK, small porches were built onto the front of homes, before the front door to protect homes from muddy boots and wet umbrellas in our ever-wet Britain!
Our small front porch space was pretty worse for wear: Floor to ceiling tiles (a bug bear feature all over the house), single glazed brown framed stain glass windows, old carpeting and a wood cladded ceiling... It was time to take on a small but mighty DIY project and redesign and repurpose this space!
The space started looking like this: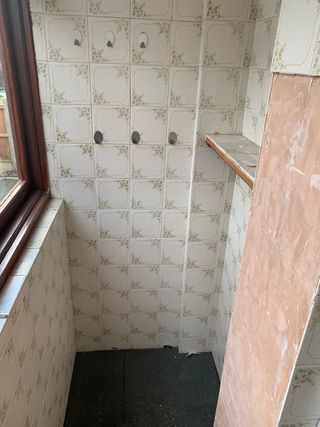 My initial plan was to remove all the tiles since a few had already fallen off, give it a skim and paint over. To remove the tiles I bought the Von Haus Multi tool. It was DIY time!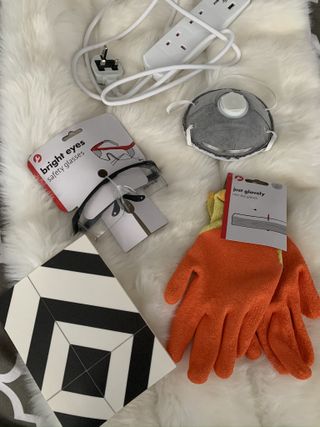 First steps:
So I made a plan to bring it alive with a monochrome colour scheme and natural accessories. I sketched a very rough idea for what how I thought I could bring the space alive!
I began using the tool to pry off the tiles, starting with the pillar with missing tiles. It didn't take me long to resort to using the old chisel and hammer method when some of the tiles wouldn't budge. I quickly realised that the tiles had been left on for a reason! Perhaps the missing tiles were the result of the previous owners having the same ambition as me. But the tiles were not budging so I knew I needed to go back to the drawing board.
Working with the existing tiles
Just a month prior I successfully painted our floor to ceiling kitchen tiles using Bullseye 123 primer and white satin finish paint. So I decided painting over tiles would be far less disastrous and tiresome than trying to remove the hundreds I had left to do!
I used green frog tape to mark out where I wanted the design and painted the tiles after priming.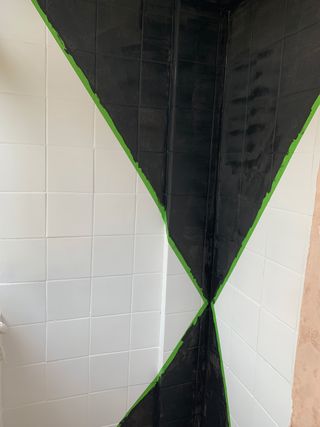 Fixing up the floor with vinyl
Next up was the floor! It was pretty worse for wear. A wood base with a make shift of carpet off cuts covering it up. I decided to try my hand at installing vinyl, self adhesive vinyl in a funky monochromatic style. I added extra adhesion with a flooring spray adhesive and used a Stanley knife to cut the edges. I also used the existing carpet to help cut it to size.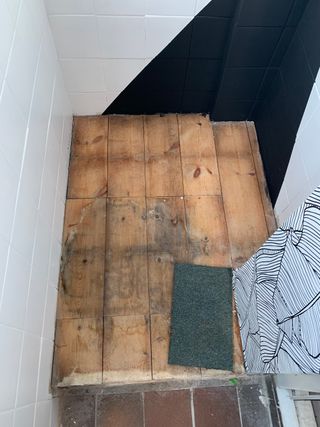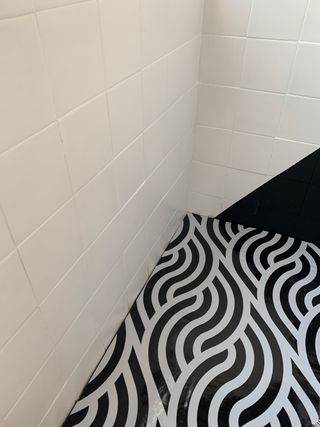 Working on the ceiling
I then painted the varnished wood ceiling with white gloss paint. I had to do multiple layers after priming since I didn't sand the wood down first.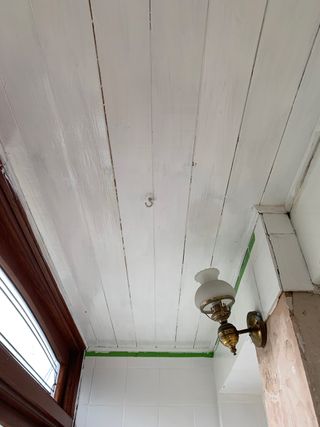 Considering the final touches
Then I had to figure out what to do with the wall I had already removed the tiles from. I could paint it, but sanding down the old plaster was creating an uneven surface and a terrible mess. So I thought, why not add another pattern to the mix with some monochromatic wallpaper! I purchased the now infamous roll of black and white banana leaf wallpaper from ilovewallpaper.co.uk that I used in the external home office and made use of it as a single pillar feature on that wall.
The wall after a PVC wash as it's old plaster: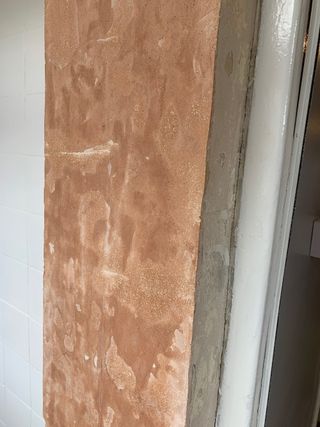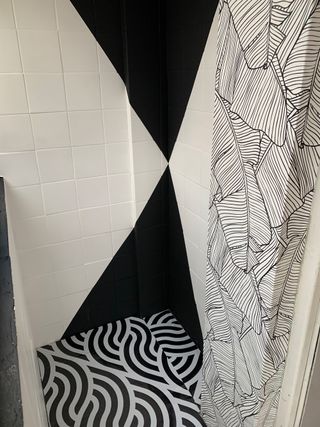 Painting our front door
Finally, I painted our natural wood door with Farrow and Ball Pidgeon and the hard work was complete!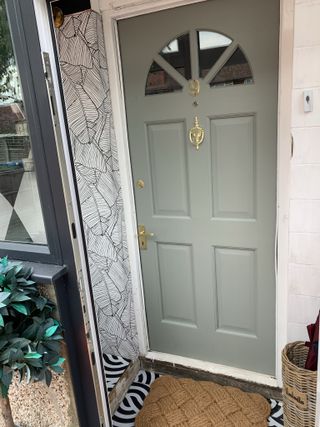 Styling the rest of the space
To accessorise the inside of our tiny front porch – what would otherwise be a space full of dirty boots and coats – I added a wall mounted layered shelf. Styled with little succulents and cactus, it gives the feel of an intentionally decorated porch space.
A hanging leather strap circle mirror and rustic coat hook coupled with a black welcome sign provide the perfect surprise welcome for guests. Finally an umbrella basket and two shoe baskets provide that all important storage, with a little twist of aesthetic pleasure!
The results: