Falling out of love with a property is understandable following a lengthy planning battle, issues with builders and escalating costs, but Jen Fletcher's house renovation experience hasn't put her off. In fact, it's led her to set up a business, Squiffy Mill Interiors, to make project managing, design and styling easier for others.
Having each renovated several homes before getting together, Jen and husband Pete had ploughed their energies into a three-bedroom Grade II-listed cottage in Kenilworth, Warwickshire. However, after having son Alfie and with daughter Rose on the way, they needed more space and a bigger garden.
Soon they found a three-bedroom detached house in the nearby village of Stoneleigh, then set about transforming their new property into a family home fit for their children to grow up in. It's not been without its challenges – in fact, the couple considered selling part way through the works – but they've come through the other end with a stunning home and plenty of experience under their belts. Jen revealed how they did it.
If you're planning on extending your house, like Jen and Pete have, we have lots of advice and ideas on how to do it.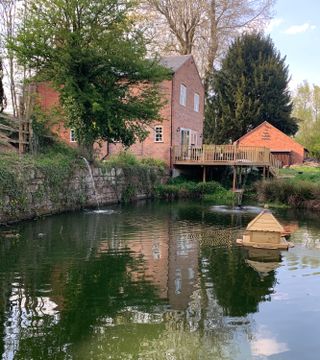 'Ideally we wanted a project with kerb appeal and period features, but it was difficult to find anything where the sums added up. This property was originally built in the 18th century as a mill house, before being rebuilt in the late 19th century and later becoming the village shop. It was slightly out of budget but we viewed it anyway, fell in love and had to stretch ourselves.'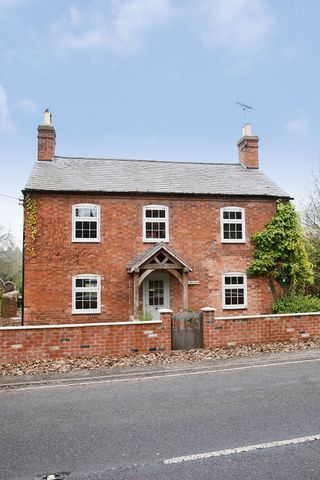 'There was inherent character, but it lacked personality – everything was painted cream, from the walls and woodwork to the kitchen, bathroom and radiators. We knew the galley kitchen was far too small and didn't link with the third-of-an-acre plot. However, Pete loved the setting overlooking a mill pond and it had lots of potential. We hired architecture firm Brock Charles for the works – they'd done lots of work with old and listed homes, so were able to navigate the local planning process.'
Profile
The owners Jen Fletcher, an interior stylist and project manager (squiffymill.co.uk), her husband, Pete, who works in digital technology, their children, Alfie and Rose, plus cat, Betty
The property A four-bedroom Victorian house in Stoneleigh, Warwickshire
Project cost £144,500
'Being in a Conservation Area, the house could only be increased by 30 per cent of its original size, but that wasn't necessarily a bad thing as constraining our plans kept costs down. We opted for a two-storey extension incorporating a square kitchen-diner with a fourth bedroom and en suite shower room above. Unfortunately, our plans were initially rejected – the planners claimed the extension would spoil the view of greenbelt land behind us, which didn't really make sense as no-one could see it. We won on appeal but the process took almost 18 months.
'We fell out of love with the house during the process and even considered selling it as soon as we finished. However, once the extension was completed and we started decorating, I began to feel better.'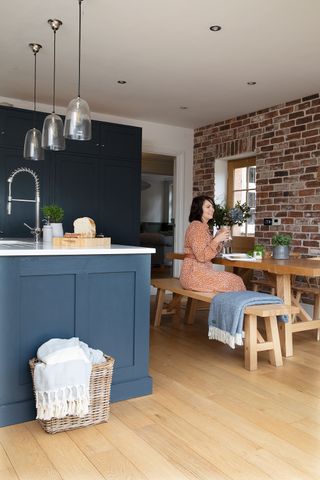 'Ensuring the house and extension flowed together sympathetically was key. The extension was built from reclaimed bricks with a slate roof, and we painted the new windows to match the replacement ones in the old house. We opted for brick slips by the dining table and in the false chimney breast, as well as matching in cornicing and adding panelling in the bedrooms. Our builder didn't think they were a good idea, but if your heart's set on something, you have to fight your corner.'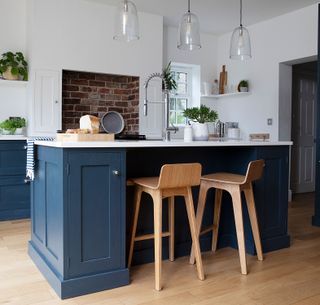 'In the kitchen we saved money by hiring a semi-retired cabinet maker who rarely takes on projects, but the trade-off was being flexible on time. He made it over six months while the extension was being built. The modern Shaker style with a country feel suits the age of the house, and robust handles and good quality plinths make a big impact.'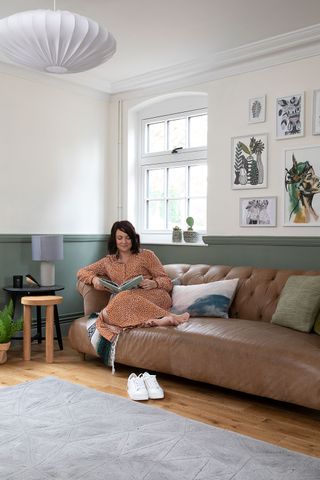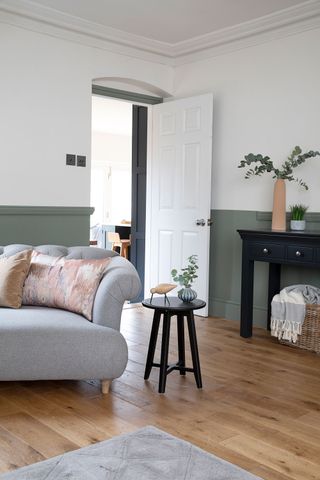 'I redecorated the sitting room a number of times but it never felt right and I couldn't work out why. After creating a moodboard, I found a muted green that felt a lot calmer than the darker green we'd tried before. I think I'd been influenced by styles on social media, which don't always work with my own palette. The loveseat is one of my favourite things. It's such a lovely size for cuddling up with the kids and reading a book. It's a happy coincidence that all my artwork coordinates with the room, but you could pull things together with identical frames or spray frames from charity shops the same colour.'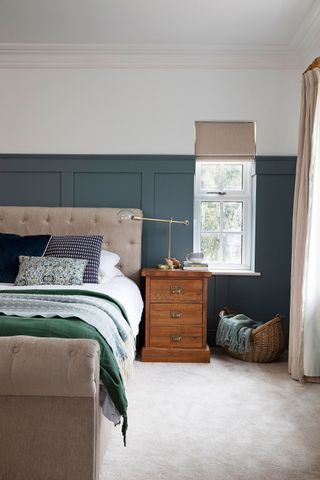 'I'm not one for feature walls, as I like to be able to look in every direction and feel like I'm in the same room, so in our bedroom we fitted panelling to a height of around two-thirds across all the walls. It fits in and yet gives a different feel to the dado rails elsewhere that are two-thirds up the walls, and also allows me to add a colour that's balanced by the white above.'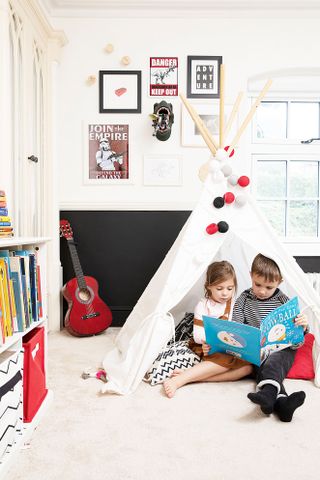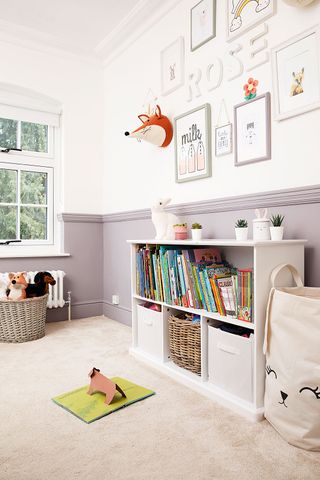 'Alfie and Rose helped choose their bedroom colour schemes after looking at Pinterest boards with me, although I got the final say to ensure it worked with the rest of the house. Rose is very creative and into crafts, dancing and singing, while Alfie wants to be a naturalist so he's all about animals. Because they have so many fads and phases, whatever they're into is limited to things like artwork or duvet covers, so they can easily be changed.'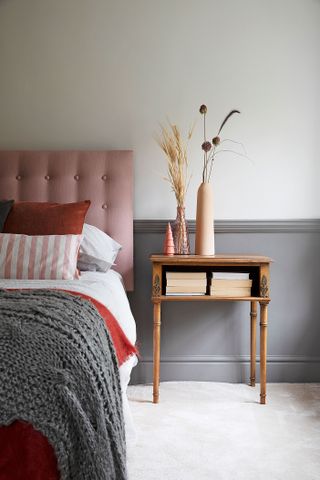 'The guest bedroom is south facing but overshadowed by a huge tree, so it took a lot of tester pots to find the right shade of white that wouldn't look too harsh. I wanted to create a calm and tranquil room for guests. The combination of dusky pink with rust is one of my favourite colour schemes in the whole house. I'm always trying to get that balance of clean, fresh and modern but with a country feel, too, which is why I added the stripes. To save money, I revamped the fitted wardrobes, which had window panes and net curtains. I primed the glass, painted them grey to match the walls and then added hexagon handles.'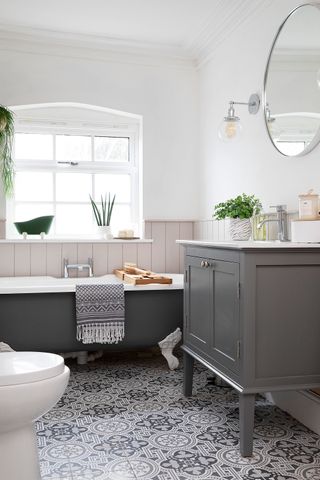 'Although we hadn't budgeted for revamping the bathroom, we upgraded it with new sanitaryware and a walk-in shower instead of an enclosure, which made it feel less corridor- like. It looked out of place in comparison to the rest of the house, and the tongue and groove panelling was rotten in places, so we tackled it while we had the main trades in.
'Everything was cream in here, including the carpet; new floor tiles were a must, along with a new basin with storage underneath for the kids' toys. We kept the bath, painting it grey to match the vanity unit.'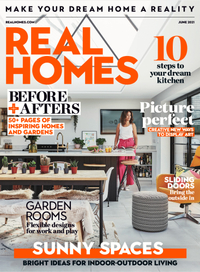 Subscribe to Real Homes magazine
Want even more great ideas for your home from the expert team at Real Homes magazine? Subscribe to Real Homes magazine and get great content delivered straight to your door. From inspiring completed projects to the latest decorating trends and expert advice, you'll find everything you need to create your dream home inside each issue.