Stepping into the home of Suzi and Lewis, you instantly feel at ease, aided by the calming décor painted in a relaxing colour palette. 'A gazillion litres of paint have gone into this renovation,' Suzi says. 'By the end of this project, I knew the Farrow & Ball paint chart better than the back of my hand! The colours were the starting point for my designs for this house. Many of the walls were finished with lime plaster, which is very breathable and textured for a natural look. I used shades that would complement each other, like dark blues, soft greys and off-whites, as these create a serene atmosphere.'
If you're extending your house, we have lots of ideas and helpful advice on what to do and where to start.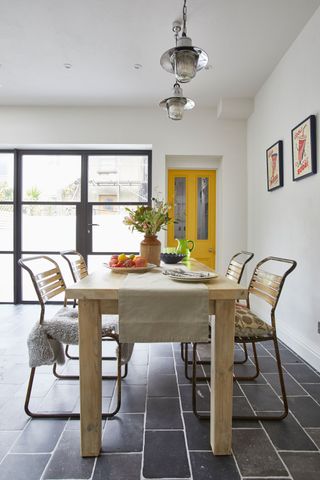 Profile
The owners Suzi Jench, a property renovator (@a.carma.home), her partner Lewis Robinson, a financial consultant ,and their two children, Marlowe and Carter
The property A four-bedroom Victorian terrace in Kemp Town, Brighton
Project cost £223,125
The couple bought their Victorian terrace in the Kemp Town area of Brighton from an Icelandic singer and performer. 'We actually rented a house on a nearby street in 2012 for a few years, and fell in love with the area,' Suzi says. Not able to find a house in Kemp Town, they moved to the Sussex countryside, renovating an 18th-century farmhouse. 'After five years of commuting to London from the sticks, we'd had enough. Our boys missed living by the sea and we craved the bustle of Brighton. We decided to move back.'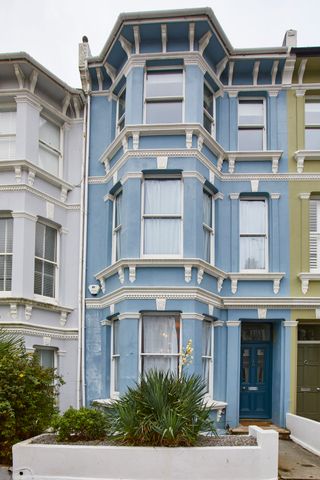 This house had been neglected over the years. 'It'd been empty for a while and before then rented out. It felt unloved and rough around the edges,' says Suzi. At the back, there was a narrow galley kitchen with a plastic lean-to on the side return, which leaked in wet weather and was freezing in winter. Every surface needed ripping out or fully renovating. 'It was a big project. We lived here for a year so we could get a feel for the space, and it gave us time to plan a renovation.'
Top of the family's wish list was converting the attic and creating an open-plan kitchen-diner. In the spring of 2018, their architect and his team of builders set to work. 'In less than a week, we had a crane outside lifting huge steels onto our roof,' says Suzi. 'Our kitchen was in pieces and the lean-to was gone.' To speed things up, the family moved into a rented two-bed flat nearby. 'The house was uninhabitable. There was a gaping hole where our kitchen used to be. We had to resite the soil stack so there was no working bathroom, either. It was my job to manage the build. I came to site every day to sort out any issues, keeping the project on track.'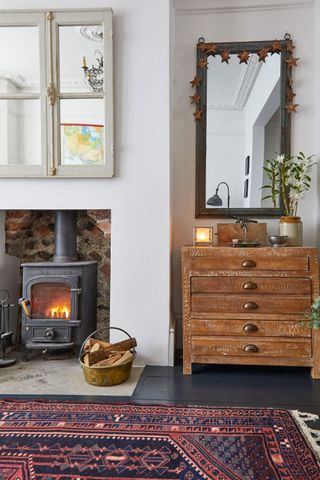 Not long after starting, the builders hit a stumbling block. 'The house is made from bungaroosh,' explains Suzi. 'It's a mixture of broken bricks, cobblestones, pebbles and sand set into lime. It's notorious for crumbling when disturbed. We had to reinforce areas and wait for the planning office to approve the work. It set us back about three weeks.' They also discovered the bathroom and bedroom ceilings were sagging and had to be replaced, which was an unexpected – and very messy – job.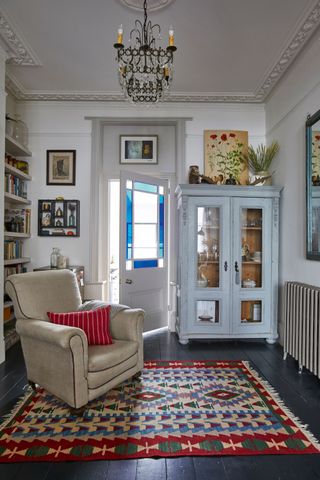 After three months the house was taking shape, with the loft conversion completed, the bathrooms gutted and the steels at the back installed. A second team of builder started on the internal fit, including the painstaking job of renovating the floorboards. 'We salvaged some from the kitchen to replace damaged ones elsewhere,' Suzi says. The wooden floor had to be sanded back and treated by hand with Danish 'softwood lye' – a solution that bleaches the wood – before finishing with two coats of matt clear varnish for protection. 'When lifting up the boards, we found tiny matchboxes hidden underneath dating back to the 1950s, which we plan to display in our living room.'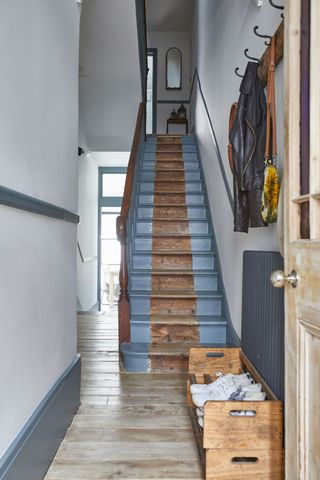 By April the following year, the extension was in place ready for the Crittall-style aluminum back doors to be fitted. 'We wanted to fill the kitchen with light, so we went for industrial metal doors across the whole of the back and convinced our planning officer to let us install four Velux windows in the ceiling,' says Suzi. Being super organised, she confirmed her kitchen design early into the renovation process. 'I shopped around for an affordable solid wooden kitchen. The company I found were brilliant but as they get so busy, there was limited flexibility on the delivery date. It was nail-bitingly close to our build completion date.'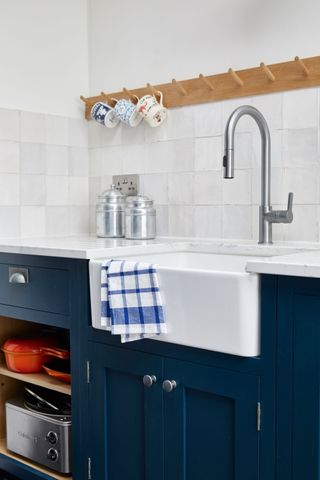 Just in time for the summer holidays, Suzi and Lewis and their two sons moved into their renovated home. 'We still had a carpenter here finishing off bits and pieces. Our kitchen was his workshop. We had family stay for a week in August when the carpenter was still using the space to build joinery. It was a squash, but you get through it!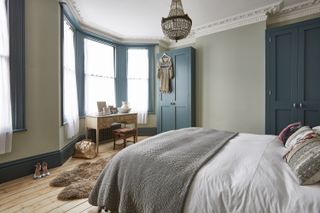 Suzi's existing furniture slotted neatly into her new interior, and her eye for a bargain saved her money on new pieces. 'I've become a regular at Ardingly Antiques Market and I'm a bit of pro at finding bargains on Ebay,' she says. 'Our sofas are ex-photo shoot samples that I picked up for a steal. My home style is a mix of classic design, vintage finds and antiques that I have upcycled myself.'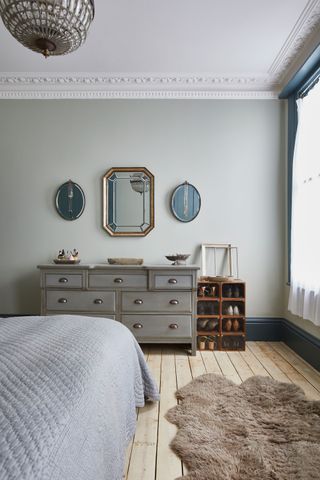 After nearly six months of solid building work, Suzi and her family are comfortably settled into city life. 'Lots of energy went into this house to turn it into a home,' she says. 'We love our kitchen most because we all have room to hang out. As with all projects of this scale there have been highs and lows, but the end result has been a big win for our family.'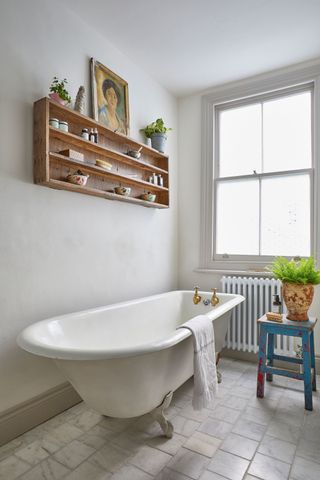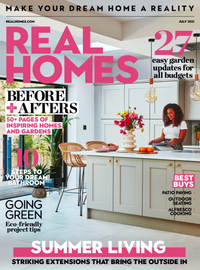 Subscribe to Real Homes magazine Want even more great ideas for your home from the expert team at Real Homes magazine? Subscribe to Real Homes magazine and get great content delivered straight to your door. From inspiring completed projects to the latest decorating trends and expert advice, you'll find everything you need to create your dream home inside each issue.